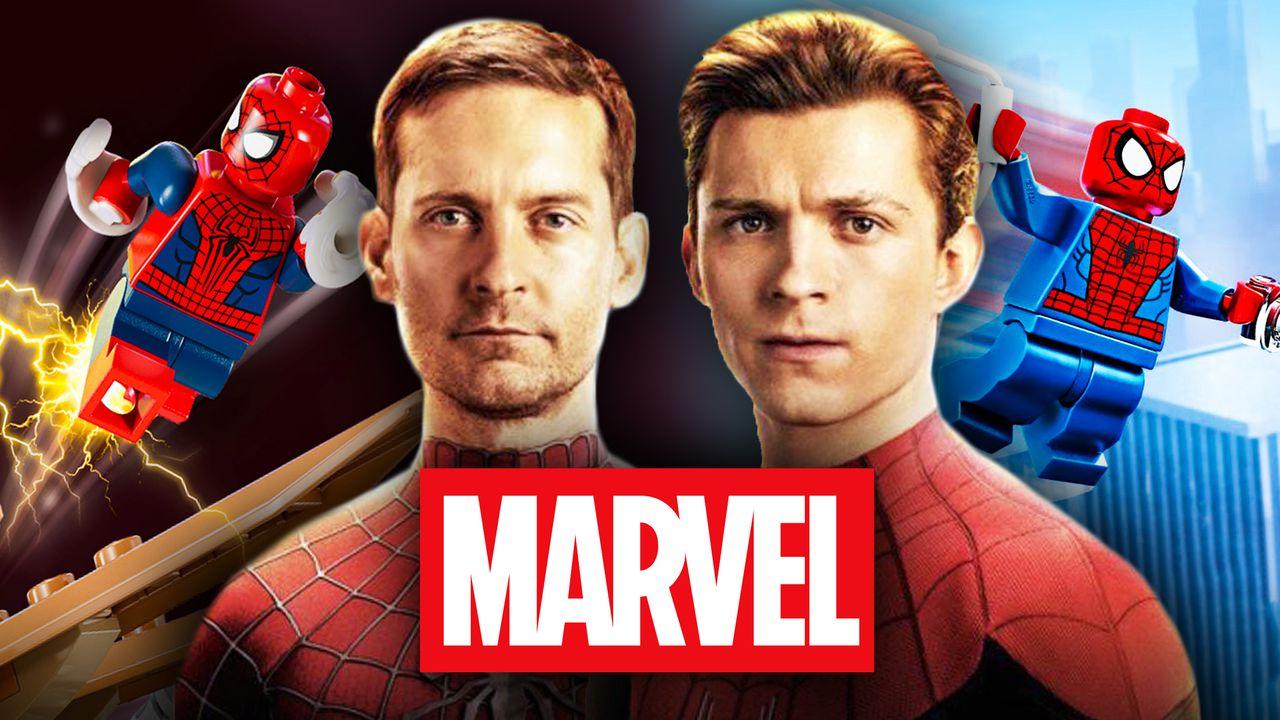 Spider-Man and LEGO have teamed up for a number of eye-opening collectible sets, so here are the best of the best.
Marvel's classic web-slinger remains one of the most popular heroes in the genre, with recent hugely successful films like Spider-Man: No Way Home and Spider-Man: Across the Spider-Verse reinforcing that fact.
Unsurprisingly, the character has been a staple of buildable LEGO sets over the years as well, with the company regularly embracing the biggest names in pop culture like Star Wars, Harry Potter, and even superstar musician Taylor Swift.
Spider-Man's 10 Best LEGO Sets
It's time to look at the 10 best LEGO sets based on Spider-Man stories from the character's history, including price, release date, and brick count.
These sets come not only from Spider-Man's big-screen movies in and out of the MCU but also from Marvel Comics and classic cartoons.
76128: Molten Man Battle
Released in 2019 with the release of Marvel Studios and Sony Pictures' Spider-Man: Far From Home is the Molten Man Battle, retailing for only $29.99 USD and consisting of 294 pieces.
Including Minifigs for both Jake Gyllenhaal's Mysterio and Tom Holland's stealth-suited Spider-Man, the centerpiece is the lava elemental that reigned terror over Prague as Mysterio and Spidey teamed up to defeat it.
76114: Spider-Man's Spider Crawler
2019 came with a 418-piece Spider Crawler set from LEGO that retails for $39.99 USD, depicting a big Spidey-inspired vehicle equipped to take on the Vulture and Sandman.
On the Minifig front, this set marks the only LEGO appearance for the Spider-Man 2099 character as he teams up with the classic web-slinger, with both of them boasting webbing to shoot at their adversaries.
76175: Attack on the Spider Lair
Released in 2021, the Attack on the Spider Lair LEGO set comes at a slightly more expensive $69.99 USD price tag for a 466-piece set depicting a big mansion filled with plenty of amenities, including a basketball court, a skateboard ramp, a training kit, and even a PlayStation.
Minifigs for this set include Spider-Man himself along with the Green Goblin and Venom, who both force themselves into the mansion to fight multiple other web-slinging heroes.
76115: Spider Mech vs Venom
LEGO brings both Spider Mech and Venom Mech to the forefront in a special 2019 set that retails for $49.99 USD and uses 604 pieces to build the two centerpieces of the set - large mechanical robot machines used by both Spider-Man and Venom.
In this set, Spider-Man teams up with Ghost Spider (aka Spider-Gwen) to save his Aunt May from Venom, with the mech units featuring a cockpit, posable joints, big web/tech shooters, and claws for battle.
76005: Spider-Man: Daily Bugle Showdown
The Daily Bugle serves as the central location for a massive showdown between Spider and iconic Fantastic Four villain Doctor Doom, with the 2013 set retailing for $49.99 USD and utilizing 476 pieces for the Spider-Man: Daily Bugle Showdown set.
The building comes complete with a trapdoor, a dumpster, and window explosions along with a few different Spidey-inspired characters. It even includes a jet that can be used in battle against Doom, with this set being his only appearance as a Minifig.
76187: Venom
The symbiotic Venom joined the fray in 2021 with the simply-titled Venom set based on Tom Hardy's first Venom movie, as the set includes 565 pieces for a $69.99 USD price tag.
Complete with a nameplate and a LEGO logo, Venom's head takes the spotlight in this set with the face showing off the white eyes, massive teeth, and extensive tongue just the way that fans see in both Venom movies.
A similar set was released in the same year for Woody Harrelson's Carnage concurrent with the release of Venom: Let There Be Carnage.
76059: Spider-Man: Doc Ock's Tentacle Trap
Inspired by Doctor Octopus from the comics, Spider-Man: Doc Ock's Tentacle Trap puts the eight-limbed villain front and center against Spider-Man and Captain Stacy as they hope to save White Tiger from captivity in the 446-piece set, which costs $39.99 USD.
Doc Ock even has a big Octo-Bot set with rapid shooters and a rotating torso, and the set includes a police speedboat and power additions for all the characters and heroes involved in the action.
76261: Spider-Man Final Battle
2023 took fans back to the 2021 release of Spider-Man: No Way Home with a LEGO set depicting the film's final battle, made up of 900 pieces and arriving on shelves with a $109.99 USD price tag.
Featuring the threequel's quintet of Multiversal villains along with Tom Holland, Andrew Garfield, and Tobey Maguire's Spider-Men on the Statue of Liberty, this set highlights one of the MCU's most iconic third acts from the Multiverse Saga.
76057: Spider-Man: Web Warriors Ultimate Bridge Battle
Spider-Man, Spider-Girl, and the Scarlet Spider join forces for a battle on the Brooklyn Bridge in a Spider-Man: Web Warriors Ultimate Bridge Battle set, which retailed for $99.99 USD in 2016 and was made up of an impressive 1,092 pieces. 
While the Green Goblin is the main villain, Kraven the Hunter and Scorpion are also utilized in the battle with the set also featuring a moveable roadway, suspension cables, a catapult, a trap for, a web prison, and Kraven's secret lair.
This set also marks Kraven's only appearance as a LEGO Minifig.
76178: Daily Bugle
The Daily Bugle is taken to a whole new level in LEGO form with this 2021 set, which is priced quite expensively at $349.99 USD but also has a massive brick count with 3,772 pieces to build the Marvel Universe's most famous newspaper headquarters.
Spotlighting Daredevil and Punisher in their only LEGO appearances as Minifigs, the set also marks the first appearances by Blade, J. Jonah Jameson, and Black Cat as 25 different characters are featured.
This take on The Daily Bugle is four stories high and features detailed recreations of the building from Marvel Comics, including a penthouse office and a New York taxi cab, with the floors being removable and adjustable after completion.