Netflix's Wednesday, set to make a big return in Season 2, will feature familiar faces from the first season as well as new characters inspired by the iconic Addams Family.
It was recently reported that following the imminent resolution to the Screen Actors Guild strike, Wednesday Season 2 will be a top priority for Netflix.
All the Characters Expected for Wednesday Season 2
Wednesday Season 1 was a massive success, becoming the second biggest week of streaming ever recorded by Nielsen when it first launched on Netflix in November 2022.
A major part of that is Tim Burton as the director but also a stellar cast headlined by Jenna Ortega.
Jenna Ortega - Wednesday Addams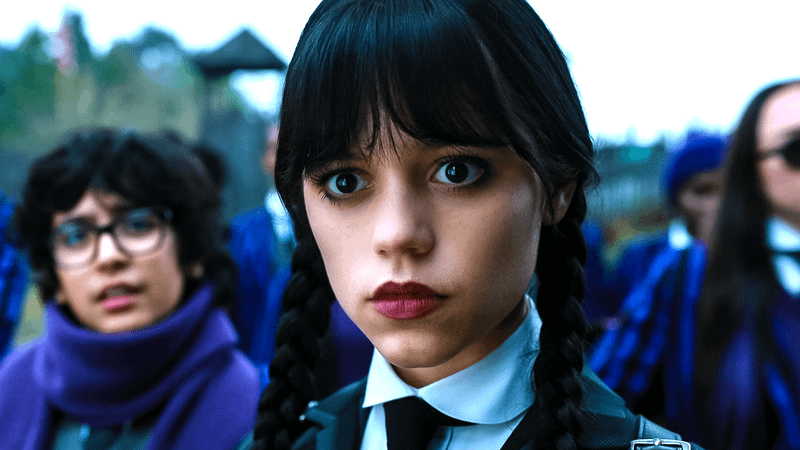 Soaring to stardom, Jenna Ortega's Season 1 performance as Wednesday Addams took the world by storm.
Known for her roles in various films and series like Scream 6, X, You, and Jane the Virgin, Ortega is set to star in Beetlejuice 2 as Lydia Deetz's daughter and will not only be the star but a producer on Wednesday Season 2.
In the Season 1 finale, Wednesday and her classmates take extreme measures to uncover a monster but end up triggering a series of events that lead to her being expelled from Nevermore, a plot to resurrect Joseph Crackstone, and ultimately her departure from the school as it closes for the semester.
So what's next for Wednesday Adams?
One major change is happening, as Ortega told Variety that they're "ditching any romantic love interest:"
"We've decided we want to lean into the horror more. We're ditching any romantic love interest, which is really great. We're going to get bolder, more dark."
Hunter Doohan - Tyler Galpin
Hunter Doohan portrays Tyler Galpin, the son of Sheriff Galpin, who works as a barista at a nearby coffee shop and develops romantic feelings for Wednesday.
This romantic subplot will be slashed in Season 2, putting Tyler in an interesting situation. Hopefully, the writers will find a new purpose for Tyler that doesn't feel unnatural or forced.
Doohan is also known for his role in Showtime's Your Honor series starring Bryan Cranston.
Emma Myers - Enid Sinclair
Enid Sinclair is a vibrant werewolf who becomes Wednesday's roommate at Nevermore Academy and strives to befriend her, even though Ortega's character initially shows little interest in forming a connection.
Emma Myers told Variety she knows "absolute squat" about Wednesday Season 2:
"I know absolute squat. I am so out of the loop. Nobody likes to update me on anything. We don't know anything. So I wish I can say something. But all I know is that there is a Season 2 and that's it."
When asked about a possible romance between Enid and Wednesday, Myers said Wednesday "needs to take her season of singleness:"
"We haven't really spoken about direction at all, so I don't really know what the game plan is for anything. As far as love interests go for Wednesday, I feel like at least for a second season, she needs to take her season of singleness."
Joy Sunday - Bianca Barclay
Bianca Barclay is a former girlfriend of Xavier and an accomplished siren student at Nevermore Academy, portrayed by Joy Sunday.
Season 1 concludes by hinting that Bianca might step away from the spotlight to address family matters, leaving viewers in suspense about her potential comeback in Season 2. 
When reflecting on her time filming Season 1, Sunday had high praise (via Deadline) for Jenna Ortega:
"It was a really beautiful experience and I feel so lucky to be with that. We all love and care for each other and I think the paramount person responsible for that feeling is Jenna Ortega."
Catherine Zeta-Jones - Morticia Addams
Catherine Zeta-Jones portrays Morticia Addams, Wednesday's mother, who once attended Nevermore Academy in her youth and wields psychic abilities similar to her daughter.
One glimpse was given of Morticia in Season 2 by costume designer Colleen Atwood. While speaking to Variety, Atwood mentioned that Morticia will "have a lot of looks:"
"In season 2 she'll have a lot of looks, so it will be really fun to see what Morticia does when she's out of the dress and into around-the-house looks."
Luis Guzmán - Gomez Addams
Gomez Addams, famously known as Wednesday's father, is taken on by Luis Guzmán. He is a person of interest in a murder case during Season 1.
Guzman revealed key details to Screen Rant about his role in Season 2. The actor mentioned that he would not only "have a sword fight" in Season 2 but also get groovy on the dance floor:
"I'm going to dance; I'm going to have a sword fight. And there was one other thing. I don't know what it was, but yeah."
Isaac Ordonez - Pugsley Addams
Isaac Ordonez took on the role of Wednesday's younger brother, Pugsley, in Season 1.
During Season 1, it was typically Wednesday who came to Pugsley's rescue when he faced bullies. Season 2 might alter their relationship dynamics, enabling Pugsley to support his sister more.
George Burcea - Lurch
Lurch (George Burcea) has a seemingly small role in Season 1 as the Addams family butler, however, the final look at his character left many theorizing.
Eagle-eyed viewers noted a distinct change in the butler's appearance in the finale, particularly in his eyes.
Lurch's changing appearance, prolonged camera focus, and unusual absence of Morticia, Gomez, and Pugsley during Wednesday's pickup raised suspicions among viewers, sparking speculation about whether a certain shapeshifter might be impersonating him.
Fred Armisen - Uncle Fester
Fred Armisen plays the role of Uncle Fester, Wednesday's eccentric uncle, known for his remarkable talent for generating static electricity.
Armisen spoke to E! News and discussed his anticipation and ideas for the show's future after reading the script for the series finale:
"I thought that's good writing to keep people wanting more. I think that's difficult. Even as something that's supposed to continue on, they did a really good job of keeping it exciting."
Gwendoline Christie - Principal Larissa Weems
Gwendoline Christie takes on the role of Larissa Weems, the scary principal of Nevermore Academy with the unique ability to shapeshift, who dies during the events of Season 1.
However, it's unclear whether the person who appears to die from poisoning is actually Weems, as Weems and another shapeshifter may have conspired to have one of them impersonate her to trick Thornhill. 
This theory suggests that Weems observed the situation from a distance, explaining why Thornhill seemingly killed her so easily. She may now be impersonating Lurch.
Jamie McShane - Sheriff Galpin
Portrayed by Jamie McShane, Donovan Galpin is the sheriff of Jericho who grows suspicious of Ortega's Wednesday and has a vendetta against the Addams family.
Sheriff Galpin's purpose in Season 2 remains unknown, leaving room for speculation that he might seek reconciliation with Wednesday and the other Nevermore students in the aftermath of Tyler's destructive actions in Season 1. 
His character development and motivations are set up for further exploration as the new season unfolds.
Percy Hynes White - Xavier Thorpe
Percy Hynes White portrays the character Xavier Thorpe, a student with the unique talent to bring his artwork to life.
As reported by the Daily Mail UK, Percy Hynes White was removed from the cast of Wednesday Season 2 following allegations of sexual assault at a Toronto party in January 2023.
Moosa Mostafa - Eugene Ottinger
Moosa Mostafa plays the role of Eugene Ottinger, a student with the power to manipulate bees. 
Eugene was seriously injured by a monster during Season 1 which resulted in him being admitted to a hospital. In the season finale, Eugene provides crucial information to Wednesday about Ms. Thornhill's involvement in the sinister plot and helps defeat her.
Christina Ricci - Marilyn Thornhill/Laurel Gates
Look familiar? Christina Ricci, who played Wednesday Addams in the film The Addams Family, returned in Wednesday as Marilyn Thornhill/Laurel Gates, the botany teacher at Nevermore Academy.
Ms. Thornhill was revealed as Laurel Gates (the final descendant of the evil Joseph Crackstone) and played a pivotal role in the Season 1 finale as she manipulates Tyler into committing heinous acts. 
She ultimately kills Principal Weems and tries to bring back Joseph Crackstone, setting off a chain of confrontations at Nevermore Academy.
Thornhill remains alive, opening the door for her potential return with even greater power at her disposal in Season 2.
A New Addams Family Member
A new addition to the Addams family is en route for Wednesday Season 2, according to Netflix's recent TUDUM event featuring Ortega, Doohan, Myers, and Sunday.
While the cast has yet to discover who this newcomer might be. Ortega hopes for Cousin Itt's arrival, while Doohan and Sunday expressed their desire to meet Wednesday's grandmother.
---
Wednesday Season 1 is streaming on Netflix.
---
As an editor, writer, and podcast host, David is a key member of The Direct. He is an expert at covering topics like Marvel, DC, Star Wars, and business-related news following the box office and streaming.