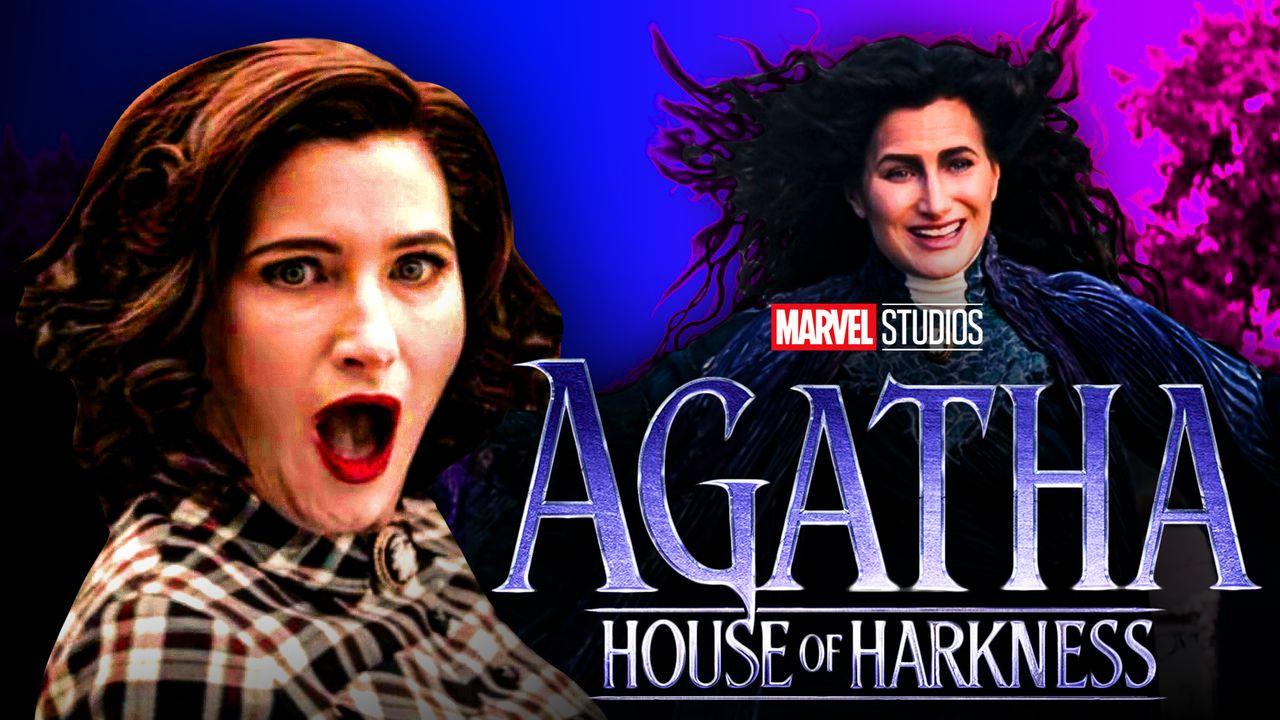 WandaVision introduced new and notable figures to the larger Marvel Cinematic Universe, and one of them is Kathryn Hahn's Agatha Harkness. Serving as a villain to Wanda Maximoff and Vision in the Disney+ spinoff, Hahn created a memorable performance alongside the catchy song entitled "Agatha All Along" that eventually landed an Emmy win for the studio.
As a result of the character's fanfare and success, Marvel Studios ultimately confirmed a spinoff revolving around the character which is Agatha: House of Harkness. 
In the Elizabeth Olsen-led series, Hahn was first introduced as a nosy neighbor named Agnes to Wanda, but her true intentions were revealed later on. Agnes later unveils that she is in fact a powerful witch named Agatha Harkness. 
Fans will get to see more of Harkness during her upcoming solo series. At this stage, the WandaVision spinoff has no release date yet, but the confirmation that it is currently being developed should serve as a good sign that it will come sooner rather than later. 
Before the spinoff's official announcement, Hahn was tight-lipped about its development, mainly because of the so-called Marvel snipers. Now, in a new interview, it looks like the veteran actress is open to sharing more details about the series while still keeping mum on some details. 
Kathryn Hahn Responds to WandaVision Spinoff News 
WandaVision star Kathryn Hahn sat down as a guest on The Drew Barrymore Show where she talked about her upcoming Disney+ series, Agatha: House of Harkness. 
Hahn first admitted that she "didn't even know the title" of the spinoff until Marvel Studios announced it during Disney+ Day:
"I mean, I didn't even know the title of the show until it was released to the public, like they keep it so tight."
Barrymore then asked Hahn if Mephisto would make an appearance on the show. Mephisto has been part of the trending list of topics whenever WandaVision is the subject. While the villain didn't appear in the MCU series, this still didn't stop the viewers from speculating about the character's future. 
The MCU actress shared that she has "no idea" since she hasn't "heard anything definitive" about the villain's inclusion: 
"I keep hearing that. I have no idea. That was like a big thing during WandaVision, but I have no, who knows. I mean, I think right now, like anything, like Marvel, I mean who knows it's anything is probably possible, but like, I have never heard anything definitive about that at all."
While Barrymore continued to press Hahn about Mephisto's involvement during the interview, the WandaVision actress instead responded by discussing Agatha Harkness' attributes. Hahn described the character as "complicated" and "misunderstood," while acknowledging the fact that these traits became a "real turn on" for her as a performer.
The full exchange can be seen below: 
Barrymore: "If you could pass anyone as Mephisto, who would you pick if you are in the driver's seat, and you know, Agatha gets to pick her Mephisto, would there ever be anyone who fits the bill?"

Hahn: "I mean, I'll say, in terms of a real great deflection of that question is that, there is something that does feel so badass to be playing like, you know, we think of a witch, and you think of, immediately, you think of a woman who is loud, who is mysterious, who is dangerous, because she's complicated and she's misunderstood. And all that stuff is a real turn on to me as a performer in terms of digging into this person a little bit more, very excited."
Agatha Harkness Series Should Flesh Out Her WandaVision Motives
Kathryn Hahn's latest comments reconfirm Marvel Studios' high level of secrecy, considering that her lead star status on the show is not enough for the studio to give her the spinoff's title. This has been an ongoing trend for MCU projects, especially after the sudden influx of leaks that are emerging online. 
Meanwhile, it's fitting that Hahn was asked about Mephisto's potential inclusion, especially after the close connections of her character with the villain in terms of fan theories. The actress' admission that she has no idea about a Mephisto sighting would make sense, mainly because the spinoff is in the early stages of development. 
Hahn's description of Agatha as "complicated" and "misunderstood" could hint about the character's narrative trajectory in the spinoff. It's possible that Agatha: House of Harkness would explore more of her background in Salem, leading up to the events of WandaVision. 
By doing this, it would allow the spinoff to flesh out the character even more, giving fans enough information about her motivations. This would also present the opportunity to showcase Harkness' MCU future beyond WandaVision. 
In Marvel Comics, Harkness served as a mentor to the Scarlet Witch so it's possible that a similar route will happen in the MCU. There's a chance that Wanda will experience something traumatic during Doctor Strange in the Multiverse of Madness, prompting her to seek the assistance of a powerful witch like Harkness. 
WandaVision is now streaming on Disney+ while Agatha: House of Harkness has no release date as of the moment. 
---
Aeron is a news/features writer and Content Lead for The Direct who has been working for the site since March 2020. From writing about the inter-connectivity of the Marvel Cinematic Universe to having an extended knowledge about DC TV's Arrowverse, Aeron's expertise has since expanded into the realm of reality TV, K-drama, animated, and live-action shows from Netflix,  Disney+, Prime Video, MGM+, Peacock, Paramount+, and Max. When he isn't writing and watching all things MCU, Aeron is heavily invested with the NBA (go Celtics!) and occasionally watches thrilling matches in the WWE.