WandaVision was a massive first in the Marvel Cinematic Universe. It was the studios' premiere Disney+ outing, one with a unique narrative that blended mystery, decades of sitcoms, and the classic MCU action that everyone has come to know. The project was also the first story in the MCU to give Wanda and Vision the spotlight.
The show went on to be critically successful as well as garnering fan discussion consistently week-to-week. The mysterious intrigue was one of the show's biggest elements. The first few questions had the audience consistently wondering what was going on. 
One of the biggest enigmas in the show was Evan Peters showing up as Pietro, who, in the MCU, has been dead since 2015's Avengers: Age of Ultron. Of course, fans were quick to start theorizing that his return was going to be the first big X-Men mutant crossover as the actor portrayed the famous speedster in Fox's previous X-Men films.
In the end, the character turned out to be nothing more than an innocent civilian being used as a pawn by Agatha Harkness to get under Wanda's skin. It was a shock to many and a reveal that divided the fanbase. 
Evan Peters was able to sit down and reflect on his role recently, which happened to not be his only shocking role of the year.
EVAN PETERS REFLECTS ON WANDAVISION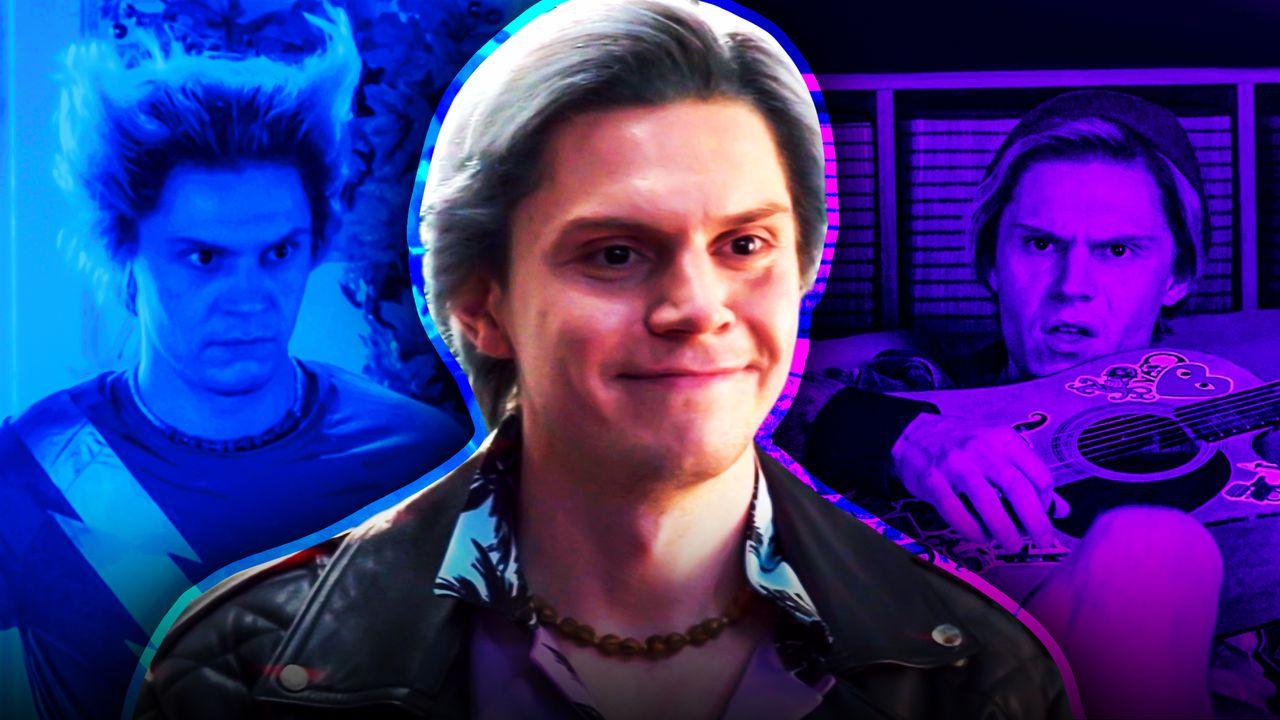 Coming out of his Emmy nomination for Mare of Earttown, Evan Peters sat down with Entertainment Tonight when he was able to reflect on his role on WandaVision earlier this year.
Peters candidly admitted that "it feels very cool to be a part of it" but made sure to point out that he "[gives] the credit to [Marvel Studios President] Kevin Feige for coming up with the idea." 
Evans ended by saying that "[he] was honored" to be a part of WandaVision:
"It feels very cool to be a part of it... But I've got to give the credit to Kevin Feige for coming up with the idea... Getting me in the show that way I thought that was such a very interesting, sort of shocking, and almost weirdly meta -- I hate that word -- kind of way to do it, which I thought was really cool. And I was honored."
THE EVAN PETERS TWIST
The twist that Peters' role was not in fact Quicksilver but instead an innocent civilian was disappointing to many. This isn't surprising seeing as the twist was apparently inspired by the Mandarin one in Iron Man 3—one of the most infamous MCU moments which, eight years later, Marvel Studios attempting to correct with Shang-Chi and the Legend of the Ten Rings.
This isn't the first time Evan Peters has spoken publicly about enjoying his deceptive MCU role. Hopefully, in the future, there might be an opportunity for another story to take further advantage of that twist and make something more meaningful out of it.
As for other elements of WandaVision, Wanda and the ramifications of her actions are set to carry over into Doctor Strange in the Multiverse of Madness, which bows on March 25, 2022. Vision's future is still uncertain, as is Agatha Harkness, but no doubt both will be back to the MCU in due time.
All episodes of WandaVision are streaming on Disney+.