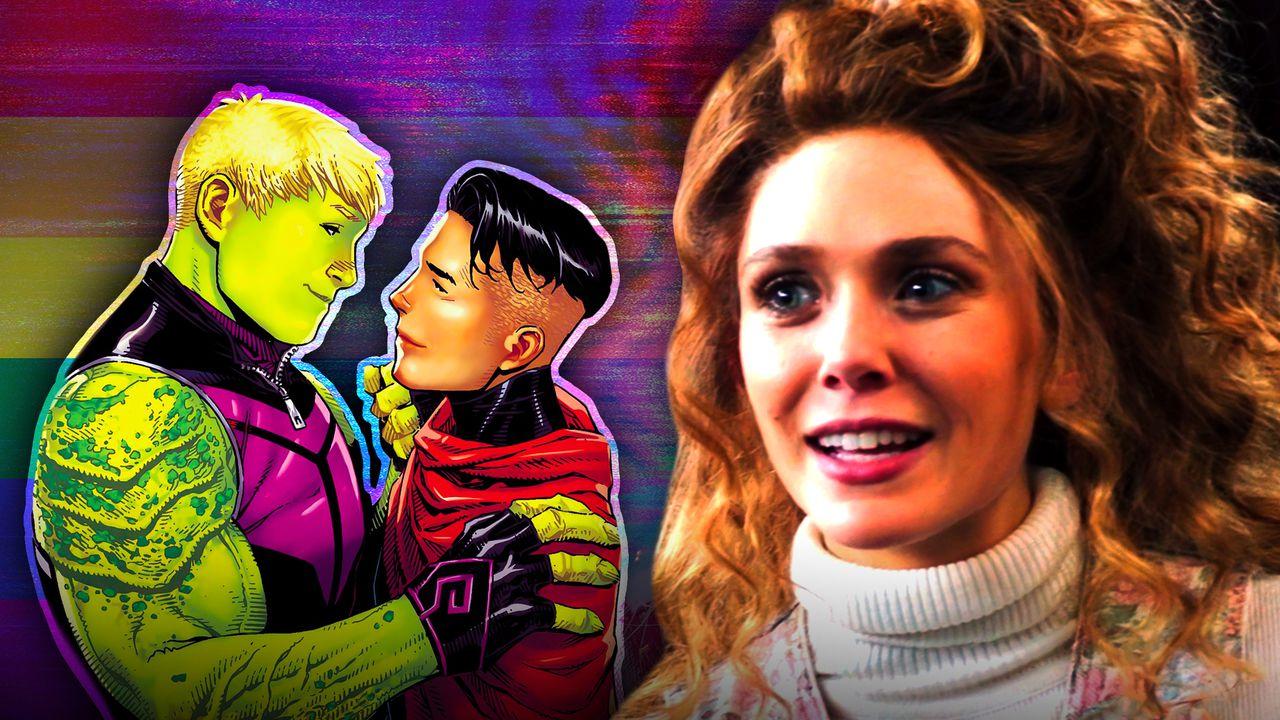 Warning: This article contains WandaVision spoilers.
It's no secret at this point that the Young Avengers could potentially play a big part of Kevin Feige's master plan for the MCU going forward. Most of Marvel's major franchises are set to see the introduction of younger heroes throughout the coming years. Cassie Lang will be taking up a bigger role in the Ant-Man franchise in the trilogy's third installment , and both Ms. Marvel and Kate Bishop ( Hawkeye ) are set to take up major roles on Disney+ this year.
WandaVision has been no exception to that theme as the show introduces Wanda and Vision's two sons , Billy and Tommy, who have rapidly grown up from birth — just a few weeks ago — to the age of ten in the latest episode. It seems the series is building towards the two taking up their super-powered roles of Wiccan and Speed from the comics — meaning the pair may begin to exhibit their powers in the coming episodes .
A key part of Billy's (Wiccan) identity in the comics is his LGBTQ+ orientation and his storied relationship with Hulkling — who seems set to debut in the coming episodes of WandaVision as a resident of Westview . Based on a teaser from the latest episode, this orientation may be set to translate to the MCU as well.
IS BILLY GAY IN THE MCU?
Eagle-eyed fans have spotted an LGBTQ+ flag in Wanda's Westview kitchen in Episode 5 of WandaVision .
Some have begun to speculate that this suggests Billy's LGBTQ+ identity may translate to the MCU version of the character.
WHAT DOES THIS MEAN FOR THE FUTURE?
Naturally, it makes sense Kevin Feige and the WandaVision team would be keen to maintain Billy's gay roots within the MCU. While he may not necessarily be actively aware of it at the point we currently see the character, it will likely play a big role in the character's MCU future.
The relationship between the two also makes WandaVision the perfect place for Hulking to be introduced — adding further fuel to fire that the new 'boy next door' character set to arrive in Westview soon could be Hulkling. With so much still left to be explored over WandaVision's remaining episode, don't expect this to be touched on much in the show but it will likely play a role in future projects with the two, wherever they may show up.
It's not clear what exactly the future is for the Young Avengers. No dedicated project has been announced as of now, but with the key members of the young team currently being introduced, it seems clear it's in the cards down the line.
The sixth episode of WandaVision will debut next Friday exclusively on Disney+.
LATEST NEWS
TRENDING