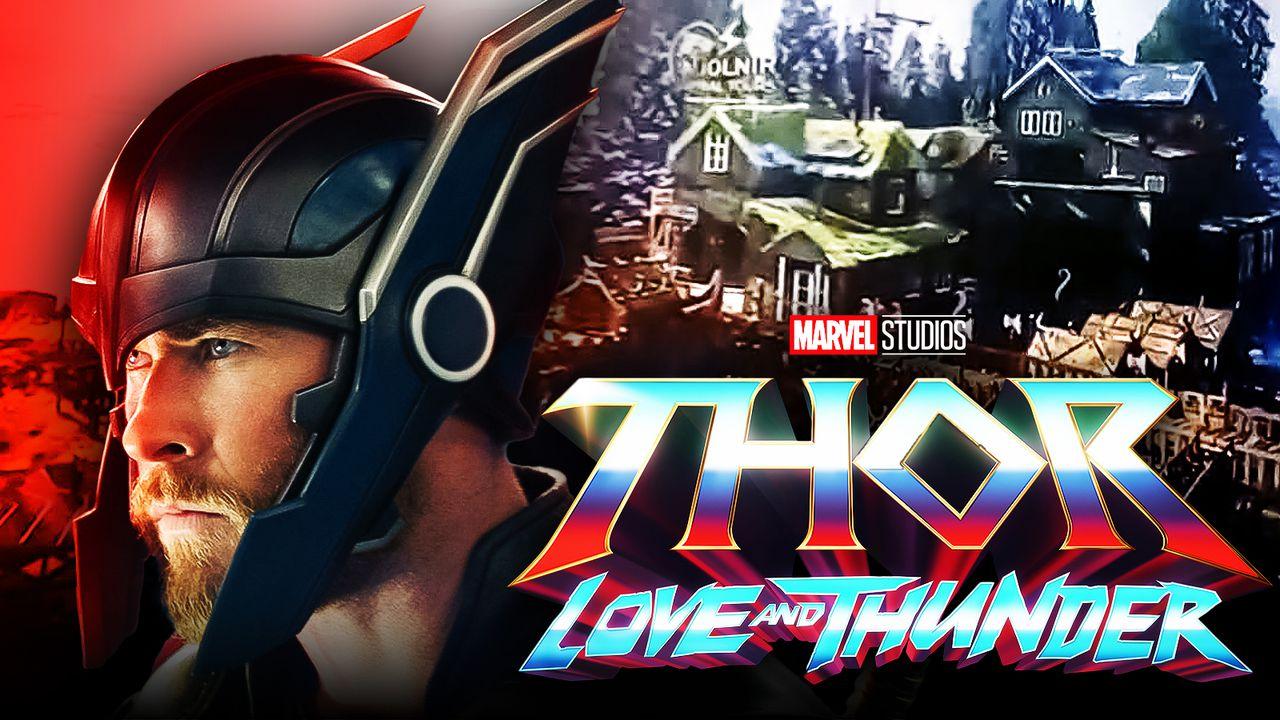 Thor: Love and Thunder is the next solo adventure for everyone's favorite Asgardian, and excitement continues to mount ahead of its May 6, 2022 release.
The fourth installment unites an all-star cast from various corners of the Marvel Cinematic Universe, bringing Chris Hemsworth's Thor and the Guardians and the Galaxy for a space-faring romp. MCU veterans will be joined by a vast array of newcomers, too, including Melissa McCarthy as a fake Hela and Russell Crowe as the Marvel version of Zeus. 
Plot details are relatively scarce, but set photos from the Australian production have helped fill in many of the blanks. Images shared by director Taika Waititi teased the galactic setting of the film, while others displayed that Christian Bale will seemingly be making a comic accurate transformation into Gorr the God Butcher.
Now, new set photos have revealed an unusual industry that New Asgard has broken into to support the growth of its economy…
THOR 4 SET PHOTOS TEASE NEW ASGARD SIGHTSEEING
New set photos from Thor: Love and Thunder have been obtained by the Daily Mail Australia, showing constructions of the film's New Asgard set in Sydney.
Twitter user @lovethundernews shared the images online, which depict several areas of residential housing in addition to an Asgardian longboat fitted with rollercoaster-like seating.
New Thor: Love and Thunder set photos of New Asgard! (via Daily Mail: https://t.co/VvQYT98ceH) pic.twitter.com/uBYOXQWLBU
The vehicle sits behind a building named 'Asgard Tours: Aerial Sightseeing,' indicating that the boat will take customers into the skies for a view of the Asgardians new home. Interestingly, this harkens back to concept art shared by Taika Waititi in April 2020, though the building for 'Mjolnir Tours' is much different in comparison to the one seen on the set of Thor 4. 
Some houses are also oddly submerged underground with destroyed walls and roofs. The cause of the wreckage is unclear, but perhaps Gorr the God Butcher took a trip to New Asgard and left a trail of destruction in his wake.
NEW ASGARD BREAKS INTO THE TOURISM INDUSTRY
With New Asgard still likely finding its feet after the destruction of its original planet and enduring five years without half of its people, it seems that the nation has had to find new ways to support itself. 
An Asgard tour ride creates a unique selling point for the town, giving regular people the chance to experience what it feels like to be an Asgardian. It is unclear where this tour will extend to, but the rollercoaster seats should indicate that the longboat is fitted to create a high-intensity thrill ride for customers.
New Asgard is still relatively small, so a tour of just the quaint village may not be enough to sustain a ride on its own. Perhaps the attraction will take patrons on a globetrotting trip around the world afforded by Asgardian technology.
Thor: Love and Thunder storms into theaters on May 6, 2022.
---
Release Date
July 08, 2022
Platform
Theaters
Tom Drew is the Executive Editor at The Direct. He joined The Direct as a writer back in 2020, before taking on editorial tasks and then assuming a more prominent role as Executive Editor. Tom helps to manage the workflow of the team and ensure that content is as informative and engaging to readers as possible.