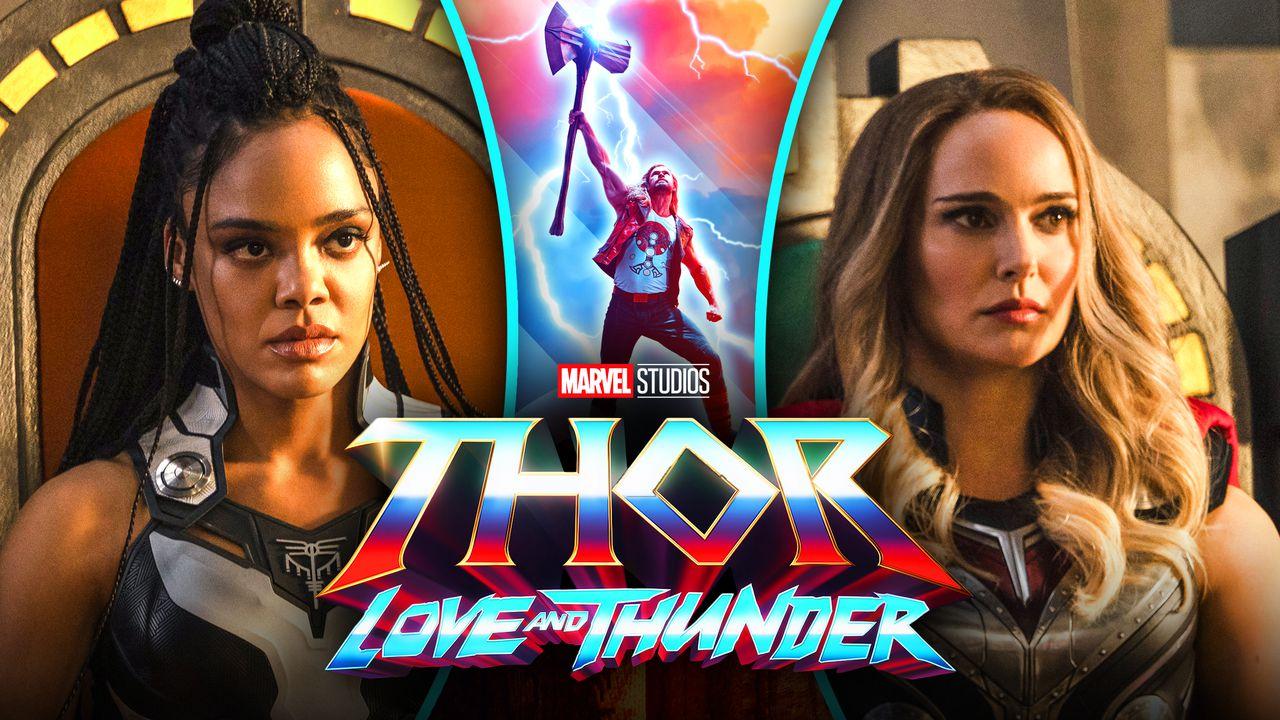 The biggest part of Thor: Love and Thunder for many fans is how Natalie Portman will not only return to the fold, but also be transforming into a God of Thunder herself. It might have taken a while, but when the first trailer for the project was finally released, fans got to see the actress with her new status quo—and they loved it.
Up until that moment, everyone had only seen merchandise images and artwork depicting the character. Sadly, the hero only ended up getting a single shot in the teaser trailer. Since then, audiences have been eager to get as many glimpses of her appearance as possible.
A little while ago, Marvel released an image with Portman's character next to Chris Hemsworth's Thor. Now, another image has been released, with this one showcasing not only Jane Foster, but Tessa Thompson's Valkyrie as well. While it may not be new footage, at least it's something.
Natalie Portman Joins Valkyrie
Marvel released a new image from Thor: Love and Thunder that features Tess Thompson's Valkyrie and Natalie Portman's Jane Foster as they sit in some fancy chairs. It's not clear where they are, or why they're there.
Valkyrie is sporting a brand new look with a bold black and white color scheme—which, ironically, is the same color scheme of Gorr the God Butcher as well.
Portman looks great in her costume, and it's clear she prepared for the role physically as well.
Jane and Valkyrie With the Gods
The most likely place where the two main heroes are is the Parliament of Pantheons, which is basically a fancy gathering of the Gods. This event might also take place in Olympus with Zeus; it may even be what he's looking at in the shot where Russell Crowe's character holds up his lightning bolt to a crowd.
Assuming that is what might be depicted in this image, it's safe to say they are likely gathered to talk about Christian Bale's Gorr the God Butcher, who would have assumedly killed off a few targets already. Though, maybe gathering a bunch of Gods in one place isn't the best idea when you have an extremely powerful fanatic on the hunt for those very Gods.
Another question that remains: where's Hemsworth's Thor in all of this? Maybe Odinson is recovering from taking a bad beating from Bale's Gorr, so he had to take this meeting off. Granted, he could also literally be sitting just out of the frame.
Thor: Love and Thunder releases in theaters on July 8.
---
Release Date
July 08, 2022
Platform
Theaters
Russ Milheim is the Industry Relations Coordinator at The Direct. On top of utilizing his expertise on the many corners of today's entertainment to cover the latest news and theories, he establishes and maintains communication and relations between the outlet and the many studio and talent representatives.