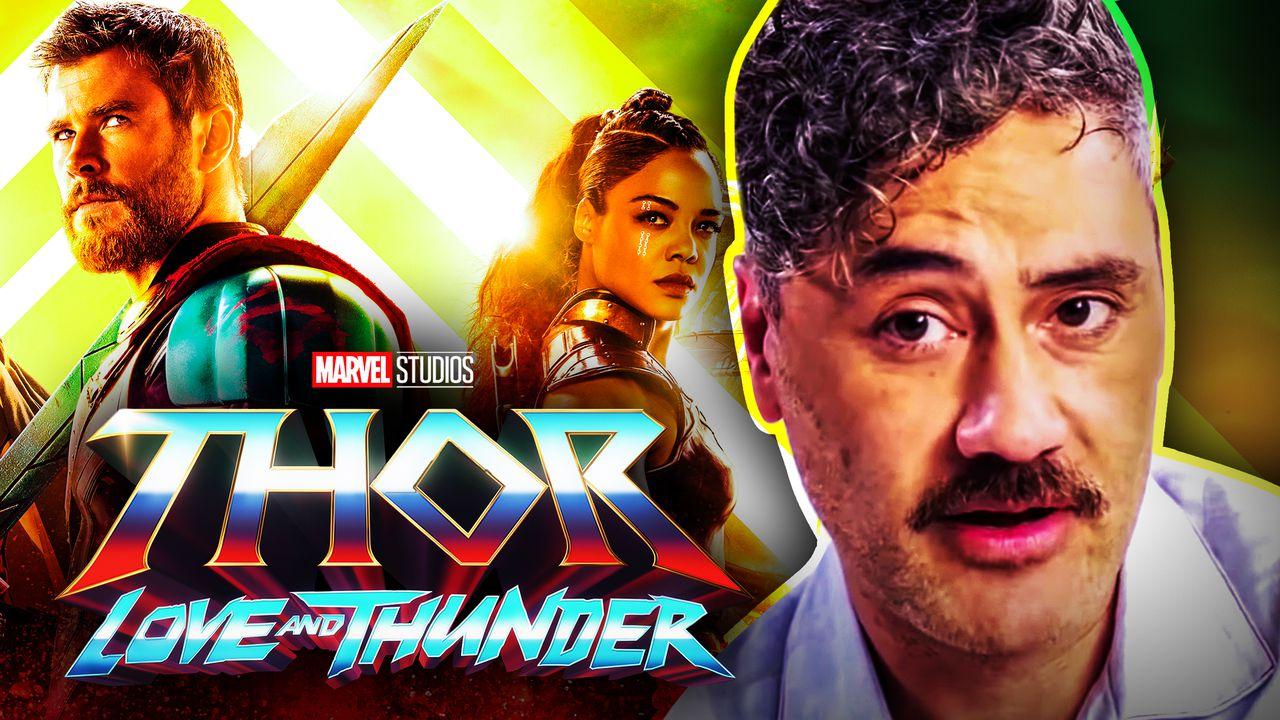 Thor: Love and Thunder is set to showcase a brand new chapter of Chris Hemsworth's God of Thunder, marking the fourth solo adventure of the MCU hero. 
Directed by Taika Waititi, Love and Thunder will feature a stacked ensemble filled with returning favorites and fresh faces. For starters, Tessa Thompson's Valkyrie will come back as the Queen of New Asgard alongside Waititi's Korg, Miek, and a good chunk of the Guardians of the Galaxy. 
The new cast members include the much-awaited MCU debut of Christian Bale as chief villain Gorr the God Butcher and a slew of cameos from A-list stars such as Russell Crowe, Melissa McCarthy, Sam Neill, and Jeff Goldblum.
Story details of Love and Thunder are still shrouded in mystery, but it is expected that it will feature the heroic transformation of Natalie Portman's Jane Foster into the Mighty Thor. 
Hemsworth recently confirmed that filming for the sequel wrapped, and it looks like Waititi has joined the celebration ahead of post-production.
TAIKA WAITITI CELEBRATES THOR 4 WRAP
In a post from Instagram, Thor: Love and Thunder director Taika Waititi celebrated the end of filming for the MCU sequel. 
Waititi wrote and teased that the upcoming film is "the craziest thing" that he's ever done, admitting that he's ready to have a "nervous breakdown" so fans can see all of it when it premieres next year: 
"And that's a wrap on Thor: Love and Thunder.

Sometimes two people come together to inspire the world and change the cinematic landscape forever. And then there's me and Chris Hemsworth who are too cool to care about anything except making movies that bring people absolute joy. Ok I don't look cool I know that.

This film is the craziest thing I've ever done and I'm honoured to bust my ass and have a nervous breakdown so you can all see it in May 2022."
The photo Hemsworth and Waititi shared can be seen below:
POST PRODUCTION FOR THOR 4 COMING SOON
Waititi's excitement about Thor: Love and Thunder should bolster the hype for the sequel, and his energy will definitely be felt during post-production. The fact that The Mandalorian's The Volume was used during production is also an added boost for the quirky director.
The director's comment about having a "nervous breakdown" is clearly a joke, but this could be a reference to how Love and Thunder will balance all the necessary story beats. Regardless, this is a good problem to have, and it will be interesting to see how Waititi's narrative direction will be showcased in the film. 
Marketing for Love and Thunder has yet to start, but the lead pair of Waititi and Chris Hemsworth have been doing double duty to promote the film on social media. For example, the duo shared a hilarious parody poster for the film, showing off a goofy image inside Hemsworth's trailer alongside a funny caption. 
This Instagram post is the latest entry in the long list of comedic promotions from Waititi during the production of Love and Thunder, and it seems that the director is showing no signs of slowing down as his crew enters post-production.
Clearly, they have a lot of time since Thor: Love and Thunder is set to premiere in theaters on May 6, 2022.