The Direct has ranked fifteen of the best LEGO sets from the Star Wars franchise based on creations made during the Disney era.
LEGO has produced some seriously amazing sets from the series. From the Death Star to a Star Destroyer, and even Chewbacca himself—collectors won't be running out of pieces to add to their collections anytime soon. In fact, 2024 is already looking to a stacked year as well.
But many of these sets are based on content created before Disney took the reins from George Lucas.
So, putting those aside, such as pieces based on the original trilogy, which LEGO sets based on Disney's Era with the franchise are the best?
15.) 75179: Kylo Ren's TIE Fighter
First on the list is Kylo Ren's TIE Fighter from The Last Jedi. It's truly one of the more menacing designs that the iconic subclass of Star Wars ships has seen and is a necessary purchase for those who love the villain.
This set originally retailed for $79.99 and came with 630 pieces. On top of a Kyle Ren minifigure, additional figures for a First Order TIE Fighter Pilot, a First Order Stormtrooper, and a B-9E are also included.
14.) 75157: Captain Rex's AT-TE
Captain Rex's AT-TE is certainly a unique addition to the available Star Wars LEGO sets. The character's makeshift home on Seelos was first seen in Star Wars: Rebels Season 2, Episode 2, where a group of leftover clones were contently living out their lives away from the Empire.
The set contained 972 pieces and holds an MSRP of $119.99. Along with Captain Rex himself, other mini-figures included are Commander Gregor, Commander Wolffe, Imperial Inquisitor Fifth Brother, and a Stormtrooper.
13.) 75336: Inquisitor Transport Scythe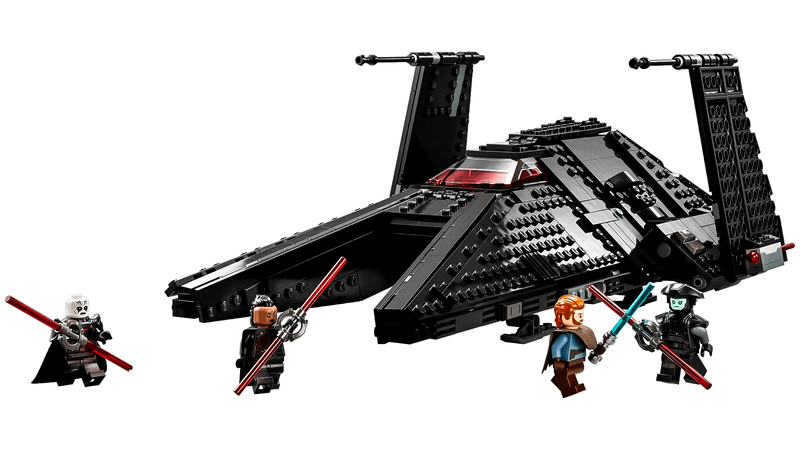 Obi-Wan Kenobi just barely makes it on the list thanks to this sleekly designed Inquisitor ship that's seen as the Jedi hunters close in on Obi-Wan Kenobi. As great as the shuttle itself is, one of the best parts of this set is all the Inquisitors it nets its owner.
This Inquisitor Transport Scythe retailed for $99.99 and had 924 pieces. It included minifigures for Obi-Wan Kenobi, The Grand Inquisitor, Reva, and the Fifth Brother.
12.) 75314: Bad Batch Attack Shuttle
Lucasfilms' animated The Bad Batch series gave fans an awesome ship for the team to utilize, but this set goes the extra mile, giving fans two additional speeders to pair with it all.
On top of the gang's Attack Shuttle, the team members themselves are included as minifigures: Hunter, Wrecker, Tech, Crosshair, Echo, and their Gonk Droid.
The set holds a respectable 969 pieces and landed around the $99.99 price point.
11.) 75155: Rebel U-Wing Fighter
The Rebel U-Wing was first seen in Rogue One, and its subsequent LEGO set was comprised of 659 pieces and retailed at $79.99.
With how great and unique this design was, it's a shame that it's really only shown up in Rogue One and Star Wars: Rebels.
This set includes minifigures for a U-Wing pilot, Bistan, Jyn Erso, Cassian Andor, and a Rebel Trooper.
10.) 75187: BB-8
While R2-D2 will forever be most people's favorite droid in the Star Wars universe, BB-8 sure did make an impression when he was first introduced in The Force Awakens. How could people not want their own little version of it?
The set only costs $99.99 and is made from 1,106 pieces. Not only do you get a sizeable LEGO-fied version of the droid, but it also comes with a minifigure version of BB-8 as well.
9.) 75256: Kylo Ren's Shuttle
Kylo Ren's shuttle from Rise of Skywalker is easily one of the more distinctive vehicles in the sequel trilogy. It's that perfect blend of the first-order's sinister look and influences from Darth Vader himself.
The set costs $129.99, comes with 1,005 pieces, and includes six minifigures: General Pryde, a Sith Trooper, a First Order Stormtrooper, and 2 Knights of Ren.
8.) 75102: Poe's X-Wing Fighter
Poe's X-wing Fighter, as seen in The Force Awakens, comes with 717 pieces and retails for $79.99.
While everyone doesn't love the sequel trilogy, Oscar Isaac's Poe Dameron seems to be one element that gets positive praise consistently. His X-wing fight makes for a great addition to any collection due to its unique and vibrant coloring.
The set also comes with minifigures for Poe Dameron, a Resistance ground crew member, a Resistance X-Wing pilot, and a BB-8 Astromech droid.
7.) 75315: Imperial Light Cruiser
The Imperial Light Cruiser featured in The Mandalorian's second season and is a must-have for anyone who collects the many ships in Star Wars' library. This particular vessel belonged to Moff Gideon before his eventual arrest.
The set retails for $159.99 and is made from 1,336 pieces. It also comes with six minifigs, including The Mandalorian himself, Cara Dune, Fennec Shand, Moff Gideon, a new Dark Trooper, and Grogu.
6.) 75335: BD-1
This BD-1, from the fan-favorite game Star Wars Jedi: Fallen Order, is one of the more recent additions to this list. After it made its debut in the recent video game series, fans were quick to take a liking to the droid.
BD-1 would become so well known that his droid model was adapted into live-action for a quick appearance in The Mandalorian.
As for the set itself, this BD-1 set contains 1,062 pieces and comes in at $99.99.
5.) 75257: Millennium Falcon (based on Episode 9's version)
Obviously, the Millennium Falcon was going to have to rank somewhere on this list—it's so iconic that it would feel strange not to include it. This version of the late Han Solo's former ship is based on its appearance in Episode IX: Rise of Skywalker.
On top of the ship itself, owners of the set will also receive minifigures for Finn, Chewbacca, Lando Calrissian, Boolio, C-3PO, R2-D2, and D-O.
The updated Millennium Falcon has 1,351 pieces and costs $169.99 to purchase.
4.) 75357: Ghost & Phantom II
Coming in at number four is the updated Ghost ship, alongside its Phantom II attachment. This set contains 1,394 pieces and retails for $159.99.
Fans were over the moon to see the Ghost Crew in live action for the first time in Ahsoka, so it's only fitting that they get a LEGO set to go with the occasion. While the entire Star Wars: Rebels team isn't included, fans do get Hera Syndulla, Jacen Syndulla, Lt. Beyta, First Officer Hawkins, and Chopper.
3.) 75325: The Mandalorian's N-1 Starfighter
At the end of The Mandalorian Season 2, Din Djarin's now iconic Razor Crest was destroyed. While the bounty hunter was temporarily left without a ship, he eventually upgraded to the N-1 Starfighter, a design first seen on Naboo in The Phantom Menace.
This set, which is from The Book of Boba Fett, is made with 412 pieces and retails for an affordable $59.99. It also comes with Mando, his Dark Saber, Grogu, Peli Motto, and a BD droid.
2.) 75212: Kessel Run Millennium Falcon
The original Millennium Falcon is great, but there's something so unique about how the ship was portrayed in Solo. Another positive about this set is that it comes with a whopping seven mini-figures, including Qi'ra, Lando Calrissian, Quay Tolsite, a Kessell Operations Droid, and a BB-BD droid.
The Kessel Run Millennium Falcon retails for $169.99 and comes with 1414 pieces.
1.) 75331: The Razor Crest
This massive set retailed for $599.99 and comes with a whopping 6,187 pieces.
This version is the ship Pedro Pascal's Mandalorian uses for his flagship show's first season. Alongside Din Djarin himself, the set also includes Grogu, Mythrol, and Kulil LEGO minifigures.
While his new N-1 starfighter is great, it's hard to beat Mando's original home in the stars.