Sony Pictures officially confirmed that there were plans for Tom Holland's MCU Spider-Man to cameo in Spider-Man: Across the Spider-Verse.
Prior to the release of Spider-Verse 2, it was rumored that Tom Holland's Spidey would make a cameo appearance.
While the film did give fans glimpses of Andrew Garfield and Tobey Maguire's Spider-Men, the MCU's Peter #1 was nowhere to be found.
Deleted Tom Holland Spider-Verse Scene
The Spider-Man: Across the Spider-Verse: The Official Movie Special Book has just revealed the concept art of Tom Holland's Spider-Man appearing in a delayed scene in Spider-Verse 2.
This version of the MCU Spider-Man is a cute chibi version of himself donning Spider-Man: Far From Home's black and red Upgraded Suit.
This cameo looks like it would have been similar to that of Spectacular Spider-Man or Insomniac's video game Spider-Man. Quick and (somewhat) irrelevant, but an eye-catching cameo that would've further connected the growing spider-verse.
The chibi style seen in this piece of concept art is similar to the dancing version of Andrew Garfield's Spider-Man in a 2014 Evian advertisement.
For comparison, here's a look at Holland's live-action Upgraded Suit: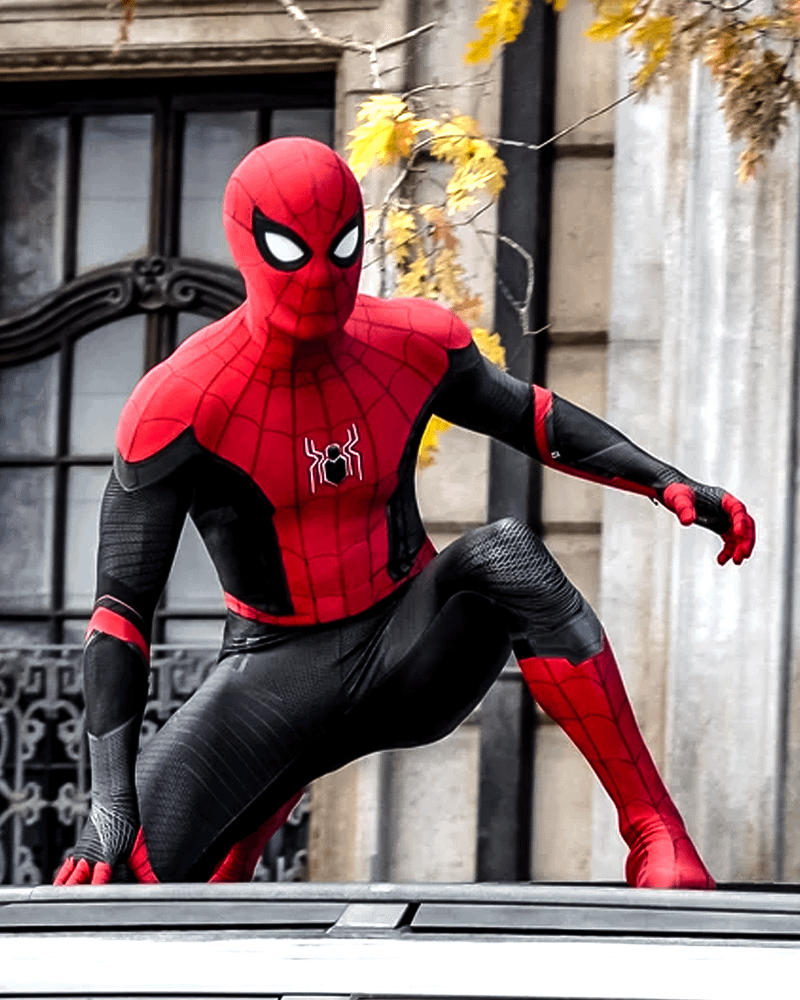 Could Tom Holland Appear in Spider-Verse 3?
A major connection was made between the animated Spider-Verse and the live-action MCU when Donald Glover's Prowler cameoed in Spider-Verse 2.
While the multiverse is vast and contains infinite different timelines, this was the first indication of any connection between the two universes, especially considering the potential for a live-action Miles Morales on the big screen.
Regardless, Across the Spider-Verse was overflowing with different familiar Spider-People, and even though the creators didn't include the MCU Spider-Man in this film, who's to say they don't have a plan for Spider-Man: Beyond the Spider-Verse?
Considering Spider-Verse 3 is described as the end of this story that began in 2018, Sony Pictures Animation may not hold back any punches. 
Fans have been receptive to cameos in the Spider-Verse film, as long as the true story stays with the original takes on characters like Miles Morales, Gwen Stacy, Peter B. Parker, and more.
Spider-Man: Across the Spider-Verse is now available to purchase online.