Spider-Man: No Way Home accidentally broke the Multiverse wide open through the combined efforts of Tom Holland's Peter Parker and Benedict Cumberbatch's Doctor Strange. This plot point was heavily teased throughout the film's marketing by featuring the arrivals of several villains from previous Spider-Man films such as Alfred Molina's Doctor Octopus, Willem Dafoe's Green Goblin, and Jamie Foxx's Electro.
The threequel is Holland's third solo adventure in the MCU, which reunites him with Zendaya's MJ, Jacob Batalon's Ned, and Marisa Tomei's Aunt May. Alongside Peter's identity crisis after the events of Spider-Man: Far From Home, the Multiverse is a large part of No Way Home's storyline due to Doctor Strange's involvement. 
In addition, the concept of alternate realities has been a consistent plot device in some of Phase 4's entries such as Loki and the What If...? animated series. Based on what's been revealed so far, it looks like the Multiverse is the MCU's next big thing, with No Way Home serving as its grand launchpad. 
Now, as fans wait for the next Multiverse-related project, a major related Easter egg from the threequel has emerged. 
Spider-Man Villains From Across the Multiverse 
Warning: The rest of the article contains spoilers for Spider-Man: No Way Home. 
Spider-Man: No Way Home featured potential future threats for Tom Holland's Peter Parker in a bizarre way during its final battle. 
As purple cracks form in New York City's sky, Doctor Strange tells Peter that "they're starting to come through," and he can't stop them. The Master of the Mystic Arts refers to the different individuals who know Peter Parker is Spider-Man...across the Multiverse. 
The threequel confirmed some of the identities of the villains by showcasing them in blink-and-you'll-miss-it appearances. Within the cracked breaches of the Multiverse, eagle-eyed fans noticed that the silhouette outlines of the characters resemble iconic Spider-Man villains such as Kraven the Hunter, Scorpion, and Rhino.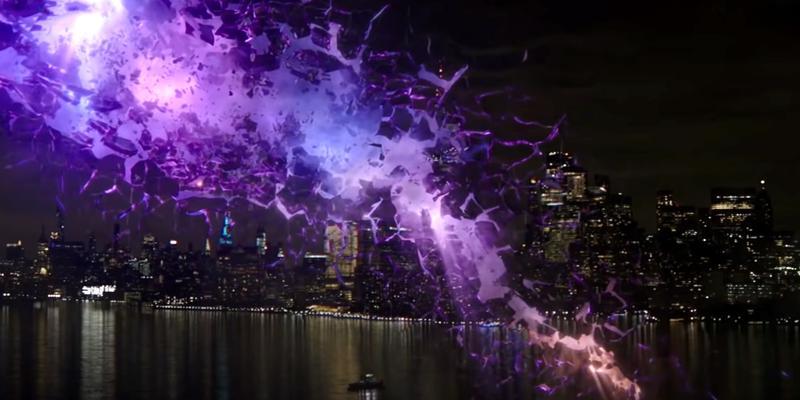 Spider-Man's Future Villains Teased?
This reveal could have massive ramifications on Peter's next MCU adventure after Spider-Man: No Way Home. 
In any Marvel film, many would agree that some Easter eggs serve as a tease of what lies ahead for the character. The fact that Sony and Marvel Studios placed these characters in such a big moment in the film solidifies that claim. 
Kraven the Hunter is set to have his own spinoff as part of Sony's expanded Marvel universe, and the character will be played by Aaron Taylor-Johnson. It is unknown if the movie will be set in the MCU, but there's a chance that it will be a standalone adventure similar to Tom Hardy's Venom and Jared Leto's Morbius.
Still, it's possible that the MCU's Kraven still exists and that he could be an upcoming villain for Tom Holland's next trilogy. The same is true for Scorpion and Rhino. 
It's worth noting that Michael Mando, who portrayed Mac Gargan in Spider-Man: Homecoming, previously expressed interest in a Marvel return. The aforementioned film's post-credits scene teased that Gargan may seek revenge against Spider-Man in a future adventure, thus setting him up for a return in the web-slinger's upcoming college trilogy. 
As for Rhino, the villain is already a prime candidate to make his MCU debut after No Way Home didn't include Paul Giamatti's The Amazing Spider-Man 2 foe. It seems that the decision to not include the character was due to the idea that they are likely saving him for the next batch of Holland's Spider-Man films. In a way, this Multiverse tease could serve as a reminder of Rhino's looming presence. 
Meanwhile, some fans have pointed out that they've seen Black Cat in the Multiversal breach while others admitted that they even saw What If...?'s The Watcher. 
At this point, it remains to be seen if these teases will pay off down the line. 
Spider-Man: No Way Home is now playing in theaters. 
---
Release Date
December 17, 2021
Platform
Theaters
Aeron is a news/features writer and Content Lead for The Direct who has been working for the site since March 2020. From writing about the inter-connectivity of the Marvel Cinematic Universe to having an extended knowledge about DC TV's Arrowverse, Aeron's expertise has since expanded into the realm of reality TV, K-drama, animated, and live-action shows from Netflix,  Disney+, Prime Video, MGM+, Peacock, Paramount+, and Max. When he isn't writing and watching all things MCU, Aeron is heavily invested with the NBA (go Celtics!) and occasionally watches thrilling matches in the WWE.