The Marvel Cinematic Universe may currently be the center of attention in the fandom space, but there's another world of comic book characters working its way into the public spotlight: Sony's Spider-Man Universe. The first movies on the slate were Venom and Venom: Let There Be Carnage—both of which were followed by the recently released Jared Leto-led Morbius.  What's next? Kraven the Hunter.
In May 2021, Aaron Taylor-Johnson was cast in the lead role for Sony's spin-off movie, which will put the primary focus on the classic Spider-Man villain Kraven. The hunter won't be facing Spider-Man as he typically does in the comics, but instead will be butting heads with more than one antagonist, one of whom is the Chameleon.
Kraven the Hunter has assembled an impressive cast, including veteran Russell Crowe, recent Academy Award-winner Ariana DeBose, and Tony-nominated actor Alessandro Nivola joining Taylor-Johnson. The movie began production in London in March, shooting a car chase sequence in public that resulted in our first on-set photos of the titular Kraven. Now, even more photos have been released; not many details are given away, but fans can at least get a clear look at Taylor-Johnson's Spider-Man character.
Sony's Kraven the Hunter Revealed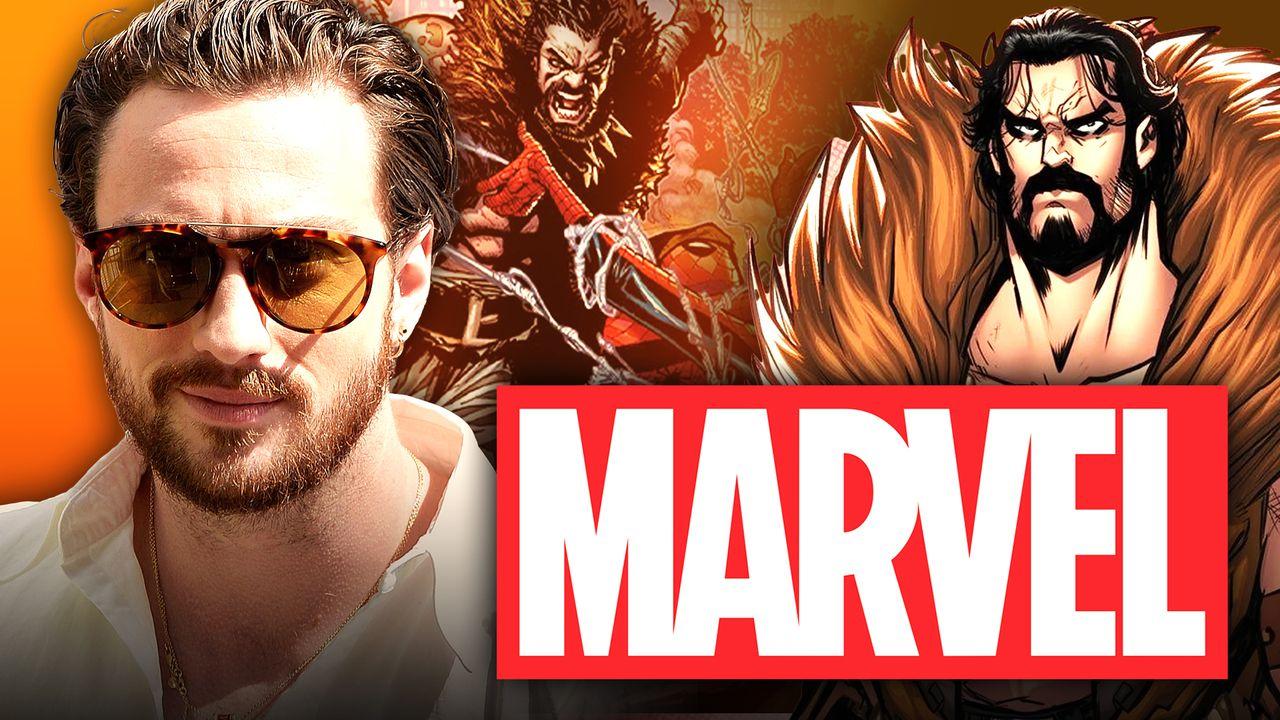 Thanks to Just Jared, some images have surfaced from Sony's Kraven the Hunter project, which is currently filming in Landon's Hyde Park.
Aaron Taylor-Johnson's Kraven can be seen running in fake bare feet while sporting a white button-up and a necklace reminiscent of his comic counterpart. His longer hair and unkept beard feel in character with the wildman persona of Kraven, who, in the comics, considers himself a big game hunter and views Spider-Man as a hunter's ultimate prize:
Taylor-Johnson rose to fame in the Marvel sphere with his role as Wanda Maximoff's brother, Pietro aka Quicksilver, in Avengers: Age of Ultron. His role as Sony's Kraven will have many notable differences from his fallen hero in the Marvel Cinematic Universe, including his physical appearance. 
More Kraven set photos show Taylor-Johnson rocking another outfit, this time with a black shirt and olive pants while sporting some leather bracers.
That's Certainly Aaron Taylor-Johnson!
One detail is for sure: that's Aaron Taylor-Johnson alright. Those hoping to see his iconic vest will sadly have to wait longer (assuming he gets it at all). The closest audiences currently have to that is the tooth necklace around his neck.
The key observation to be made about these photos is how Taylor-Johnson is wearing fake bare feet, something used for the actor's safety when needing to run without any footwear in the story. This indicates that whatever Kraven is doing, it was initiated unexpectedly and has a sense of urgency to it.
Many fans have questioned what stories Kraven has to tell that don't include the iconic web-slinger.
Kraven the Hunter releases on January 13, 2023.