As the release for Spider-Man: No Way Home keeps moving closer, new evidence continues to surface that Tobey Maguire and Andrew Garfield will reprise their Peter Parker roles for a live-action Spider-verse team-up.
With much of the two actors' villain cast expected to return to cause trouble for the MCU's Spider-Man, Tom Holland's hero is going to need all the help he can get to take on a Sinister Six from across the multiverse.
Between supposed leaked images, cryptic toy listings, and accidental slip-ups from several actors, Maguire and Garfield's return seems to be near certain, even if Sony continues to avoid those details in its marketing campaign.
To the disappointment of many, Tom Holland was the only Spider-Man present in the first trailer for No Way Home. However, that doesn't seem to have stopped the studio from making a subtle reference to Tobey Maguire's Peter Parker - but is it a coincidence or a hidden tease?
NO WAY HOME REFERENCES TOBEY MAGUIRE OUTFIT
During several shots of Spider-Man: No Way Home's first trailer, Tom Holland's Peter Parker can be seen wearing a gray suit which is extremely reminiscent of an outfit worn by Tobey Maguire in Spider-Man 3.
The wall-crawler can first be seen wearing the suit in a rather dark shot, during which he is attacked from behind by the Lizard.
Peter Parker can once again be spotted in the Maguire-esque attire in the final moments of the trailer as he suits up into his Iron Spider suit following the arrival of Alfred Molina's Doc Ock.
Throughout the trailer, Tom Holland can be seen in a multitude of different outfits, which would seemingly indicate these two scenes take place fairly close together. The MCU's Peter Parker has rarely been seen in a suit on-screen in the past — aside from a high school dance and Tony Stark's funeral — leading some to question what the special occasion is here. 
TOBEY MAGUIRE TEASE OR HAPPY ACCIDENT?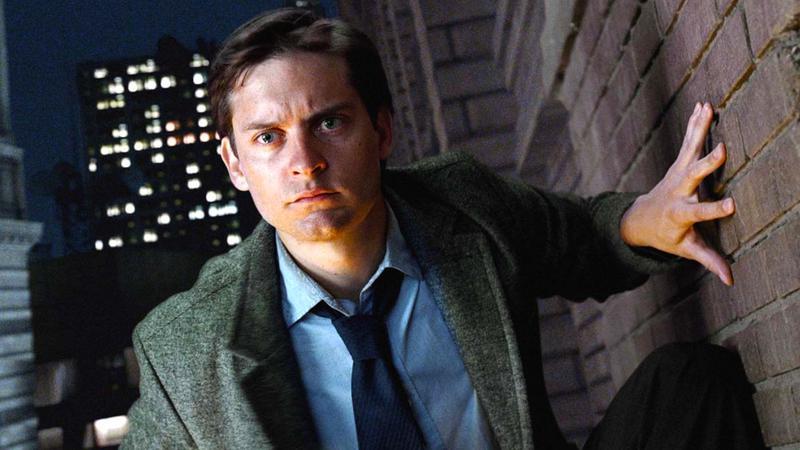 Granted, there's always the possibility that the similarity between the two Spider-Man actor's outfits is nothing more than a coincidence. However, in a multiverse-hopping film that is expected to see the return of Tobey Maguire's web-slinger, the design choice seems much more intentional. 
When Maguire's hero donned a similar outfit, it was to attend Mary Jane's Broadway show, following which he had planned to propose. Perhaps the MCU could be calling back to this scene by having Holland wear this suit as he attempts to reconcile with Zendaya's MJ after Doctor Strange has wiped her memories of much of their relationship.
Alternatively, it's entirely possible Peter may have put on his best clothes for a courtroom scene as he is put on trial for the murder of Mysterio. Parker is expected to face a court at some point in the film with Charlie Cox's Matt Murdock potentially serving as his lawyer to clear him of the false accusations. 
On the more wild end of the spectrum, some fans have theorized this may actually be another example of Marvel's classic trailer trickery as Holland's face is deep-faked over Maguire's in an effort to cover up his surprise return.
Marvel Studios has a long history of modifying scenes within trailers to preserve surprises, although it's extremely unlikely that's the case here. Since Holland's Peter Parker can be seen wearing the gray suit on multiple occasions, it seems far more likely that the MCU's Spider-Man will simply wear this suit as a clever reference to the Raimi trilogy.
Spider-Man: No Way Home hits theaters on December 17, 2021.
---