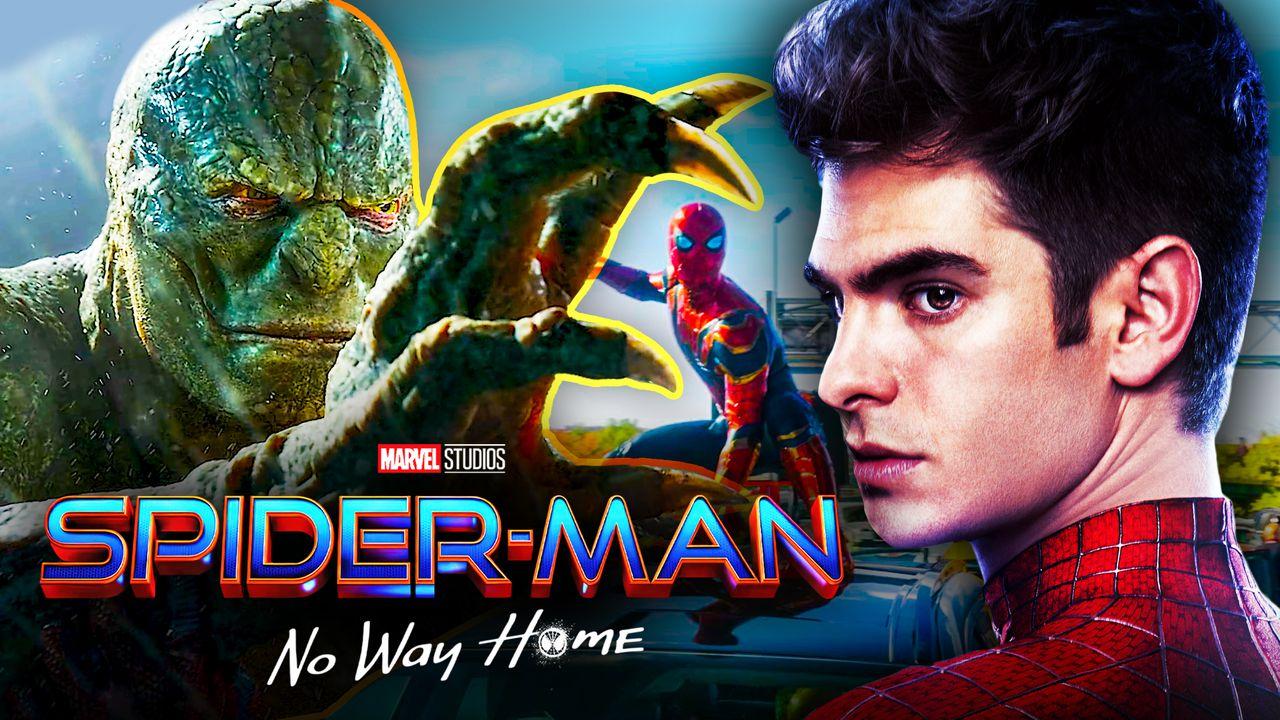 Following the release of Spider-Man: No Way Home's long-awaited teaser trailer, fans have begun to analyze the first look in greater detail, leading to some intriguing discoveries. As the Tom Holland-led sequel will pull villains from across the multiverse to cause trouble for Peter Parker, the trailer is packed with hints towards several villains.
Both Alfred Molina's Doc Ock and Jamie Foxx's Electro had already been confirmed to be returning while reports have indicated Willem Dafoe's Green Goblin will serve as the main villain of the film. 
However, the debut trailer seems to have hinted towards the return of another villain from Andrew Garfield's The Amazing Spider-Man franchise with a brief appearance from the Lizard, who was previously played by Rhys Ifans. 
LIZARD RETURNS IN NO WAY HOME TRAILER
One particularly dark shot of the Spider-Man: No Way Home trailer saw Tom Holland's Peter Parker attacked from behind by an unidentifiable villain, only to have the hit blocked by a magical barrier.
While the scene originally appeared too dark to identify the mysterious attacker, Twitter user Everything CBM has digitally adjusted a shot to reveal the Lizard will be returning in No Way Home.
So i played around with the footage, I truly think that in this scene, the Lizard is trying to attack #PeterParker. Let me know what you think#Spiderman #tomholland #SpiderManNoWayHome #NoWayHome #nowayhometrailer #Spidermannowayhometrailer @3CFilm pic.twitter.com/tKvk6HPy3l
HOW BIG A ROLE WILL LIZARD PLAY?
Rhys Ifans made his Marvel debut as Doctor Curt Connors aka the Lizard in Andrew Garfield's The Amazing Spider-Man. The Oscorp scientist originally transformed into the Lizard after testing a serum — designed to cure a dying Norman Osborn — on himself, allowing him to regrow a previously lost limb. 
By the end of the film, Spider-Man was able to cure Connors, transforming him back into his normal human self. While the Lizard was originally able to transform between his human and reptilian selves, however, his condition eventually worsened until he was unable to survive in his normal form.
It's unclear how big a role Lizard will play in No Way Home, but actor Rhys Ifans has had an incredibly busy schedule as of late including a role in Games of Thrones prequel House of the Dragon. 
So far, there has been little mention of Ifans reprising his role, unlike the rest of the returning villains. However, as Lizard is the only entirely CGI villain of the group, it's entirely possible he could return without the actor returning to his Marvel mantle.
Spider-Man: No Way Home hits theaters on December 17, 2021.