Spider-Man No Way Home is on the horizon and fans are reaching a nearly manic state. The Web-Head faithful are eagerly awaiting a second trailer for the upcoming threequel and pouring over every nugget of information they can get regarding the film. 
And despite leaks galore surrounding No Way Home, a relatively small amount is still known about the project. Other than a few returning villains and an all too familiar bridge scene, the plot of the Spidey threequel still remains shrouded in secrecy. 
One locale that fans know Peter Parker and company will be visiting in the nearly three-hour run time is the Sanctum Sanctorum, as featured in the first trailer. But how prominently will Doctor Strange's HQ be featured? Well, a new toy commercial may offer some insight. 
Toying Around the Sanctum
A new Hasbro tie-in toy commercial for Spider-Man: No Way Home featured a pair of young kids doing battle in the Sanctum Sanctorum. 
One shot showcases one of the actors with web-shooters at the ready and a Sling Ring portal in the background.
The next snippet has the pair standing parallel, fixing their web cartridges and striking their best Spidey pose.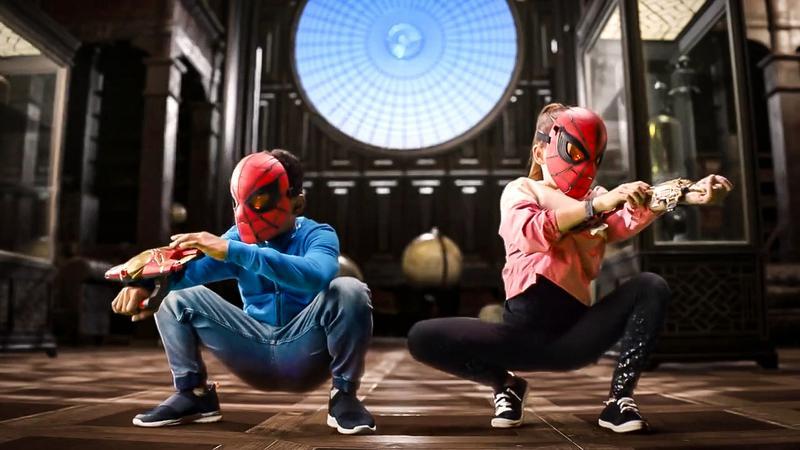 The full commercial advertising the No Way Home mask and Web-Shooters can be watched below (via Twitter user @sebbazz): 
A #SpiderManNoWayHome MERCHANDISING PROMO HAS STARTED IN WORLDWIDE 🔥🔥🔥🔥#SpiderMan #NoWayHome #AndrewGarfield #TobeyMaguire #TomHolland #SpiderVerse #SpiderMan3 pic.twitter.com/ZtfxiMdEyW
A Battle on Bleecker Street
While the New York Sanctum has been no stranger to conflict during its tenure in the MCU, it seems like Marvel is positioning it to yet again be a battleground during Spider-Man: No Way Home. Fans know that Doctor Strange's HQ is likely going to be the place where the Sorcerer Supreme casts the catalytic spell at the center of the movie, but could there be something more in store for the locale? 
Now, tie-in toy ads are the end-all-be-all when looking for plot specifics for upcoming blockbusters, but Marvel has already teased a battle taking place at the Sanctorum. In the first trailer, there were hints of Spidey swinging through some Doctor Strange world-bending magic, so could all this actually be taking place in the basement of the Sanctum? 
Many are expecting most of the film to take place out and about in New York City, as the last two MCU Spider-Man films have spent a lot of time out of NYC. But, who's to say that the movie won't include a brief respite of Multiversal battle in the Sorcerer Supreme's home base? Hey, the entire movie can't take place on that darn bridge, right? 
Fans won't have to wait much longer to find out the answers to all these questions and more, as Spider-Man: No Way Home swings into theaters on December 17. 
---