The writers of Marvel's Spider-Man 2 have finally confirmed the true meaning behind its emotional ending. 
The hit sequel to PlayStation's iconic Spider-Man game from Insomniac Games is the main topic of conversation among gamers after showcasing an incredible story filled with dark twists and turns. 
In a nutshell, PS5's Spider-Man 2 featured the returns of Peter Parker and Miles Morales as they come face to face with two notorious Marvel villains: Kraven the Hunter and Venom. 
What Is the Meaning of Marvel's Spider-Man 2's Ending?
Warning - the rest of this article contains spoilers for Marvel's Spider-Man 2.
After successfully defeating Venom and saving New York (and the rest of the world) from a symbiote-infused invasion, Peter Parker and Mary Jane Watson host a dinner at May's house in Queens, inviting Miles and his mother Rio Morales, Ganke, and Hailey. 
Peter then takes MJ outside to show her his plan to revive the Emily-May Foundation from their garage. This tender moment is interrupted by an alert from the Friendly Neighborhood Spider-Man app before MJ asks Peter if he has "talked to Miles about..." and then points to the Emily-May Foundation.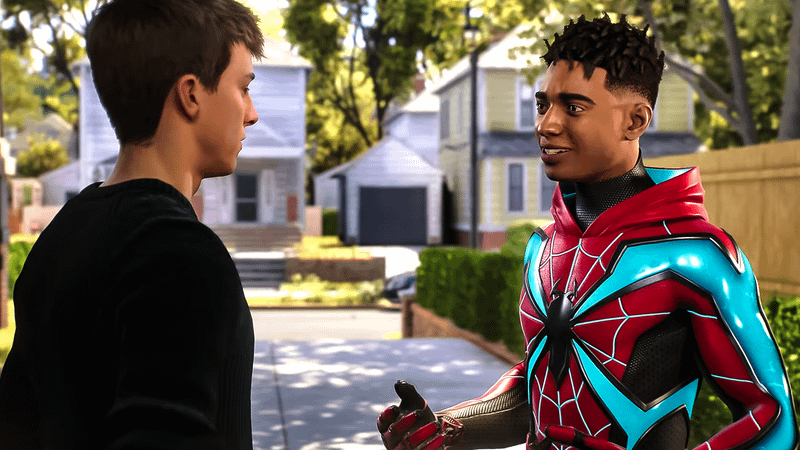 Peter admits that he had yet to tell him about it, but then Miles arrives all ready to go as Spider-Man. Peter is clearly struggling to tell him about the fact that he wants to take a break from his hero duties and focus on his other priorities in life.
Miles reassures Peter that he has the situation under control, telling him that he needs to be "Peter Parker for a while:"
"I got this. All of it. Go be Peter Parker for a while."
When Peter asks him if he is sure (noting that "it's a big city"), Miles simply says that he can handle it "as long as [he] can still call [him] for advice."
Peter tells Miles that he doesn't need his advice before hugging him, seemingly passing the torch from one web-slinger to another. 
The PS5 game's ending was a bit ambiguous in whether Peter was stepping down from Spider-Man for good or just transferring more responsibility onto Miles. 
Speaking in an interview with Gizmodo, Insomniac's narrative director Ben Arfmann and advanced writer Brittney Morris talked about the true meaning behind Spider-Man 2's ending, confirming that Miles is now the main Spider-Man moving forward while Peter takes a back seat.
Morris pointed out that the transition from Peter Parker to Miles Morales as the main Spider-Man "always felt very natural," noting that "it shows a great deal of evolution from Miles:"
"It always felt very natural, and I think we all collectively thought it would happen. To me, it shows a great deal of evolution from Miles; at the beginning of the game, we see him struggling to figure out what he wants to do with his life. By the end, we had Miles carrying the burden of saving the city, and also carrying Pete when Pete wasn't strong enough to carry himself at various points."
The Spider-Man 2 scribe then said that "Miles is more confident" by the game's ending, cementing his status as New York's main web-slinging hero: 
"That's what's been so cool about writing a story about two Spider-Men: they're both strong, and one of them can be strong when the other is not. By the end, Miles is more confident and he's like, 'Yeah, I got this. How much worse can things get after what we just went through?'"
Arfmann shared that they knew that they "wanted to have that moment of handing the reins over" during the early stages of development, acknowledging that the Miles and Peter moment in the end "just felt more and more right:"
"To echo what Brittney said: the idea of a two Spider-Man story was always really essential to this game. I think pretty early on, we knew that we wanted to have that moment of handing the reins over. And as we developed it, as we started to lay down more track leading up to that moment, it just felt more and more right."
Insomniac's narrative director ended by saying that they "always felt" that the passing of the torch moment between Peter and Miles was "the only way the game could end:"
"I think it was Jon [Paquette] who wrote that scene in Aunt May's garage, and it's one of my favorite scenes. The way that Miles intuits exactly what Pete is thinking and stops him from stumbling through trying to hand over the mask. Miles goes, 'You know I got this, bro,' it's such a great moment between the two of them. And it felt like such a natural conclusion; I'm not sure when specifically we decided to do that, but it always felt like the only way the game could end."
Will Peter Parker Wear the Suit Again in Spider-Man 3?
The confirmation that Miles Morales is now the main Spider-Man isn't surprising, mainly because it felt like it was a natural transition between him and Peter Parker. 
After losing Aunt May and Harry Osborn (though he is still in a coma), being Spider-Man already took a toll on Peter. This is on top of the fact that he's losing time over his relationship with Mary Jane. 
With Miles now serving as New York's Spider-Man, it allows Peter to finally take a  well-deserved break after saving the city countless times. 
Still, Peter's line at the end where he tells Miles that he will always be there for him may hint at how Marvel's Spider-Man 3 will put him back in the fight. 
Spider-Man 2 Creative Director Bryan Intihar teased in a previous interview that Spider-Man 3's story will be "pretty epic," hinting that the stakes will be much bigger than the first two games: 
"I think… if 'Spider-Man 1' [and 'Spider-Man: Miles Morales'] was like… our 'Iron Man' and 'Spider-Man 2' was like a ['Captain America:] Civil War', where do we go? Where logically do we go from there? I think it'd be pretty epic. But you know, we'll see."
The game's mid-credits scene already teased the arrival of Spider-Man's greatest enemy, the Green Goblin, and the potential introduction of Carnage could be too much for Miles to handle all at once. 
It's also possible that Knull, the Symbiote God, could come to town and seek total domination after Venom's failed "heal the world" project. 
It's safe to say that it's only a matter of time before Peter decides to come out of his retirement to help Miles and protect New York again.
Marvel's Spider-Man 2 is now available on PlayStation 5. 
---
Release Date
October 20, 2023
Platform
Other
Aeron is a news/features writer and Content Lead for The Direct who has been working for the site since March 2020. From writing about the inter-connectivity of the Marvel Cinematic Universe to having an extended knowledge about DC TV's Arrowverse, Aeron's expertise has since expanded into the realm of reality TV, K-drama, animated, and live-action shows from Netflix,  Disney+, Prime Video, MGM+, Peacock, Paramount+, and Max. When he isn't writing and watching all things MCU, Aeron is heavily invested with the NBA (go Celtics!) and occasionally watches thrilling matches in the WWE.