Few celebrities have broken into the Marvel Cinematic Universe to play themselves. Real-life Tony Stark Elon Musk was the first celebrity cameo back in Iron Man 2. Bill Maher followed him up in Iron Man 3. 
Both the legendary Stan Lee and David Hasselhoff halfway count because there are arguments to be made they were not playing themselves. 
The latest celebrity to break into MCU canon is Megan Thee Stallion in Episodes 3 and 4 of She-Hulk. Now, the twerk specialist is joining another elite list of entertainers. 
Megan Thee Stallion's SNL Double-Duty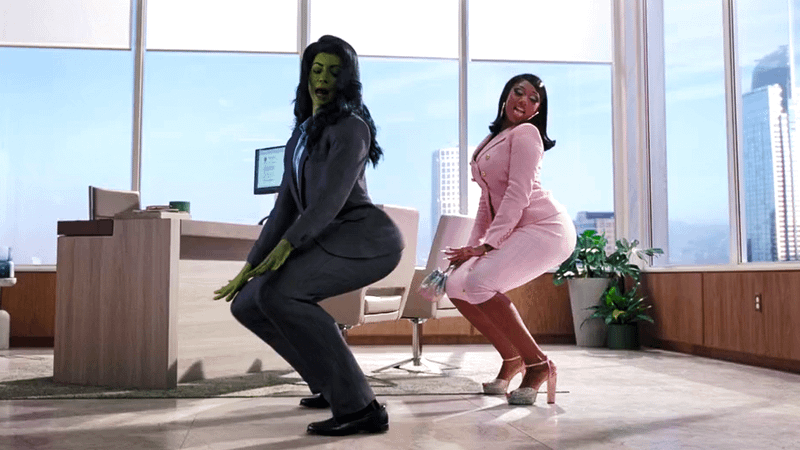 Megan Thee Stallion is an international hip-hop superstar who has grabbed the hearts of the Marvel Cinematic Universe faithful with her role in She-Hulk. 
Ms. Stallion is now entering another level of accomplishment by being a part of the MCU and getting the rare claim to fame of performing AND hosting Saturday Night Live.
Megan Thee Stallion responded to the announcement on Twitter calling "ALL HOTTIES" to tune in. 
LIVE FROM NEW YORK! IT'S THE MCU!
Becoming a performing artist worthy of hosting and performing on an episode of Saturday Night Live is a monumental feat. The show is closing in on 50 years of legendary sketch comedy, and only 36 musical guests have been asked to lead the show. 
Megan Thee Stallion is joining an exclusive club of entertainers led by names like Timberlake, Jackson, and Gaga. 
However, she is the FOURTH MCU actor to host and perform on an episode of Saturday Night Live. 
Miley Cyrus - Guardians of the Galaxy Vol. 2
Donald Glover - Spider-Man: Homecoming
Harry Styles - Eternals
Megan Thee Stallion - She-Hulk: Attorney At Law
Sarah Finn might go down as the greatest casting director in Hollywood history. Her track record proves that she is also capable of bringing in the biggest names in entertainment. 
The list may just keep growing as well with Miles Teller also announced to be hosting on October 1. Teller rose from the ashes of Fant4stic earlier this year with his role in Top Gun: Maverick. 
Back as America's sweetheart, Teller is being rumored for big roles in every IP imaginable. He could join Chris Evans and Michael B. Jordan as actors who jump from Fantastic Four franchises of yesteryear into MCU Hall of Fame roles. 
(He would be an incredible Scott Summers/Cyclops). 
He will be joined by another MCU legend Kendrick Lamar just ahead of the release of Black Panther: Wakanda Forever.