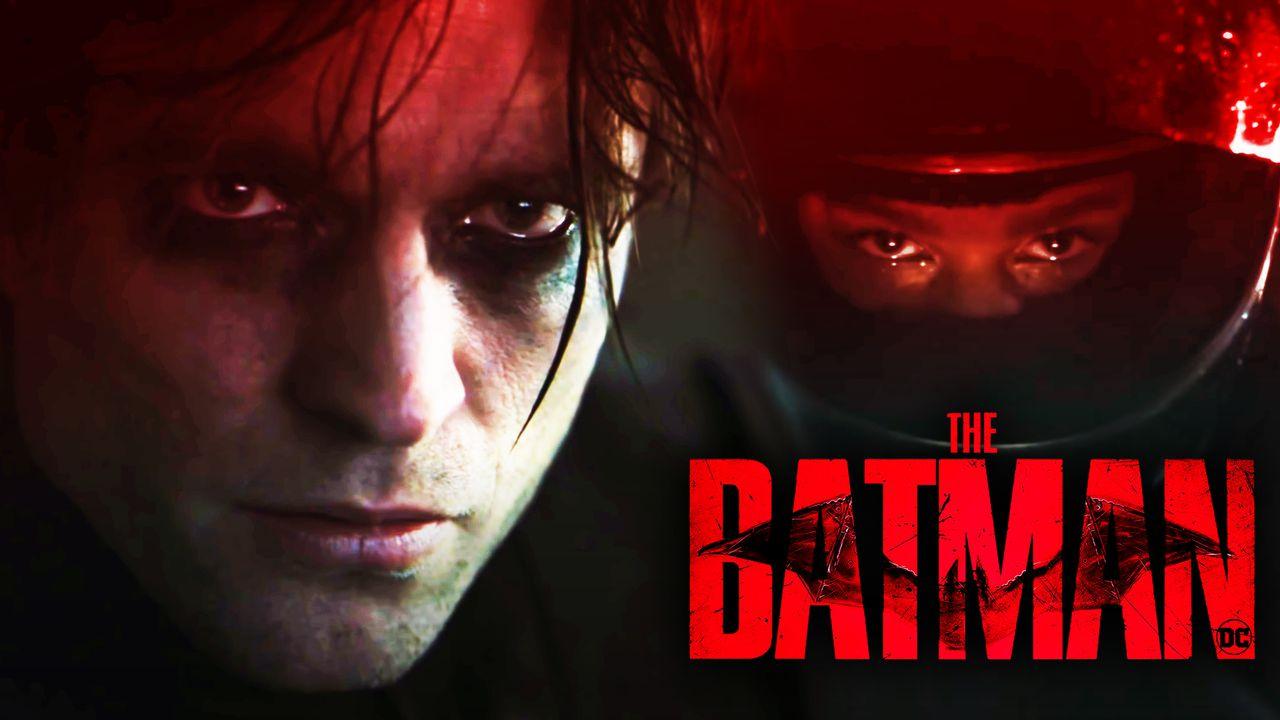 The Batman is one of many DC films that has been met with delays, now set to release on March 4, 2022. That does not mean that production has slowed down by any means though, with a plethora of new set photos and videos revealing many new details about the upcoming film.
Images outside of a courtroom provided a first look at Barry Keoghan's character GCPD Officer Stanley Merkel, as well as what looks to be members of a Riddler gang. Zoe Kravitz, Colin Farrell and John Turturro were also seen on set, playing their respective roles of Catwoman, The Penguin and Carmine Falcone.
Robert Pattinson had also returned to set after previously being diagnosed with COVID-19, halting the production of The Batman. The actor is now back in the suit though, looking as menacing as ever.
Even more photos and videos have now been released, providing close looks at Batman and Catwoman engaging in a motorcycle race...
NEWS
Several new set photos and videos have emerged on social media from The Batman's filming in Liverpool. 
The first image comes from @andyteebaypics on Twitter, displaying Batman and Catwoman seeming to gear up for some sort of motorcycle race. The motorcycles appear to be rather similar in building, both possessing similar custom headlights pieces. 
The next video is from @HeadsScreen on Twitter, displaying Batman and Catwoman racing off together on their motorcycles. The scene is notably during the day, a rare sight for a Batman action sequence.
In this third photo from @rpattinsonfr on Twitter, Batman looks dashing as ever wearing a robe to cover his Batsuit. The stunt double is wearing this fluffy robe to bear the cold English weather in between scenes.
Beneath the robe, though, close up suit details can be seen. This provides a look at the intricate plating that the Batsuit possesses, in addition to the stitched detailing of the cowl.
Stunt motorcycle driver, Rick English #TheBatman #Batman #2022 #dc pic.twitter.com/5nS55ZO4BV
This next image from Twitter user @AndujarTyrese shows that the person in the suit appears to be a stunt double and not actually Pattinson himself. The stunt performer in question seems to be Rick English and resembles the same stunt double seen in previous set videos from Glasgow earlier this year.
More suit details can be seen here, particularly this Batman's more functional utility belt. 
Surprisingly, an image posted by @SupesBatsy on Twitter shows that this Batman is also in possession of what appears to be a gun. Batman is well-known for his 'no gun' policy in the comics, but film adaptations continue to portray the Caped Crusader wielding one. This may make sense for this interpretation though, requiring a firearm to protect himself in this gritty depiction.
The final set video posted by @ljwr_ on Twitter shows Catwoman and Batman walking onto set, robes and all. It is unknown how this scene will currently play out, whether the two will be allies at this point or still remain adversaries. Batman is noticeably missing a cape here as well, which could point to it being added in later through CGI.
In addition to these images from social media, set photos from Just Jared reaffirm what is seen in these photos and videos. The images display Catwoman and Batman in full costume, as well as close up looks at their new vehicles.
What Catwoman and Batman are up to in this sequence remains to be seen, as it is unclear whether the two are teaming up at this point in the film. Catwoman is a notable ally of Batman in the comics and other media, but is also quick to work for her own interests too. The fact that the two are seen riding together side-by-side points to the former, but Selina Kyle may just turn on the Dark Knight if it suits her. 
It is also notable that Batman appears to have a gun attached to his Batsuit. Batman v Superman previously depicted the Caped Crusader with a gun to take down Parademons in the Knightmare sequence. This Batman may required a gun just to deal with this universe's Gotham criminals, though he seems quite capable of taking down petty thugs with his hammers of justice in the trailer. Alternatively, this could be a more sleek design for Batman's grappling gun, allowing him to scale rooftops with ease.
What Batman and Catwoman are up to and more will be revealed when The Batman releases on March 4, 2022.