Rick and Morty Season 7 has been hit with bad reviews after a couple of episodes, and it's time to lay out the biggest criticisms fans have offered thus far.
After finishing off its sixth season in late 2022, Rick and Morty returned for Season 7 in October 2023, although the new season came with some major changes.
Only coming in with a dismal 50% Tomatometer rating and a 42% audience meter score on Rotten Tomatoes, the Adult Swim show hasn't earned the same reception as past seasons for various reasons.
So the big question is where did Rick and Morty Season 7 go wrong?
Four Biggest Rick and Morty Season 7 Criticisms
1.) New Episodes Not Daring Enough
More than anything else, Season 7 of Rick and Morty simply doesn't appear to be taking the same risks the series took in the past. It is nowhere near as daring as it once was, with the first episode feeling stale comparatively.
Centering on the wild Mr. Poopybutthole character wasn't necessarily a choice fans see as a wrong one, although Episode 1 didn't utilize him to his full potential as he recovered from being shot.
No moment in the first episode makes the audience scream "wow," with the titular Rick and Morty largely playing through a few of their funnier hits from past seasons and not tackling anything truly new thus far.
The jokes also didn't land as well as they have in past seasons, and on top of that, many felt that the laughs weren't nearly as consistent after past episodes kept the humor going for the length of entire episodes.
2.) Confusing Canon/ Complicated Plot Elements
Although Season 7 only has one episode out, the overarching story appears to have become overly and unnecessarily complicated after a decade on the air.
For instance, Season 6 ended with a dive into hunting down Rick's nemesis, but that plot point wasn't utilized at all at the start of Season 7.
For all the parodies and jokes that come with this show every week, there's still been an overarching plot through it all - one that has become so hard to track for even the most diehard fans.
And with early reviews noting that this doesn't change much in Episode 2, it leaves viewers somewhat disappointed in how many crazy plot points they have to follow week to week.
3.) New Voice Actors Not a Seamless Fit
Arguably the biggest tangible change in Season 7 came with the recasting of Justin Roiland's roles after he was fired from the show amid a domestic battery charge, which was later dropped.
Along with his roles as both of the show's leading characters, Rick Sanchez and Morty Smith, Roiland lent his voical talents to plenty of other characters like Mr. Poopybutthole, Mr. Meeseeks, and even Albert Einstein.
The biggest issue thus far seems to be with Rick's new voice, which some noted feeling slightly off for some of Episode 1. Specifically, he sounded a little toned down and less manic than what fans are used to.
While this could certainly change through the rest of the season, it makes for a less-than-smooth transition between the old era and the new.
4.) Certain Characters Sidelined in Season 7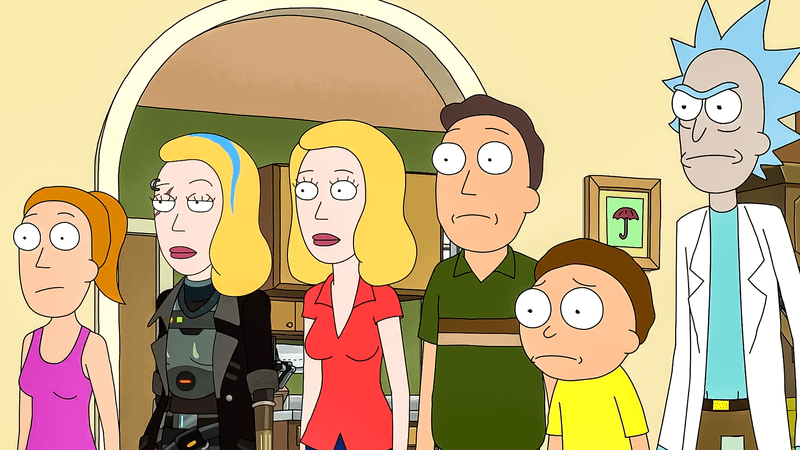 While it's no shock to see that Rick and Morty Season 7 heavily features, well, Rick and Morty at the forefront of the plot, it's doing so at the expense of other characters in the series.
More specifically, Summer and the numerous Beths have been pushed to the background to start this season while Jerry and other male characters like Mr. Poopybutthole had far more screen time.
Additionally, Rick and Morty themselves don't appear to have evolved as characters, not getting much development even while getting most of the time on screen so far.
And while this could very well change with nine episodes left, this didn't make for a very good start for characters outside of the two leads.
What's Going Right for Rick & Morty Season 7?
Despite the big criticisms and bad reviews for Season 7 thus far, that doesn't mean there isn't anything positive to say about the start of the season.
There have still been moments with wild gags and meta humor just as always, in some cases adding some more depth to the hilarity than what's been seen before.
Additionally, while the new actors taking over for Roiland haven't been 100% identical thus far, they've been better than passable and haven't taken fans out of the action even while being slightly different.
With only one episode out thus far, there is plenty of time for the season to improve, and many are still hoping to get more ties back to past narratives in the next couple of weeks.
Episode 1 of Rick and Morty is now streaming on Hulu, and new episodes air on Adult Swim on Wednesdays at 9:00 p.m. ET.
---
Actors
Chris Parnell
Justin Roiland
Sarah Chalke