My Adventures With Superman just spoiled a huge upcoming Lois Lane twist in the show's latest episode.
Lois' life is quite busy these days—though, that'll happen when one ends up dating a Kryptonian.
Despite finding her soulmate, everything hasn't been easy for the Daily Planet reporter. In fact, just recently, she had to deal with an entire League of Lois Lanes who wanted nothing more than to get rid of Superman.
A chaos god by the name of Mr. Mxyzptlk even worked to sow some doubt about her new love into Lois' mind by showing her evil Supermen across the Multiverse. He even handed her some Kryptonite, which remains unused.
It looks like the twists in her life aren't stopping anytime soon, either.
A New Lois Lane Twist Spells Trouble for Superman
The newest episode of My Adventures With Superman spoiled the identity of the villainous General, and it's not good news for Lois Lane.
The information is revealed in the episode's opening minutes, with a flashback to Amanda Waller and the General on Zero Day.
As everyone is gathered outside, Waller says to herself, "Sam, where are you?"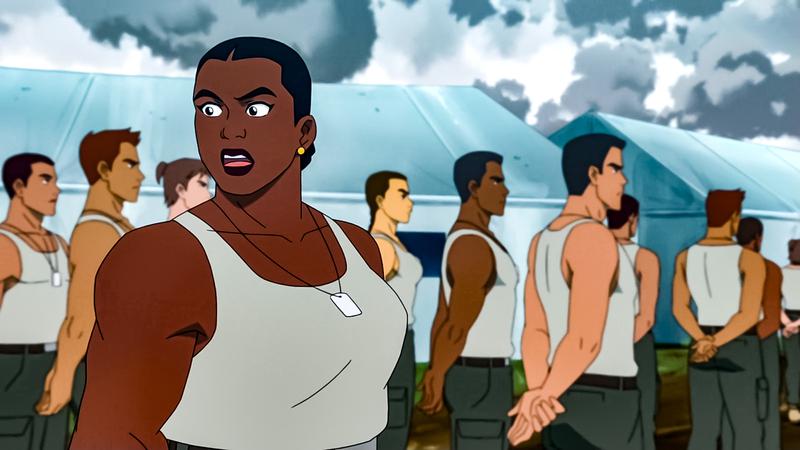 It turns out that Waller was referring to The General, whose younger self is seen making a private call in a nearby tent.
With his name being Sam, My Adventures With Superman seemingly confirmed that this man is none other than General Sam Lane—Lois Lane's father.
The two don't tend to have the best relationship in the comics. Lois Lane's reporting generally puts her against his actions, not to mention that her father wishes he had a son to put through the military instead.
Interestingly enough, in the character's printed appearances, Sam Lane generally doesn't have any idea Superman and Clark Kent are one and the same. However, he knows that the superhero is close with Lois Lane regardless and isn't a fan.
It's a situation similar to General Thunderbolt Ross and Bruce Banner's Hulk in Marvel comics—just without knowledge of his enemy's alter ego.
Sam is constantly disapproving of Superman, sometimes more intensely than others. Even when he's forced to work alongside the Man of Steel, he isn't very happy about it.
Lois Lane actually brought up her father back in My Adventures With Superman's fourth episode, where she admits to Clark that they have a distant relationship.
Will General Sam Lane Take Out Superman?
Now that Sam Lane, Lois Lane's father, has orders to take out Superman, will he do it?
It seems clear that Sam will almost certainly not take out Superman like Amanda Waller wants.
For one, why would he want to work under Waller in the first place after she seized control of his operation? Seems like a clear fracture in their working relationship.
More importantly, however, is that Sam showed some clear hesitation in regard to his thoughts on Superman.
At the very least, the next steps in his journey will probably lead him to cross paths with his daughter once again—and in turn, he'll likely meet Clark Kent.
But will he learn the reporter's true identity? 
Generally (pun intended) speaking, the character doesn't know Superman's true identity across the comics. But this animated series is different from most of the Man of Steel's previous stories, so the creatives could easily choose to use that less traveled road.
My Adventures With Superman is now streaming on Max.