Moon Knight has been entertaining audiences since the beginning, but it took many a few episodes to fully comprehend what exactly was happening, especially those less familiar with the character. Just as viewers begin to get a grip of the story, the Disney+ series delivered its biggest twist yet in the final moments of Episode 4, leaving fans to wonder where this will go in the final two chapters.
Warning - The rest of this article contains spoilers for Episode 4 of Moon Knight.
In the final moments of Moon Knight's fourth chapter, viewers were shocked to see Ethan Hawke's Arthur Harrow shoot Marc Spector. Just seconds later, fans were left confused by an unexpected twist as Spector and the protagonists were shown to be patients in an asylum run by Harrow and the other villains. But that wasn't the end of the twists, as Spector went on to escape capture, come face to face with Steven Grant, and even meet another Egyptian god.
Naturally, audiences have been left puzzled as to whether everything from the first four episodes has been nothing more than the fantasies of a mentally ill man.
There's still the majority of another week to go until the viewers get the answers they're waiting for, but producer Grant Curtis has promised the final two installments will "blow your mind," and Arthur Harrow actor Ethan Hawke noted where things could be going.
Moon Knight Actor Teases Final Two Episodes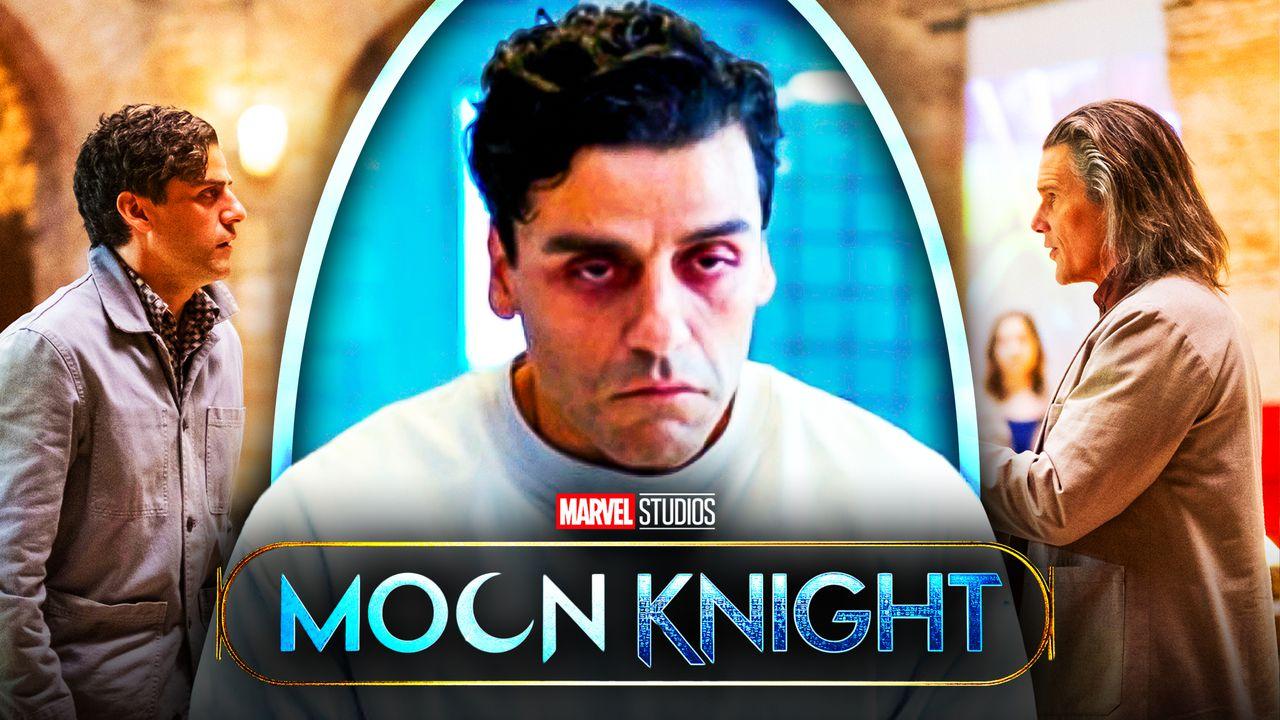 During a recent interview with The Wrap, Moon Knight's Arthur Harrow actor Ethan Hawke discussed the twist ending of the fourth chapter and teased what's to come in the series' final two episodes. 
Hawke described how Marc Spector/Steven Grant's journey in Moon Knight is to "integrate all his selves into one" and, as that happens, "reality itself gets clearer:"
"And what the rest of the journey — his journey is to integrate all his selves into one, and as he integrates it, reality itself gets clearer. So things will be made clear, but just not yet."
The Arthur Harrow actor went on to call the starring hero an "unreliable narrator" and explained how the asylum twist revealed how "his point of view might be misleading:"
"We have a hero who has a fractured mind. And he's an unreliable narrator. And what you realize at the end of four is that you're being told a story from his point of view, and his point of view might be misleading."
Moon Knight star Oscar Issac told The Wrap before the Disney+ series premiered that just as viewers are "finally starting to get a handle on what is happening," a twist will come that takes the show "into a whole different scenario." This twist finally came in the final moments of Episode 4 as Marc Spector and the series' entire cast were shown to be living inside an asylum:
"I imagine people will feel like once we're finally starting to get a handle on what is happening, the whole rug gets just yanked from under everyone, and we're thrown into a whole different scenario. And that's very exciting." 
How Will Moon Knight End?
Moon Knight has thrown countless twists and turns into the mix across the series, making it impossible to predict where things may be going. It's clear Marc will free Khonshu, giving him back his suit and suit powers once again, and obviously, this will lead to the ultimate final face-off between Moon Knight and Arthur Harrow.
There are also the dangling teases of a third personality in this body, one who brutally killed several of Harrow's men and was last seen violently trying to escape the Sarcophagus in the asylum. All of this makes it clear that Jake Lockley is waiting in the wings, but whether he will debut in the fifth or sixth episode remains uncertain.
The MCU has still yet to actually refer to Moon Knight by name in the Disney+ series, but perhaps that may come in the final episodes. Khonshu seems to be the obvious choice to bestow this name onto Marc Spector, although that honor could just as easily fall on someone like Layla.
But one thing is for certain, Moon Knight has been described as a limited series, so fans can look forward to a definitive ending as opposed to a cliffhanger like Loki's. That being said, there may still be teases for how Spector will tie into the MCU beyond his Disney+ debut; Mark Ruffalo's Hulk has been rumored to make an appearance, after all.
The first four episodes of Moon Knight are streaming now, exclusively on Disney+.
---
Sam Hargrave is the Associate Editor at The Direct. He joined the team as a gaming writer in 2020 before later expanding into writing for all areas of The Direct and taking on further responsibilities such as editorial tasks and image creation.