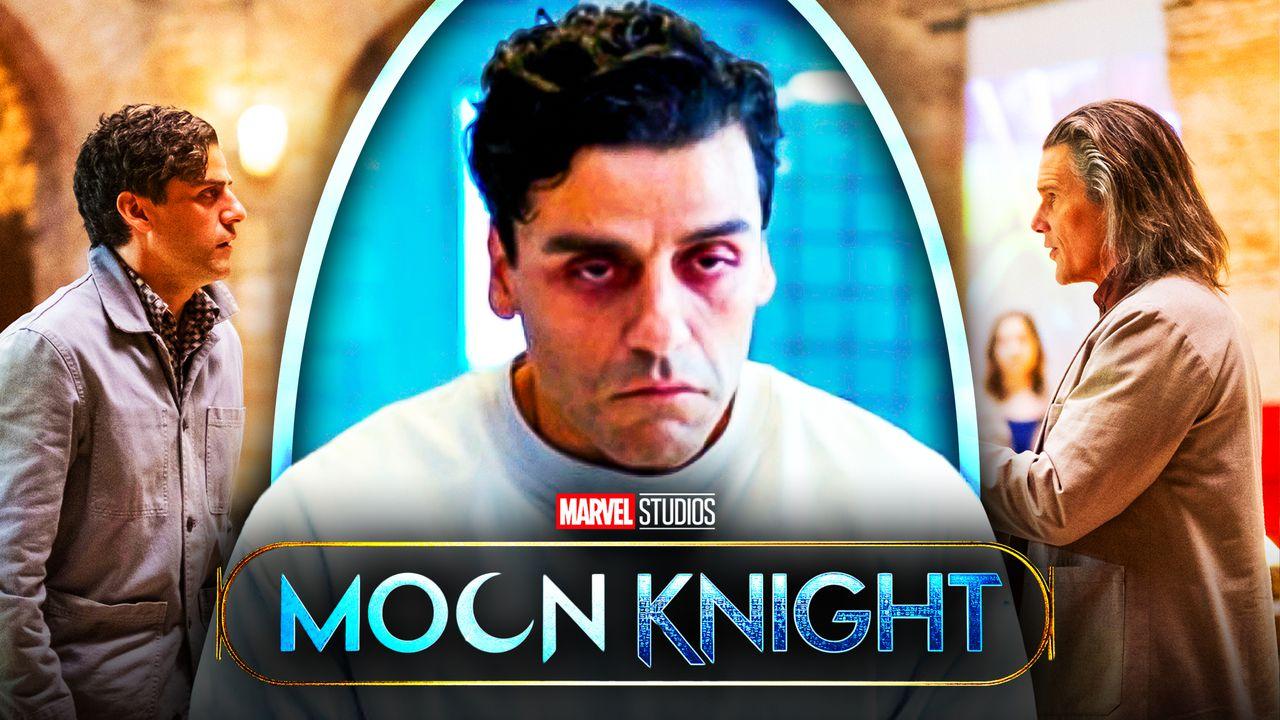 Moon Knight has truly proven to be Marvel Studios' most confusing and mind-bending series yet, even rivaling the infamous levels of mystery found in WandaVision. Over the four episodes released so far, viewers have gotten to know both Marc Spector and Steven Grant, two personalities living in the head of a mentally ill man, enslaved by the Egyptian god Khonshu to do his bidding.
WARNING - The rest of this article contains spoilers for Moon Knight Episode 4, "The Tomb."
With the ending of the latest installment, fans were delivered the craziest twist yet as, after being shot by Arthur Harrow, Marc Spector and every character from the series to date was seen to be either in or working for an asylum. Things only got more confusing from there as Spector escaped, united with Steven Grant in person, and met the Egyptian god Taweret.
Between the inclusion of almost every character, visual nods to earlier episodes, and even imagery of familiar places, Moon Knight had been foreshadowing this twist from the beginning. But it seems as if it did so in more ways than thought, as fans have uncovered a secret appearance from the asylum as early as Episode 2.
Moon Knight Revealed the Asylum in Episode 2
As discovered by Reddit user u/Flying_Moron, Marvel Studios secretly revealed the asylum in Moon Knight Episode 2 in the sequence in which Steven Grant was kidnapped and taken to Arthur Harrow's cult base.
As Layla and Steven attempted to escape Harrow's captive they ran through a corpse-filled room.
The adventuring duo were later attacked by an Egyptian create, known as a Jackal, under Harrow's control.
In the concluding moments of the fourth installment, Marc Spector was taken to speak with Arthur Harrow, serving as a doctor, in the asylum.
The mysterious storage room closely resembles Arthur Harrow's office in the asylum, with an obvious change of decor.
While covered by curtains in the office, the windows can be seen to be identical, with the same tall column and beam structure in front. Additionally, the same arched alcove is visible on the right-hand side.
Since the building shown in Episode 2 was part of Arthur Harrow's base, it isn't too shocking that the ancient building would also serve as the visual representation of his office in the asylum. 
How Did Moon Knight Foreshadow That Twist?
Moon Knight's twist reveal of the asylum brought together elements of every installment so far. Not only did it feature appearances from almost every character - including Donna, Harrow's followers, and Crawley - but also countless visual nods to locations and objects from the earlier episodes. Even the arrival of the Egyptian hippo-like goddess Taweret was foreshadowed earlier in the series as Steven organized merchandise inspired by her at the museum.
Obviously, this reveal shouldn't be taken to indicate that everything viewers have seen up to this point was nothing more than the delusions of a mad man. Perhaps this may simply be a near-death delusion inside Marc Spector's head, or maybe even represent his journey to the afterlife.
The asylum is a fitting metaphor for Spector's unfortunate mental state and offers a clever way for Marc and Steven to meet face to face, something that wouldn't be possible normally as they share a body. It also offered the latest tease toward Jake Lockley's imminent arrival, as Spector's third personality was seen trying to escape the Sarcophagus.
Moon Knight has proven to be excellent at foreshadowing what's to come, and the asylum scene was a perfect way to bring together everything that has happened so far. Who knows how the Disney+ limited series will follow up on that unexpected ending. But Moon Knight almost certainly has plenty more surprises in store, and chances are there are already countless clues to those surprises in the four episodes already released.
The first four episodes of Moon Knight are streaming now, exclusively on Disney+.