Moon Knight was cruising along on Disney+ in an archaeological fashion during the first three episodes and most of the fourth. Oscar Isaac's Marc Spector and Steven Grant put their respective skills to use alongside May Calamawy's Layla El-Faouly in an attempt to reach Ammit's tomb before Ethan Hawke's Arthur Harrow. However, after Harrow shockingly shot Marc at the end of the episode, everything changed.
Viewers were transported to an asylum where all of the patients and employees were people that had been seen out in public at some point during the first three episodes. Marc was a patient in possession of a Moon Knight doll, and it was then revealed that Harrow was inside the facility as well, only he was not a patient, but rather Marc's doctor.
Marc's memories of being in Egypt began flooding back, and in an attempt to escape the asylum, he found Steven in an entirely different body, but with an identical appearance. The pair tried to put their thoughts together and find a way to get out when they ran into a clothed hippopotamus that waved to them and even said "hi."
The episode ended at that point, leaving many fans scratching their heads about what had just happened. With Episode 5 coming in just a couple of days, Disney has released some official looks at the end of the episode.
Images From the Asylum In Moon Knight
Ahead of the release of Moon Knight's fifth episode on Disney+, Marvel Studios and Disney have released eight new still images from the end of Episode 4, showcasing the asylum.
Oscar Isaac's Marc Spector, who has just awoken after being shot, is clutching a Moon Knight doll as May Calamawy's Layla looks at his bingo card.
Layla, as a nurse in the asylum, eats a marshmallow as she talks to Marc. This is just before she grabs Marc's bingo card and finds out that he won.
Marc sits in front of Ethan Hawke's Arthur Harrow. Arthur is speaking to Marc about his other identity, Steven Grant, just before Marc breaks loose and attempts to escape the asylum.
Arthur talks to Marc about the movie that he likes to watch, which is titled Tomb Buster and features an archeologist named Steven Grant.
Marc is being restrained by two of the asylum employees just before he knocks them to the ground and runs through the halls. The two employees are Bobbi and Billy, the two people who took Steven to Arthur in Episode 2.
Bobbi looks on in the asylum's recreational area with cups of Jell-O in front of her. 
Marc Spector and Steven Grant look on in their respective bodies as they see a looming figure coming from behind a door in the asylum.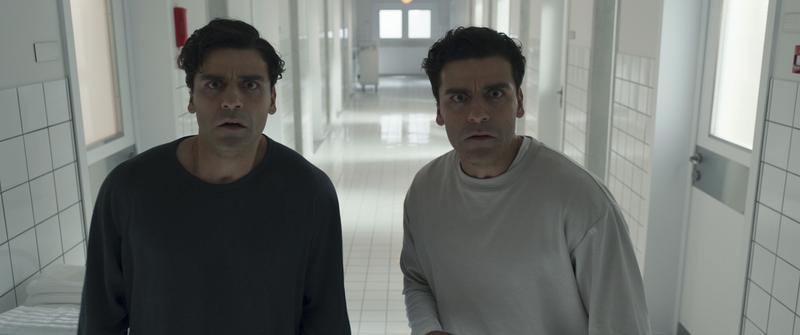 Taweret, the Egyptian Goddess of Childbirth and Fertility, opens the door in front of Marc and Steven, greeting them with a wave and saying "hi."
How Will Marc and Steven Get Back?
Seeing Harrow shoot Marc in Episode 4 was a big enough shock in itself, but Marvel Studios wanted to take it a step further and really bring a twist out of left field. 
It seemed like Marc was in his dying moments as he slowly sunk deeper and deeper into the water. When he woke up in the asylum and seemed relatively unharmed, it made viewers question if everything that had been seen up to that point was even real. All of the people inside the asylum being people that Marc or Steven had interacted with, only supported the idea that his actual life in the real world was all in his head.
However, the appearance of Taweret, as well as Marc and Steven having their own separate bodies, leaves reason to believe that they are in a sort of limbo between life and death. Taweret will likely be the aid that Marc and Steven need to be revived. She is a protector, and will probably keep the souls of Marc and Steven from crossing into the afterlife, ultimately leading to them returning to their joined body in the real world.
Episode 5 of Moon Knight is just around the corner, and fans can expect some answers when it premieres on Disney+.