Marvel Studios is now headed toward the final three episodes of Moon Knight, giving fans a look into Marc Spector and the multiple personalities in his head. While fans wait for the Avengers to make their return after Avengers: Endgame, Moon Knight provides a new experience with a skilled fighter who's tied to the MCU's take on Ancient Egyptian mythology.
Although Moon Knight kicks off the year for the MCU's Phase 4, next up is Doctor Strange in the Multiverse of Madness, bringing in two powerful players who at least have connections to the Avengers. As the fifth movie for Marvel's top-tier team waits in the wings, fans have started predicting what's coming down the road for Earth's Mightiest Heroes, including their next antagonist.
At some point, one of those antagonists will most likely be Jonathan Majors' Kang the Conquerer, whose Variant showed up in 2021's Loki ahead of his theatrical arrival in 2023's Ant-Man and the Wasp: Quantumania. As the wait continues to see Majors fully embrace the immensely powerful villain, viewers actually got a small nod to him in the most recent episode of Marvel TV from Moon Knight.
Moon Knight's Nod to Kang the Conqueror
As pointed out by Erik Voss from New Rockstars, Episode 3 of Moon Knight includes an Easter egg that ties back to Marvel supervillain Kang the Conqueror.
Voss drew attention to a design on the jacket worn by a thug that Marc Spector chased down in Egypt. The young follower of Arthur Harrow wound up killing himself after slicing the piece of his scarf that Marc was using to hold him up on the edge of a cliff.
During Marc's fights with this thug, fans can see a design on the back of his jacket that looks to resemble a pharaoh's head without a face on the front of it, surrounded by teal and purple color spots. These colors are reminiscent of the ones worn by Kang the Conqueror, but the pharaoh's head also ties back to this new MCU villain.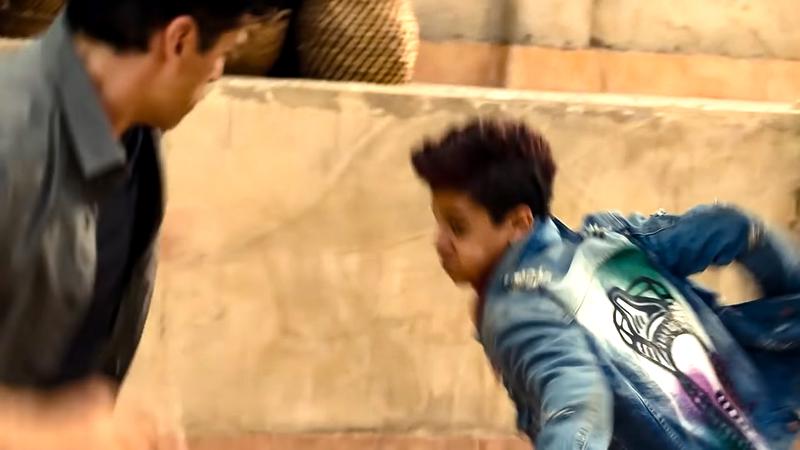 In the comics, 31st-century scientist Nathaniel Richards, better known as Kang, utilized robots and time travel to go back to Ancient Egypt, taking a new place in that civilization as Pharaoh Rama-Tut. The design on the back of the Moon Knight jacket is made to resemble Rama-Tut, including a headpiece that's identical to the one that Richards wears in Avengers (Vol. 7) #4.
Voss and the team at New Rockstars confirmed with crew members from Moon Knight that this was an intentional choice by the team designing this jacket for the show.
Voss also noted that, in Episode 1, Ethan Hawke's Arthur Harrow reminisced on the goddess Ammit's first Avatar that betrayed her. The popular YouTuber speculates this Avatar could have been Kang if he traveled back in time the way he does in the comics.
What Does This Mean for MCU's Kang?
Marvel is no stranger to laying out Easter eggs tying different properties to one another, even ones that tease future plot points set to play an important role in other movies or shows down the road. Even though it's a mystery if Kang will tie in heavily with Moon Knight, it's clear that the team behind the show is well aware of the villain's ties to Marvel's use of Egyptian mythology.
Kang has an extensive history in the comics due to his time-traveling capabilities, leaving his mark on thousands of years of history throughout his interactions with Earthly and cosmic heroes alike. While Jonathan Majors won't make his full debut as Kang-prime for more than a year, Easter eggs like this set the stage for just how much history he'll already have built up before that time.
The nod to Rama-Tut may not mean that Kang is on the way in this series, but there is no doubt that his influence will make him that much more powerful of an antagonist when he begins his reign of terror.
The first three episodes of Moon Knight are now available to stream on Disney+.