What some fans might not realize about Moon Knight is that when it comes to lore, it would have been the perfect place to lay down some foundation for the next big bad for the Avengers: Kang the Conqueror. The character was first set up in Loki, and will make his official onscreen debut for Ant-Man and The Wasp: Quantumania. But what does he have to do with Marc Spector's story? Well, both a lot and very little—but that leaves plenty of room for some creative choices.
The biggest connection lies with the Egyptian ties that the titular hero has. Kang also has those links, because, at one point in the comics, he becomes the Pharaoh Rama-Tut.
Rama-Tut was actually the first version of Kang to appear in the comics, before being retroactively connected to his later introduced self. Why would Kang decide to go from the future to the past in order to become a Pharaoh? Well, it all comes down to a lust for power.
Given how prominent someone like Rama-Tut would theoretically have been in the history books for those in the MCU, could audiences have ever seen him mentioned within Moon Knightx?
The Cut Kang Connection
In an exclusive interview with The Direct's Russ Milheim, Moon Knight head writer and executive producer Jeremy Slater revealed that at one point in time, Rama-Tut, a persona of Kang the Conqueror himself, was once referenced in one of the series' episodes.
Slater noted how there "was a line in the script" where someone, he thinks Steven, was "sort of rattling off some Egyptian history... and he did mention Rama-Tut:" 
"There was a line in the script, and I don't know if it survived. I can't remember. But there was a line where, I think Steven, is sort of rattling off some Egyptian history that he has locked away in his brain, and he did mention Rama-Tut. I don't remember if that scene, if that line is still in the show or not. But it was that small, it was him mentioning a list of famous pharaohs or something like that. But that was Nick Pepin, one of our executives at Marvel, that was his idea to sort of slip that in there as a fun Easter egg."
In the comics, Kang's Rama-Tut persona was originally a villain of the Fantastic Four, before coming to blows with the Avengers in other stories.
Rama-Tut most notably faced Earth's Mightiest Heroes in Avengers (Vol. 7) #4, which a previous Moon Knight Easter egg was inspired by. The ancient villain wears an elaborate pharaoh headdress, which can be seen on the back of a character's jacket in the Disney+ series' third episode.
Rama-Tut on the Cutting Room Floor
It's a shame that the vocal reference to Kang's infamous Pharaoh persona didn't make it into any of the episodes. Moon Knight was legitimately one of the most perfect places to drop a subtle Easter egg about him, while also simultaneously and organically setting up a foundation for the villain to stand on down the line.
The show did, however, have a slight visual nod to the villain thanks to a piece of graffiti artwork featuring Rama-Tut seen on the back of a character's jean jacket. There was also a random theory by some who thought Alexander the Great was actually Rama-Tut––which, according to the producer, doesn't seem like the case.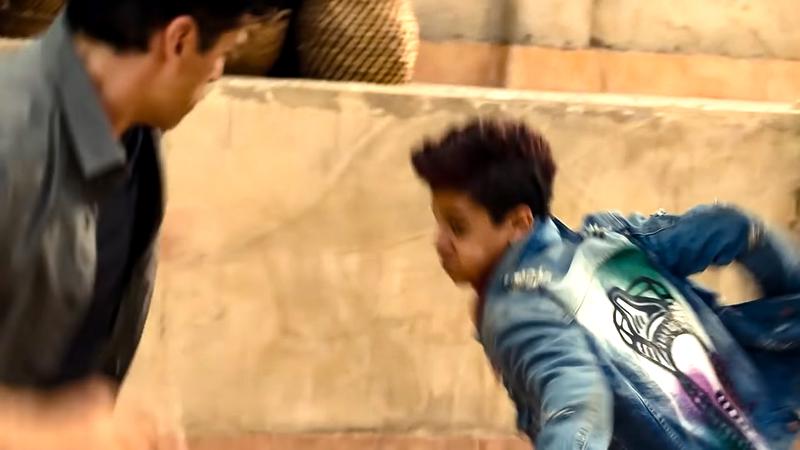 Outside of Moon Knight, there was also an allusion to the character with the appearance of his time-traveling ship in Loki's fifth episode.
As the MCU's storyline progresses and the world gets closer to Kang's big ascension in the hierarchy of MCU villainy, hopefully, more set-up for the iconic baddie will show up across various projects. By the time Moon Knight shows up again onscreen, Jonathan Major's antagonist will likely have already made his proper debut in Quantumania—meaning it should be fair game to start alluding to his hopeful Egyptian past (Present? Future?).
Moon Knight is now streaming on Disney+, while Ant-Man and the Wasp: Quantumania hits theaters on February 17, 2023.