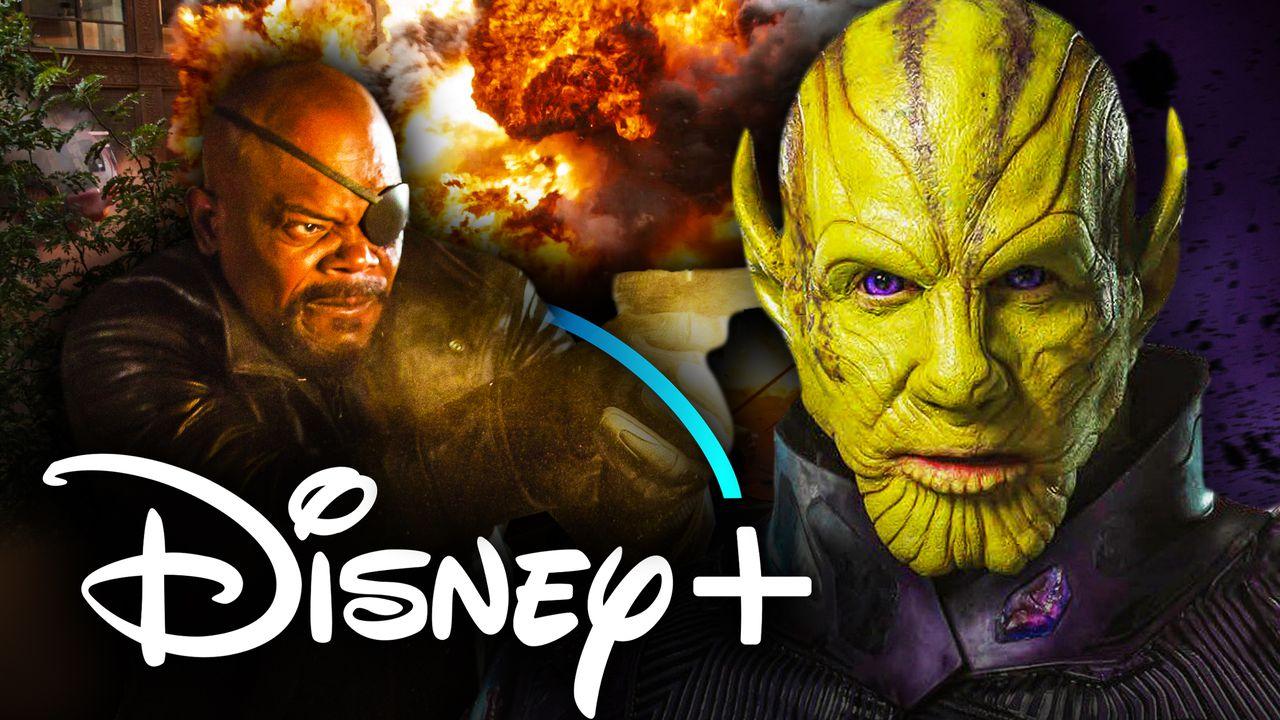 Secret Invasion is set to release on Disney+ sometime in 2022 and change the entire MCU. The series will follow Samuel L. Jackson and Cobie Smulders as Nick Fury and Agent Maria Hill, respectively, as the fandom experiences an invasion from the Skrulls. Ben Mendelsohn, who was last seen as Talos in Spider-Man: Far From Home, will also be reprising his role.
Up until recently, details about Secret Invasion had remained hidden from the public eye. With filming underway for the upcoming project, images and even some videos have made their way out of secrecy. One of these showcased Agent Hill in what appears to be an action scene, and another featuring Kingsley Ben-Adir on-set.
Recently, more details about what is going on with Secret Invasion have been leaked onto the internet, pertaining to a scene that will be set during Russia's Unity Day.
An Action-Packed Secret Invasion Scene
Marvel Studios has built the Russian Unity Day set at Piece Hall in Halifax, England, according to past set photos. Recently, a video was uploaded to Twitter from outside of Piece Hall. In the clip, courtesy of @SInvasionNews, screaming can be heard coming from on-set, followed by a loud explosion. The camera then pans upward revealing black smoke from the aftermath of the explosion:
View and sound of the scene (explosion) being shot from outside The Piece Halls for SECRET INVASION. (via: @Froppycoffee0) https://t.co/VToG3LprnQ pic.twitter.com/DJsAUKgJJD
Past set photos revealed that Marvel Studios was building the Russian Unity Day set in Piece Hall, and more recently, the completed product was also shared to Twitter:
Piece Hall is Russia! pic.twitter.com/5DxgN5NKIW
Additional set photos that have been released by Just Jared revealed that Samuel L. Jackson, Cobie Smulders, and Kingsley Ben-Adir were seen in Halifax at the same time that the explosion scene was being filmed, suggesting that their three characters were somehow involved in the action.
An Endangered Nick Fury
Kingsley Ben-Adir's role in Secret Invasion has not yet been confirmed, but it is known that he will be an antagonist in the upcoming Disney+ series. With him being spotted in Halifax, England, the same place that Piece Hall is located, along with Samuel L. Jackson and Cobie Smulders, these rumors only have more fuel now, as it seems like one of the three characters must have caused the explosion.
It is highly unlikely that Nick Fury or Maria Hill wanted to put innocent people in danger, so all the signs point to Ben-Adir being behind the attack. Fury and Agent Hill could possibly be pursuing him which leads to an explosion being set off by his hand to allow him to escape, or it is even possible that he could have planned an attack in a crowded area and the two tenured MCU heroes weren't able to stop it in time.
Whatever the case may be, Secret Invasion will likely shake up the MCU as no other project has. Characters who have been trusted for nearly a decade could turn out to not be those characters at all. As filming continues, and the release date gets closer, more details and set photos will surely make their way into the public eye.
Follow @SInvasion on Twitter for the latest updates on Marvel Studios' Secret Invasion.