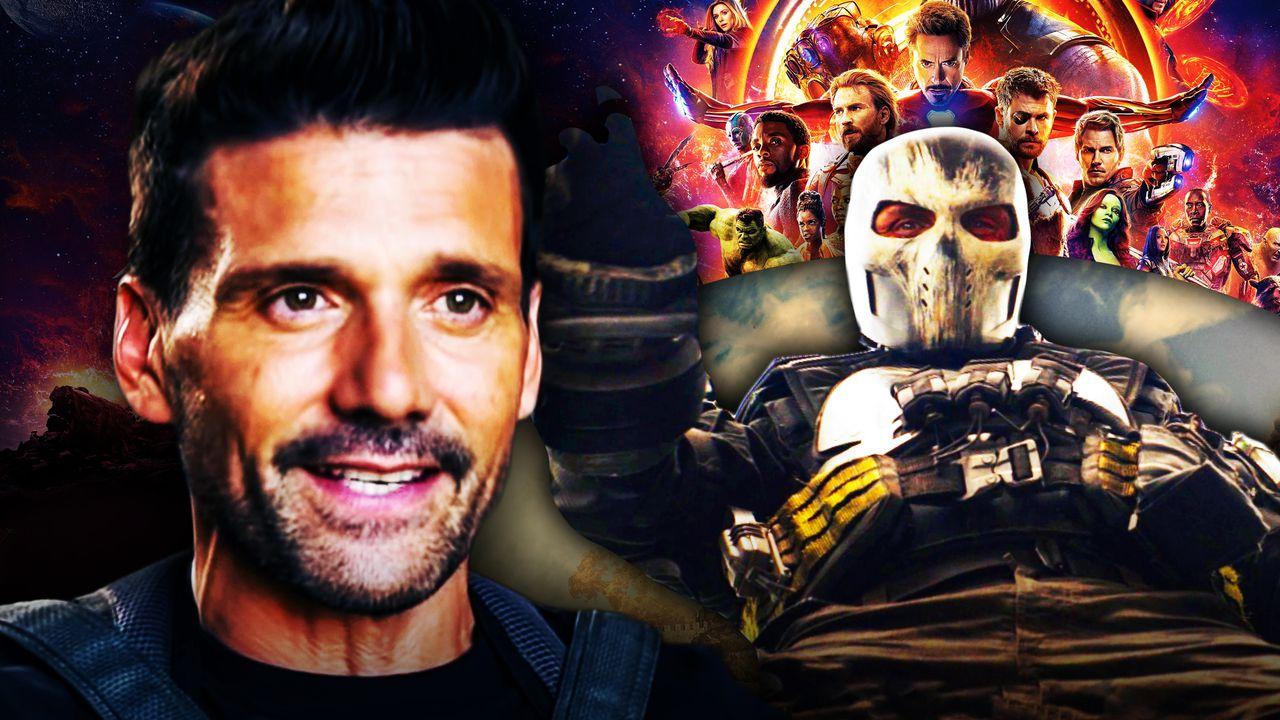 Over the years, Marvel Studios has built up an expansive arsenal of popular heroes and villains, many of which have unfortunately met their demise at one point or another. But with the multiverse and time travel now in play, the doors are open to any deceased character returning.
With six episodes of the multiverse-hopping What If...? animated series now available on Disney+, viewers have already been treated to the return of many fan-favorites, including Frank Grillo's Crossbones.
Having been initially introduced in Captain America: The Winter Soldier as a HYDRA operative working within SHIELD, Brock Rumlow aka Crossbones proved to be an instant hit for fans. Since then, Grillo has reprised his role multiple times in Captain America: Civil War, Avengers: Endgame, and now What If...?.
Crossbones proved to be a catalyst in shifting the course of the MCU during Civil War as he detonated a suicide bomb which Wanda unintentionally threw into a building, causing mass destruction and, eventually, the Sokovia Accords.
But it seems Crossbones may be able to overcome his explosive death if Frank Grillo has anything to say about it as the actor shared his hopes of returning to the MCU.
Frank Grillo Teases Crossbones' MCU Return 
During a recent interview with CinePOP, Crossbones actor Frank Grillo discussed the possibility of returning to the MCU in a future project.
When asked if he could see his HYDRA villain leading his own solo movie, Grillo shut down the possibility, saying that "Crossbones is a secondary villain in that universe." However, the 56-year-old actor expressed confidence that Brock Rumlow will "pop up now and again" in the MCU's future:
"No, I think Crossbones is a secondary villain in that universe. I think you'll see him pop up now and again."
Grillo went on to tease he will voice Crossbones in multiple episodes of What If...?, with his first appearance in the third episode having been released the day after the interview: 
"I think tomorrow you'll see Crossbones in the animated What If...? series, I think my first episode is tomorrow, so that's exciting. Crossbones will live, I just don't know in what area of the Marvel universe yet."
Finally, Grillo addressed the possibility of returning to the live-action role in another MCU film or series, to which he confirmed his interest because "when Marvel calls, [he picks] up the phone:"
"Oh yeah. I often say: 'When Marvel calls, I pick up the phone.'"
How Crossbones Could Connect to the MCU's Future
Crossbones seemingly met his demise in the opening sequence of Captain America: Civil War as he detonated a suicide bomb after being defeated by the Avengers. Based on this, a return for Frank Grillo in the main MCU timeline seems unlikely.
However, with the multiverse playing such an integral role in so many projects, it isn't hard to imagine an alternate version of Crossbones popping up. But given the realistic and grounded nature of the projects Crossbones would typically be involved with, it's hard to imagine the multiverse offering up many opportunities for Grillo.
Alternatively, Marvel could opt to reveal Brock Rumlow actually survived his explosive encounter, opening the doors to plenty more possibilities. Anthony Mackie's upcoming Captain America movie could prove a fitting place for Grillo to reprise his role, allowing Sam Wilson the chance to prove he can take on one of Steve Rogers' toughest foes.
If Crossbones were to rejoin the MCU in a larger capacity, he could make a great fit for whatever team Julia Louis-Dreyfus' Valentina may be putting together with Yelena and John Walker, which is likely the Thunderbolts or Dark Avengers.
Since his villain's death, Grillo has already reprised his MCU role once in live-action with Avengers: Endgame's time heist, during which Captain America managed to steal Loki's Infinity Stone-powered scepter from his HYDRA team.
What the future holds for Frank Grillo's Crossbones remains to be seen, but for now, fans can enjoy a little more of the Captain America villain in episode three of What If...?, streaming now on Disney+.