Marvel and Funko have had a successful partnership spanning multiple decades as the fan-favorite IP has continued to grow and flourish. 
Making momentos for Marvel's many movies, as well as creating comic-accurate collectibles, has been a constant demand for the toy company. As a result, the quality and value of the famous Funko Pop! has increased with each year, as fans continue clamoring for their favorite Marvel moments to be Funko-fied. 
Since there are now countless Marvel Pops! to choose from, The Direct has compiled a ranked list of Funko's greatest Marvel creations that represent the many movies, shows, and comics that fans love.  
15.) Scarlet Witch (Glow) 
Mimicking a familiar Doctor Strange MCU moment, Wanda uses her newfound abilities of astral projection while studying the Darkhold in her Scarlet Witch attire. 
Wanda had a short stint with the Darkhold in the MCU, but she's also the one who supposedly destroyed it in Doctor Strange in the Multiverse of Madness, so this Pop! showing the Darkhold with its final user is extra special. 
Pre-order the Scarlet Witch (Glow) Funko Pop here. 
14.) Captain America 
Captain America finally proving that he's worthy of lifting Thor's hammer was one of the MCU's biggest payoffs in Avengers: Endgame, and it was met with possibly the loudest cheer ever heard in a movie theater. 
Naturally, fans were clamoring for Funko to make a figure of this immediately after the movie came out, and the toy company didn't disappoint as it responded shortly after with a figure commemorating when Cap wielded both Mjolnir and his shattered shield. 
Pre-order Captain America's Endgame Funko Pop here. 
13.) Miles Morales 
No one expected 2018's Spider-Man: Into the Spider-Verse to be the absolute masterpiece that it is, but people were still excited nonetheless because Miles Morales was finally getting his moment in movie theaters. 
Miles is special because so many fans can relate to his story. He expresses himself like most people do--with the clothes that he wears. 
Licensing issues prevented the Funko Miles from rocking his Air Jordan 1's that he wore in the movie, but Miles doesn't need branding to make him stand out. Sporting his iconic look of the Spidey suit covered by his hoodie and sneakers is a new fan-favorite, which put this Pop! in constant high demand. 
12.) Colossus (Chrome) 
The coolest Funko Pops! are the ones that showcase a character's unique ability, and the toy company has a lot of fun bringing that element to life with the X-Men. 
Colossus is obviously a man made of all metal, and Funko decided to show off the mutant's special power by using a chrome finish for his skin. Now, even the three-inch figurine of Colossus looks indestructible. 
Sporting his lesser-known X-Force attire, this Colossus Pop! was exclusive to Los Angeles Comic-Con in 2018 and later shared with Hot Topic stores across the US. 
11.) Captain Marvel (Glow) 
Captain Marvel arrived in the MCU as promptly as she did abruptly, and the same can be said for the plethora of Captain Marvel Funko figures that hit the shelves ahead of the character's first feature film. 
That doesn't mean the Pops! Weren't awesome, as some showcased Carol's powers while others played around with the variations of her super suit. 
For the fans that didn't want to overload their collections with all the common Captain Marvels they could find at the convenience store, though, a special variation of Captain Marvel flying and glowing was made available only through Amazon's bimonthly Funko subscription service, dubbed the Marvel Collector Corps box. 
10.) Gambit (Blacklight)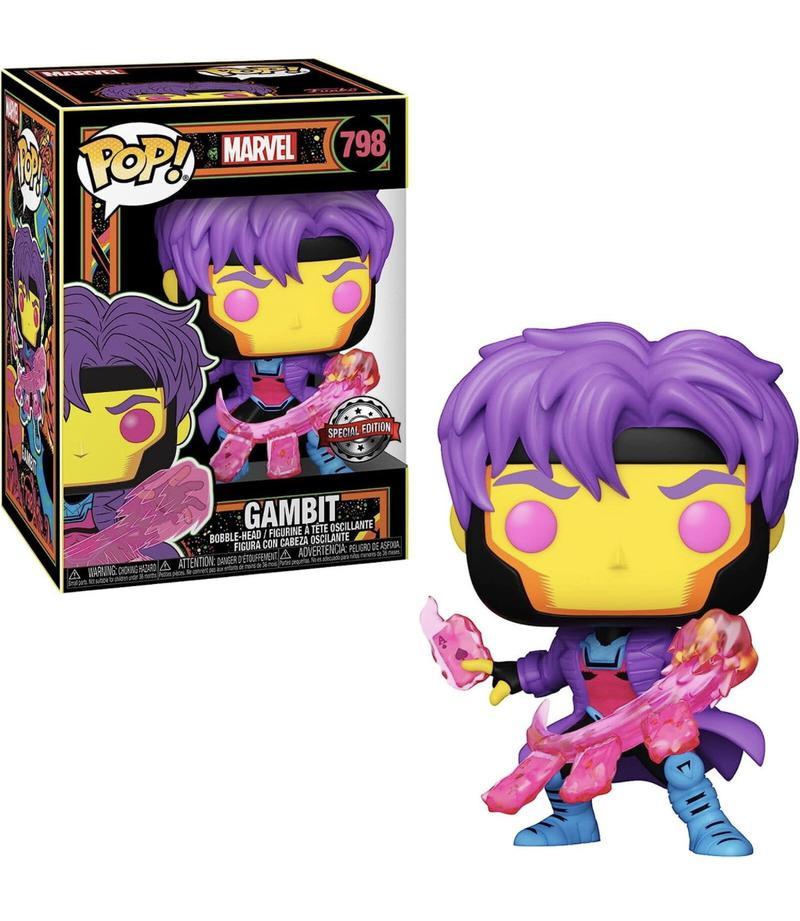 Not every entry on this list needs an explanation—just look how cool Gambit is throwing those energized playing cards that actually glow. 
The Gambit Pop! is formed with a great action pose that showcases what makes him special, and the figure was already one of Funko's most visually stunning Marvel toys. Giving the mutant Pop! a repaint to glow under a blacklight makes the new Gambit even cooler. 
9.) Captain America 
No one saw it as a surprise that Sam Wilson became the new Captain America by the end of the Disney+ series The Falcon and the Winter Soldier. What many weren't expecting, though, was for Funko to follow the series finale by releasing three all-new Funko Pops! To celebrate the new Captain America. 
Sam Wilson's style emulated that of a guardian angel in the final episode, and this Pop! in particular showcases Sam in his new red-white-and-blue wingsuit, donning the shield as he soars through the sky in an angelic fashion. 
8.) Hulk Smashing Loki 
Celebrating its 10-year anniversary, Marvel Studios ignited a merch campaign in 2018 dubbed "Marvel Studios: The First Ten Years" and used the opportunity to revive and relive some of the MCU's greatest moments. 
Hulk smashing Loki is obviously one of the funniest moments in 2012's The Avengers, so there's no question why Marvel Studios wanted to immortalize the hilarious altercation between Hulk and the "puny god." 
7.) Black Panther (Facet) 
Some things are bigger than the movies. 
With a big thank-you to the late Chadwick Boseman, Black Panther has had an enormous cultural impact across the world. Because of this, Disney commissioned Funko to make a special faceted figure of the Wakandan hero to honor and celebrate the influence of the Marvel hero. 
The faceted style of the Black Panther Pop! gives it a bit more shine, setting it apart from the everyday Funko figures that flood the retail shelves as this one looks more special and distinguished. 
As it resembles the gem that Black Panther has been in the modern Marvel world, adding the faceted Black Panther Pop! to the collection feels like a must. 
6.) Venomized Magneto 
Every once in a while, a Funko Pop! surfaces that's just too cool to ignore. 
Funko has been working on its line of Venomized Marvel characters for quite some time, but none look as awesome as the Venomized Magneto that the toy company put together for New York Comic-Con in 2020. 
Staying true to his iconic colors, Magneto is overtaken by the alien goo and transformed into something ever worse while still emulating his natural power and authority. 
5.) Mysterio (Glow) 
Despite Spider-Man: Far From Home featuring three different Spidey suits, it was actually Mysterio that got the greatest movie makeover, and Funko took notice. 
His face shrouded by an ominous cloud of smoke, the Mysterio Pop! puts on just as good of a show as the real thing. Showing off his mesmerizing green magic as his cape flows in the wind behind him, the faux hero has never looked better than he does as a three-inch Funko figurine. 
Several variations of the Mysterio Funko figure were made to promote the villain, but none did it better than this Walmart-exclusive Pop! that glows in the dark. 
4.) Mystique 
It's not every day a fan can get two Pops! for the price of one, but there's so much more than that that comes with a mutant like Mystique. 
Mystique has been both a friend and a foe to the X-Men on the big screen. In 2000's X-Men, she was certainly the latter when she disguised herself as Wolverine, fake claws and all. It wasn't until Wolverine answered with real adamantium claws that Mystique was outed as an imposter, and that's when she performed the iconic spin-kick as she morphed from the likes of Hugh Jackman to her true form as the blue, cold-blooded killer. 
This is another Pop! that was exclusive to the Marvel Collector Corps box, which makes sense as this scene became a fan-favorite moment in the X-Men legacy films that has gained the hard-earned title of a non-MCU Funko favorite. 
3.) Winter Soldier 
Speaking of fan-favorite moments, one movie that's packed with them is 2014's Captain America: The Winter Soldier. From jumping from the sky without a parachute to deadly car chases in Washington, DC, the action in the first Captain America sequel was legit. 
Of all those moments, though, possibly the greatest scene in the film is when the Winter Soldier tries to use Captain America's own shield against him. This Funko Pop! perfectly resembles when Bucky picked up the star-spangled shield and stood ready to fight its wielder. 
Funko used this iconic moment to launch its Year of the Shield event on Amazon in the US, and the Pop! had to be restocked several times on the site due to the high demand from fans. 
2.) Thanos with Throne 
Thanos with Throne is a bigger, more creative use of Funko's iconic image, placing Thanos on a seat that takes up much more space than the average Pop!. 
Fans waited a long time to see Thanos, and this Pop! was a perfect representation of that. Teased at the tail-end of 2012's The Avengers, Thanos seated on his throne was the only image audiences had of the Mad Titan for years before he finally got up and "did it himself." 
This figure was the first Pop! made for Thanos since his appearance in 2014's Guardians of the Galaxy, and it kicked off the Funko line of Marvel Studios' "The First Ten Years" anniversary merchandise that ran for most of 2018. 
1.) Iron Man (I Am Iron Man) (Glow) 
Ready to snap with all six Infinity Stones in his secret gauntlet, this Tony Stark Funko figure commemorates when Iron Man made the ultimate sacrifice to save the universe. 
When taking the Pop! out for display, the inside of the box says "I Love You 3000," reminding fans of yet another classic Iron Man moment from the movie and the legacy he leaves behind. 
Funko made multiple Endgame monuments for Iron Man before working its way up to this masterpiece, but none were nearly as awesome as this Iron Man with a glowing arc reactor and glowing Infinity Stones. 
The "I Am Iron Man" exclamation from Avengers: Endgame is surely one of Tony Stark's most memorable MCU moments, and now it's one of Iron Man's coolest Funko figures, too.