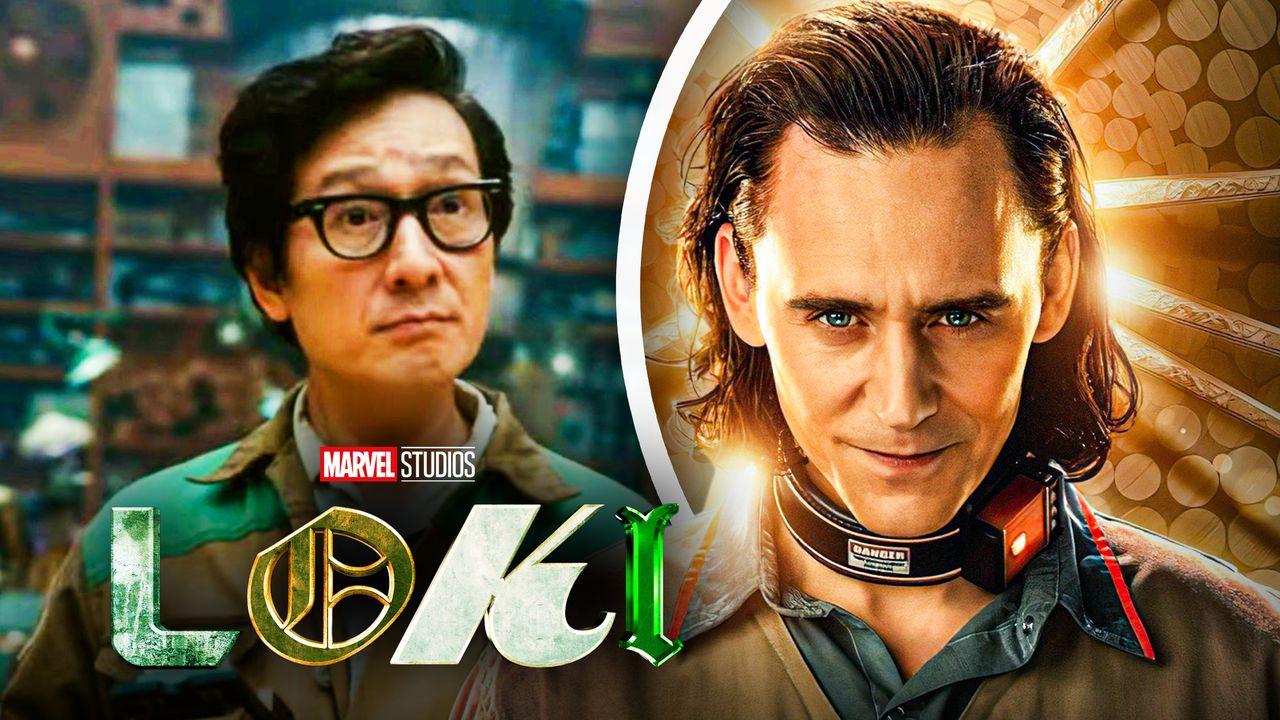 The story behind Ke Huy Quan's character, Ouroboros (OB), in Loki Season 2 got some additional details thanks to a Marvel producer.
The new character, who was first revealed to be joining the cast at last year's D23 Expo, finally was introduced to fans in Season 2's premiere episode.
In hopes of fixing Tom Hiddleston's Loki's time-slipping problem, Owen Wilson's Mobius took his friend down to what amounts to a cluttered basement of the TVA where OB calls home. It's here that Quan's eccentric genius, Ouroboros, works away endlessly, with little to no contact with anyone else in the TVA.
His work is important, though, as he wrote the handbook that many TVA employees rely on to do their jobs. Thankfully, his expertise was also able to build the device needed to save Loki's existence.
But helping the God of Mischief with his brief problem is only the start for the character, as OB is now neck-deep in the existential, world-ending problems facing the TVA and its Time Loom.
Marvel Producer Speaks About Ouroboros
Loki Season 2 producer Kevin Wright spoke with a couple of news outlets about Ke Huy Quan's role as Ouroboros in the series.
While speaking to Blavity, Wright claimed that he thinks that OB is "about to become a lot of people's new favorite Marvel character" and that part of the goal behind the character was to help flesh out the TVA as a whole:
"Ke is, I think, about to become a lot of people's new favorite Marvel character...The short synopsis is…The TVA has a lot of amazing production design and computers and tech and like all of this stuff. And it made us go, all right, if we're expanding out the world, the TVA, where's all that coming from? Who's keeping all of this old, old stuff running and it, and it's OB–Ouroboros."
The producer admitted that Marvel is "lucky to have Ke:"
"We're lucky to have Ke. I mean, it's just, there's no other way around it. He just really, I think, slots in nicely to this already amazing ensemble."
In a separate interview with Screen Rant, the producer stated that the team loved the idea of telling a story about a "guy who's been locked in a basement for 400 years just working away:"
"There's something very exciting about just learning more about that, the idea of this guy who's been locked in a basement for 400 years just working away. So he's a little bit eccentric, a little bit of an oddball was always in the script."
Wright shared how Quan "really kind of took ownership of this thing" right when he came aboard:
"And I think the great thing was when Ke decided to join us. He really kind of took ownership of this thing and put so much of himself into it the way that Owen has put himself into Mobius and Tom has famously put his heart and soul into Loki for the last 12 years now. He just found a way to make that his own and do his own thing with it in a way that's been awesome."
How Ke Huy Quan's Marvel Character Plays Into the MCU
If there's one commonality between all the positive reception to Loki's second season, it's that everyone seems to be loving Ke Huy Quan's addition to the show's roster. His quirkiness fits in perfectly alongside Loki and Mobius' antics.
While Loki's time-slipping looks to be solved, Ouroboros' role in the series is far from over. The Time Loom is in danger, and OB's help will be critical to saving not only the TVA but potentially all of time itself.
OB isn't the only fresh face this season, though.
Rafael Casal's X-5, who fans met in the premiere, will also be playing an integral role in Loki's upcoming episodes. Kate Dickie and Liz Carr both boarded Season 2 as well, portraying high-ranking members of the TVA.
Then, there will be Jonathan Majors' Victor Timely, another Variant of He Who Remains that Loki will be crossing paths.
Loki Season 2's premiere is now streaming on Disney+. New episodes stream every Thursday at 9 p.m. ET.
---
Russ Milheim is the Industry Relations Coordinator at The Direct. On top of utilizing his expertise on the many corners of today's entertainment to cover the latest news and theories, he establishes and maintains communication and relations between the outlet and the many studio and talent representatives.