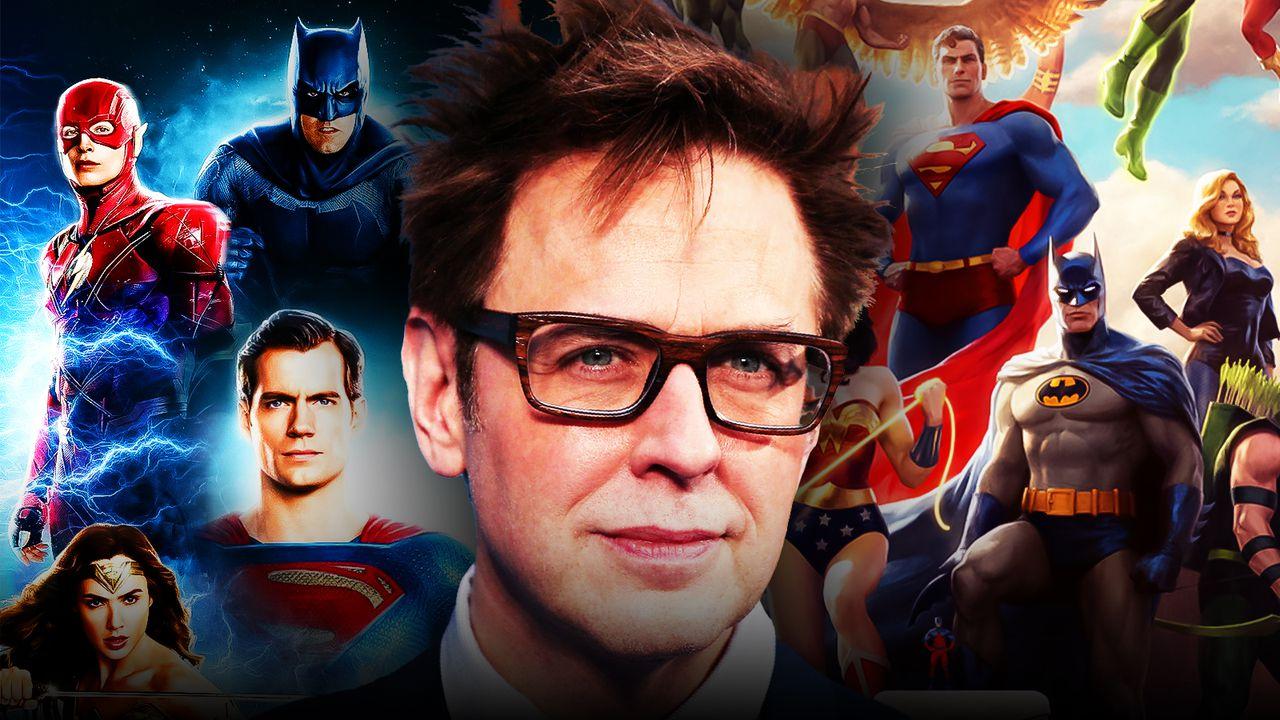 James Gunn responded to concerns about audience confusion about another DCU reboot and what that requires of him and Peter Safran. 
On Tuesday, January 31, DC Studios co-heads James Gunn and Peter Safran finally unveiled the first chapter of their DCU reboot titled "Gods and Monsters."
While their long-anticipated slate included a Superman movie, a Green Lantern television series, and a coined label for side DC projects like The Batman, the reveal generated some criticism and even concern about whether the public can keep up with yet another DC Universe. 
Fortunately, and just like everything else, James Gunn has a plan. 
Gunn Responds to Possible DC Confusion
At the January 31st DC Studios press event, shared via Gizmodo, James Gunn defended the decision to reboot DC's on-screen universe, saying, "it's going to take some time" to inform audiences who may be confused about another DC cinematic retelling: 
Question: "Is there a worry audiences might be confused with yet another DC reboot?"

Gunn: "We have a lot to prove. It's going to be up to us to show the audience what our universe is, how this is connected, [and to] clearly demarcate what is DCU and what is Elseworlds, and to move like that going [forward]. So it's going to take some time."
While Safran noted that the overhaul requires "some sort of explanation," he also expressed his confidence in audiences coming to understand "what the DCU is:"
"It's going to take some sort of explanation. But we're very confident that by the time 'Superman: Legacy' comes out that people will understand what the DCU is."
Just what the new DCU intends to be is an uber-connected universe where DC films, television, gaming, animation, and more fall under one creative vision. 
But with connectivity comes questions of dependency, and whether any of DC Studios' stories will be able to stand on their own. 
According to Gunn, he wants them to do both, confessing that it's "important for [him]" to have "these movies work in and out of themselves, and by themselves," as opposed to being "completely dependent:" 
"I want people to understand the story no matter who walks in. If somebody turns on the first episode of 'Booster Gold', even if it's connected to something else, I want them to basically understand what's going on. If Superman is in 'The Authority' and they go in and they watch 'The Authority', I want them to be able to understand basically what's going on in 'The Authority' without seeing Superman. That's important for me. To make these movies work in and of themselves, and by themselves, and not have them be completely dependent." 
But even so, the Guardians of the Galaxy director is realistic in admitting that "there's always going to be small confusions," but overall, his goal is that each DC project is "understood by somebody going to see it and only it:"
"Now, there's always going to be small confusions and things when you tell a big story like this. That's unavoidable. But for the most part, it's really important to me that each individual project is understood by somebody going to see it and only it."
Is Time & Story the Antidote to DCU Fears?
Even though Peter Safran is confident the public will get their vision by the time of Superman: Legacy, that film isn't set to debut until 2025.
The reality is that general audiences are likely to only get more confused as 2023 marches on and as the studio releases films from its last DC reboot amidst conversations about its new one. 
There's also the ever-growing number of Batmen projects, such as The Batman sequel, Keaton and Affleck's upcoming Batman cameos in The Flash, and now Gunn and Safran's new Caped Crusader for The Brave and The Bold. 
Hopefully, the two executives will decide to release some sort of an explanation in the months to come. 
The good news here is that Gunn and Safran actually appear to understand what their plans look like from the public's point of view.
And, while they're willing to be patient, they seem to get that the best thing they could do for audiences and their newly minted brand is to put the story first. 
What better way to build interest and investment than leaving audiences wanting to connect the dots instead of requiring them to do so? 
For now, the DC executives are saying all the right things. Only time will tell if they can deliver.