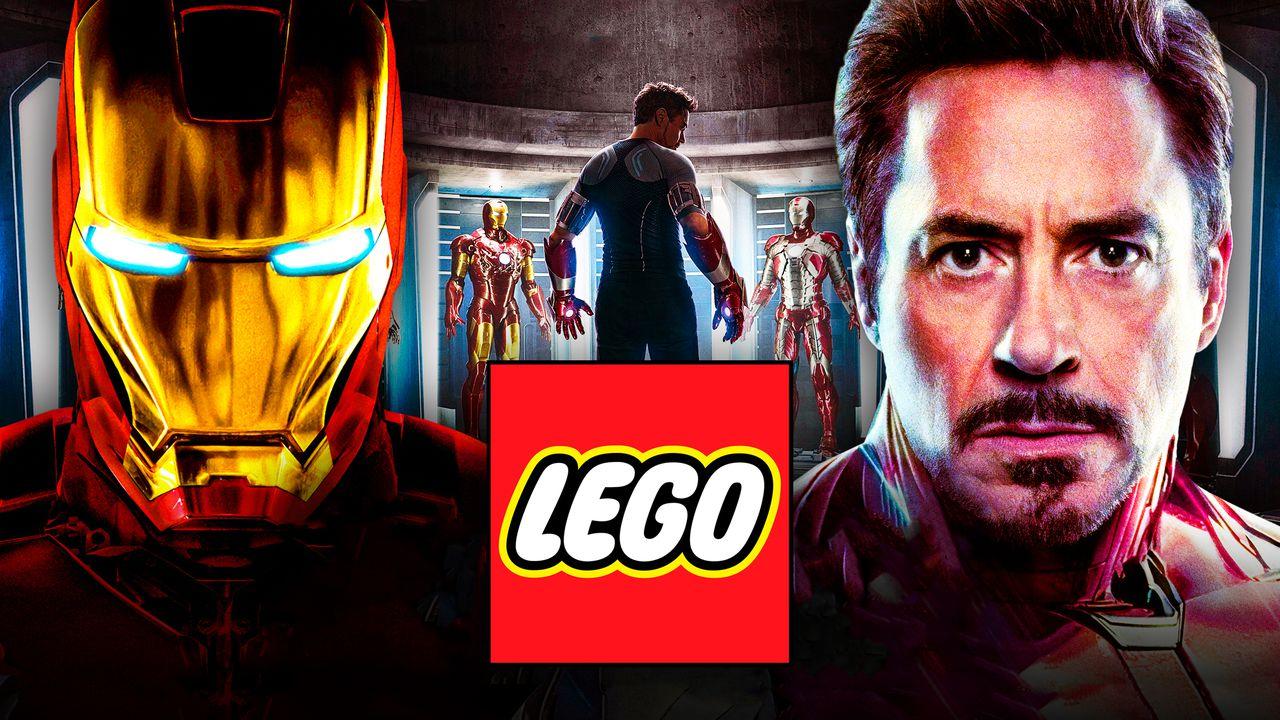 Almost no star in MCU history is as popular, even to this day, as Robert Downey Jr. after he brought Iron Man to life on the big screen. Making appearances in nearly a dozen movies, including a full solo trilogy and all four Avengers movies, Downey brought the thrilling character to life for more than a decade along with some of the coolest suits and armor in any superhero movie ever made.
Since Downey first debuted to the world as Iron Man in 2008, his imagery has consistently been one of the biggest factors in marketing the MCU thanks to the actor and character's popularity. His presence looms over the story as it moves into Phase 4 with nods in projects like Loki and even a couple of new storylines in What If...?, and Tony remains a regular in merchandising material as well.
LEGO has taken a stab at Iron Man's legacy within the MCU, building a replica of Tony Stark's hall of armor that was mostly seen in 2013's Iron Man 3. Now, the company is revisiting the playboy billionaire's time in the MCU with a more expansive set that gives fans a chance to reminisce on much more than just Iron Man.
Iron Man Stars in New LEGO Set
LEGO released plans for a new set depicting Iron Man's Armory from the Marvel Cinematic Universe. This includes figurines of multiple characters from the MCU with 496 pieces in total, and the listing comes with the following description:
"LEGO® Marvel Iron Man Armory (76216) is bursting with authentic details, cool features and iconic minifigures to delight any fan of Marvel Studios' Infinity Saga movies.

A packed playset for Iron Man fans aged 7+.

This versatile and feature-packed playset takes kids into the famous room where Iron Man stores his high-tech suit gear. As well as the classic MK3, MK25 and MK85 Iron Man suits there is a workshop area with tools where kids can carry out repairs and a platform where the billionaire Super Hero can change into his chosen armor. There are also 3 holographic displays, a sports car, a robot assistant arm, loads of accessories and popular minifigures, including Tony Stark, Pepper Potts, Nick Fury, War Machine and Whiplash. In addition, the free LEGO Building Instructions app lets kids view, zoom and rotate the model as they build, providing an amazing sense of immersion and interaction during the construction process."
This LEGO set depicts the display cases that hold Tony's armor in his downstairs lab under his massive mansion in Malibu, California.
Included in the set are eight minifigures for characters from the Iron Man franchise, including three different suited ones paying tribute to the MK3, MK25, and MK85 armors from various Iron Man appearances in the MCU. Also included are War Machine, Whiplash, Pepper Potts, and Nick Fury from Iron Man 2, along with a non-suited-up Tony Stark in his classic Black Sabbath shirt.
Some items on display in this set include a sports car with the Stark Expo Map, an area with work tools and Iron Man-related accessories, and even a model of the map from the Stark Expo.
Iron Man Remains in the MCU Spotlight
Even though Iron Man's last appearance on the big screen came three full years ago, his time in the MCU helped to build the franchise's success from the ground up. It seems only right that he's still such a big part of merchandising as new stories are developed in other parts of the universe, some of them even tying back directly to his legacy.
This set in particular seems to mostly focus on Iron Man 2 with a handful of characters that played key roles on both sides of the fight in Marvel Studios' third movie released. With Mickey Rourke's Whiplash and Samuel L. Jackson's Nick Fury taking center stage, the set brings back some fun memories of the MCU when it was only in its infancy more than a decade ago.
Now, as fans reminisce on the MCU's earliest days, newer projects like Ironheart and Armor Wars will look to take what Tony Stark built and add a new flavor to it in the coming years. Dominique Thorne's Ironheart is even set to play a huge role in this year's Black Panther: Wakanda Forever, meaning that fans will see this hero's influence again sooner rather than later.