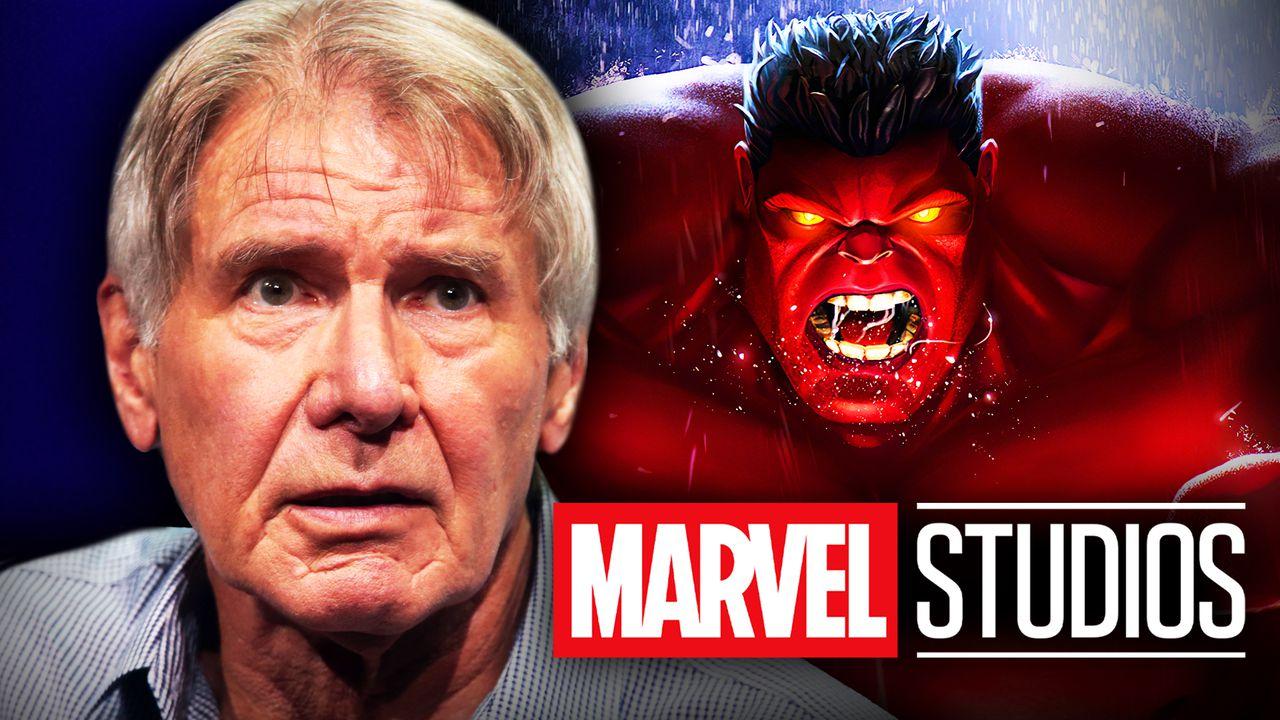 Thunderbolts actor David Harbour weighed in on the likelihood of the iconic Han Solo actor donning a motion-capture suit for his potential Red Hulk role.
Harrison Ford joining the MCU perhaps still seems like a fever dream to Marvel and Star Wars fans everywhere. The actor was recently confirmed to be replacing the late William Hurt as Thunderbolt Ross last year and will appear in the upcoming movie Captain America: New World Order.
The Indiana Jones actor's casting in the next Captain America installment has led many to speculate whether General Ross will finally assume the alter ego of Red Hulk in the MCU. 
Ford has been questioned about whether he will be donning mo-cap for his upcoming role, though the actor has remained hush.
Thunderbolts Star Weighs In on Harrison Ford Debut
Speaking to Comicbook, Black Widow actor David Harbour, who plays Red Guardian in the MCU, shared his own thoughts about Harrison Ford's upcoming Marvel role.
Although Harrison Ford hasn't been confirmed for Thunderbolts, Harbour was asked if he was prepared to see Harrison Ford don a motion-capture suit, should he truly be hulking out as the Red Hulk if speculation and rumors are to be believed. 
The Stranger Things star commented that he would have to be "lucky enough to experience that" and would "savor" the sight:
"If that happens, if I'm lucky enough to experience that, I will savor it like you will not believe."
As Star Wars fans know, Ford has been known for his somewhat cantankerous attitude, and Harbour capitalized on this as he laughed at the thought of "how angry [Ford] would be in a green suit with ping pong balls all over it."
"I mean, can you imagine how angry that guy would be in a green suit with ping pong balls all over it, just standing there, 'Ah, ****.'"
Whilst Ford has not been confirmed to be in the forthcoming Thunderbolts project, Harbour is not the only one excited over his rumored appearance.
In an interview with ET,  Bucky actor Sebastian Stan, who is appearing alongside Harbour in Thunderbolts, revealed that he's the most excited about finding out "if he's in the movie." 
The Marvel star "really hope[s]" that he will get to work alongside the iconic Indiana Jones actor, although he understands that booking such a prestigious name would "probably [be] the movie itself:"
"Getting Harrison Ford there is probably the movie itself, but yeah, I haven't seen a script yet."
Beyond discussing the Star Wars actor, Stan also confirmed that production is starting this summer, with work on the film "still kinda building up." 
With or without Ford, he has also shared that he is "really excited" about the project and looking forward to working with "a lot of great people that [he hasn't] worked with before, and some returning as well:"
"[Things are] still kinda building up... But I think it's gonna be fun. I'm really excited about it. [There's] a lot of great people that I haven't worked with before, and some returning as well."
Will Red Hulk Appear in the MCU?
Hulk lore is expanding, with Skaar confirmed and rumors around an MCU Planet Hulk storyline circulating. After the one-off joke in She-Hulk: Attorney at Law, Red Hulk feels like an inevitable next step.
Footage from the She-Hulk finale trailer led to an assortment of rumors that the comic book character may finally be appearing in live-action, although this turned out not to be the case. Still, there was a mention of the character earlier in the series.
Now, with Harrison Ford playing General Ross, the actor's talent and prestige will not be something that Marvel Studios will want to waste.
Many outlets have theorized that, since Ford is playing the part, the role of General Ross is set to be bigger than ever and the casting points to a massive future for the character. 
If this is true, it's only a matter of time before Red Hulk makes his MCU debut. 
In the meantime, though, Harrison Ford will be playing General Ross in the forthcoming Captain America 4, and it's likely that the character's future will become much clearer as more information is revealed ahead of the highly anticipated return of the Star-Spangled Avenger.
Captain America: New World Order arrives in theaters on May 2, 2024.