New details regarding Michael Keaton's Batman and Sasha Calle's Supergirl in The Flash have been uncovered thanks to a recent DC merch listing.
Fans have been waiting for Ezra Miller's Flash to receive his own solo outing for almost a decade, but the DC blockbuster will finally release this year. However, this won't exactly be a true solo movie per se, as Barry Allen will be joined by Michael Keaton's returning Batman and Sasha Calle's debuting Supergirl.
This all comes as part of an effort to reset the DCU and establish a new status quo for the Justice League. At least, this was the plan to give the franchise a fresh start until DC Studios CEOs James Gunn and Peter Safran entered the picture and quickly began making plans for a reboot of their own.
But before then, DC still has several releases to come this year, including this summer's The Flash. And now, new merch listings have offered a tease about what may be to come from the speedster movie's heroic trio.
The Flash Merch Hints at Story Details
A new piece of merch from DC's The Flash hinted at how Michael Keaton's Batman and Sasha Calle's Supergirl will play into the speedster flick.
The design links the heroic group of The Flash as including "two idiot kids, a retired vigilante, and a half-charged solar-powered alien."
The "two idiot kids" in question are clearly the two Barry Allen variants that will appear - as confirmed by the "x2" label next to the Flash logo. The "retired vigilante" obviously refers to Keaton's Batman, as this confirms he will have already ended his heroic career when The Flash begins.
Meanwhile, the nod to Supergirl as a "half-charged solar-powered alien" clearly indicates her taking on the role Superman held in the original Flashpoint story.
In the Flashpoint timeline, Kal-El crashed directly into Metropolis from Krypton, causing several deaths. This led the young alien to be taken into government custody and raised in a cell while only being exposed to red sun radiation, leaving him far less powerful than he would be - hence "half-charged."
Retail giant Target also showcased a design featuring The Flash with the text "Multiverse, Chronobowl, Multiverse." The DC blockbuster has already been confirmed to involve the Multiverse, but what exactly Chronobowl means remains unclear, as the term has no history in DC comics.
Given the word "Chrono" means time, originating from Latin, one could assume this to be related to both time travel and the Multiverse. Perhaps this may end up being a device or scientific theory that ultimately allows Barry Allen to explore the Multiverse and venture into other universes.
Target listed another design that shows Ezra Miller's Flash speeding forward, leaving behind a trail of lightning and the words "past, present, future," likely alluding to the time travel-related plot of the flick.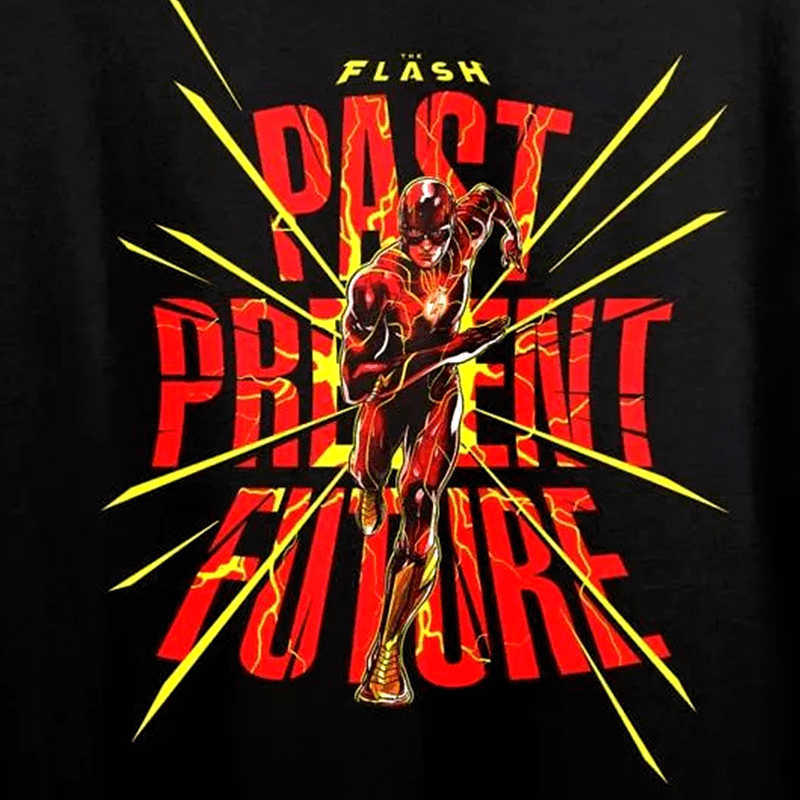 Another shirt listed by Target sees Flash similarly running forward, this time from the words "keep phasing," indicating Miller's hero will finally utilize his power to run through solid objects this time around for the first time in the DCEU.
The Flash Introduces New Heroes, but Is It for Nothing?
Between bringing back Michael Keaton's Batman and introducing Sasha Calle's Supergirl, The Flash had big aspirations in setting up the next era of the DCU. Although this may all be for nothing as DC Studios' new CEOs James Gunn and Peter Safran appear to be planning their own fresh franchise reboot.
But even before then, Warner Bros. Discovery (WBD) was clearly making plans to abandon this original plan in favor of a new course. After all, WBD axed a Supergirl spin-off to The Flash in August 2022, while also shifting course from the decision to have Keaton replace Ben Affleck as the DCU's main Batman.
Keaton was placed to star alongside Leslie Grace's Barbara Gordon in Batgirl, which was infamously canceled. And Gunn was quick to abandon plans for a Keaton-led Batman Beyond movie shortly after beginning his reign at DC Studios, indicating he has other plans for the Dark Knight.
So while The Flash will finally do justice to Ezra Miller's hero by giving him his own solo movie around seven years after his DCU debut, it will also bring other heroes into play. But all of this will likely be for naught as it will be inconsequential to the DCU going forward, despite originally being a key piece of the puzzle.
The Flash hits theaters on June 16.