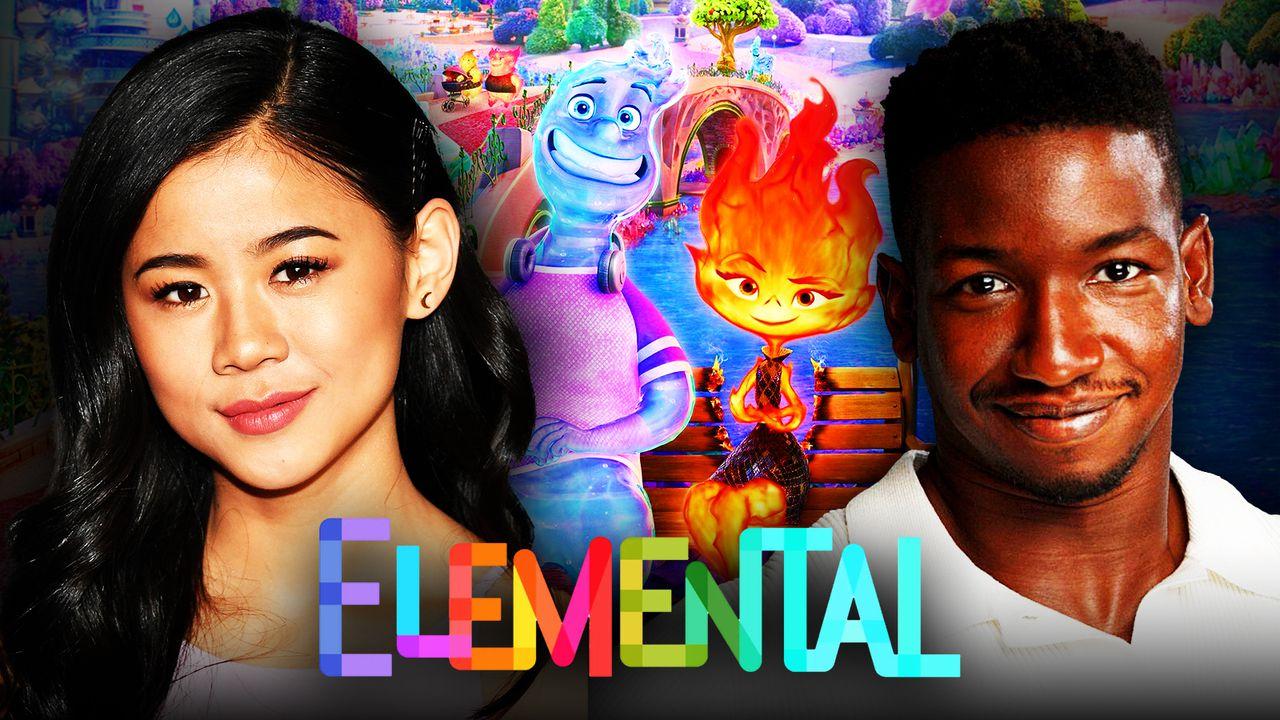 Elemental will be Pixar's 27th animated feature film. Per usual, the upcoming movie will be yet another ground-breaking effort from the prestigious studio.
This time, Pixar had to create an entirely new technology to simulate its characters and illustrate them as living elements, not just simple animated people. 
The animation for its leading character, Ember Lumen, had nearly 10,000 individual controls.
The Cast, Characters, and Actors of Pixar's Elemental
1.) Ember Lumen - Leah Lewis
Ember is the leading character of Elemental. She is a fire element whose family immigrated to Elemental City before she was born.
Now she leads a life in Fire Town, helping at her father's shop, The Fire Place. One day, she'll be entrusted by her father to take over the family business.
Everything changes though when she runs into Wade Ripple.
Leah Lewis described Ember as "very fiery" and "fiercely loyal to her family… her life and her identity as a Fire person:"
"Ember is very fiery, but she has a reason for it... Her family has worked very hard to provide this life for her in Element City. She wants to prove to her parents that she has become the woman they've always wanted her to be. She's fiercely loyal to her family and fiercely loyal to her life and her identity as a Fire person."
Lewis is best known for her work in Nancy Drew, Netflix's The Half of It, and Batwheels.
2.) Wade Ripple - Mamoudou Athie
Wade Ripple is a water elemental who, when the film picks up, is an inspector for Elemental City. As is common with those of his element, he also happens to be very in touch with his emotions, frequently being brought to tears.
When Wade least expects it, he is literally sucked into Ember's life—and the film's adventure begins.
Mamoudou Athie joked that Wade is "the kind of guy [he] would like to be:"
"Wade is the best—he's the kind of guy I would like to be… I know that sounds strange, but I think his open-heartedness and his willingness to share exactly how he feels all the time is what I aspire to be like. There's something really beautiful about his earnestness and his acceptance of everyone."
Fans might recognize Athie from Jurassic World: Dominion, Archive 81, and Sorry for Your Loss.
3.) Bernie Lumen - Ronnie Del Carmen
Bernie is Ember's father, and he runs one of the most popular stores in Fire Town, The Fire Place.
After disaster struck, Bernie and his wife Cinder left their native Fire Lands to find a new beginning in Elemental City. Their daughter, Ember, was born shortly after the two arrived.
Ronnie Del Carmen shared that the film's director "wanted [Carmen's] own voice and lived experiences" to show through the character:
"[Director Pete Sohn] only wanted my own voice and lived experiences to show through in Bernie. And it is more like just playing around with the character. I am so grateful to him for having me play Bernie. It was easy because I had to just be myself and let the character and Bernie's story guide me."
Ronnie Del Carmen also voiced the abstract thought mind worker in Inside Out. However, he doesn't do much voice acting for the most part.
Instead, he works as an animator, previously working on Soul, Brave, Up, Finding Nemo, and more.
4.) Cinder Lumen - Shila Ommi
Cinder Lumen is the wife of Bernie who joined him in immigrating to Element City. She's supportive of her husband's shop and even runs her own business in the back.
She's somewhat of a romance fortune teller, as she possesses the unique talent of being able to smell true love when it is in the air.
According to Shila Ommi, Cinder's voice needed to be a lot of things but also be similar to that of the film's director, Peter Sohn's, mother:
"Cinder's voice needed to express the warmth, complexity, and richness of a real human being, and not just any human being, but [director Peter Sohn's mother]."
Ommi can also be seen in Apple TV+'s Tehran streaming series.
5.) Gale - Wendi Mclendon-Covey
Gale is Wade Ripple's boss who boasts a big personality. She also proves to be someone both he and Ember need to answer to during the events of the film.
She also happens to be a massive Air Ball fan, a fictional sport in the film, favoriting a team known as the Windbreakers.
Screenwriter John Hoberg described her as "[having] a good heart" and being "full of life:"
"She might be happy and then furious—she can turn on a dime. But she's got a good heard and she's full of life."
Many will likely recognize Wendi Mclendon-Covey from one of her 229 episodes of The Goldbergs. She's also starred in the recent film Paint, the classic series Reno 911!, and the animated show Big City Greens.
6.) Brook Ripple - Catherine O'Hara
Brook Ripple is the supportive and emotional mother to Wade Ripple. She's extremely friendly and greets Ember with open arms when she visits.
Catherine O'Hara compared her time as Brooke to her real-life experiences, sharing that she "[comes] from a large family of very happy criers:"
"I come from a large family of very happy criers… We cried at everything—we loved to tell each other stories that would make us cry. Then we'd laugh about how much we cry. It's a good thing—it's such a beautiful release when you need to cry."
O'Hara played Moira Rose in the highly-popular comedy series Schitt's Creek, voiced a part in Frankenweenie, and brought to life Grandma Frump for the animated The Addams Family.
7.) Clod - Mason Wertheimer
Clod is a young Earth element who sports a cute crush on Ember. He's always trying to be around her while consistently throwing corny lines her way—advances she always dismisses.
Screenwriter Kat Likkel compared the character to "a little bit of a Jiminy Cricket:"
"Clod is a little bit of a Jiminy Cricket… He sees something in Ember that she doesn't yet see herself. He really helps her in his innocent, crushy way."
Elemental is the first big project under Mason Wetheimer's belt. He previously offered additional voice work on the Past My Bedtime podcast series.
8.) Uncle Harold - Ronobir Lahiri
As his name suggests, Harold is the uncle of Wade Ripple. Like the rest of his family, he's fairly in touch with his emotions.
Ronobir Lahiri can be seen in the television shows 9-1-1, Stitchers, and Torchwood.
9.) Flarrietta - Wilma Bonet
Flarrietta is one of the usual customers of Bernie Lumen's shop, The Fire Place. She often visits the establishment with Flarry as the two hang out in the front.
Wilma Bonet previously offered additional voice work for Pixar's Coco.
10.) Flarry - Jonathan Adams
Flarry is another regular customer of The Fire Place who spends his time with Flarrietta at the front of the store. The two often have a comment to say about anything that goes on around them.
Jonathan Adams starred in the long-running TV series Last Man Standing, provided the voice of Ronin in the animated Guardians of the Galaxy show, and briefly appeared in Grey's Anatomy.
11.) Alan Ripple/Lutz/Earth Pruner - Matt Yang King
Matt Yang King brings to life several small roles in Elemental, one of is Alan Ripple, another of Wade's extensive family.
Matt Yang King appeared in a recurring role in Riverdale and offered additional voice work for projects such as Strange World, Diablo IV, and Horizon Forbidden West: Burning Shores.
12.) Fern - Joe Pera
Fern is a dry, slow-moving, straight-to-the-point office worker that Ember and Wade cross paths with early in the movie.
The Earth element embodies the classic overworked, exhausted desk jockey and is also the perfect example of a by-the-book bureaucrat.
Joe Pera, who voices the character, noted the role "was a challenge" as they asked him to "talk even slower and more boring than usual:"
"I guess I talk slow and boring enough that they thought I could pull it off… It was a challenge, though, because they wanted me to talk even slower and more boring than usual. Hopefully it's funny, too, but slow was the main objective."
Pera is known for his comedy television series Joe Pera Talks with You on Adult Swim, where a fictionalized version of himself talks directly to the viewers about everyday subject matters.
13.) Little Kid Ember - Clara Lin Ding
Throughout the movie's various flashbacks, some follow Ember as a little kid. It's here where Clara Lin Ding offers her voice.
This is one of Ding's first Hollywood roles.
14.) Big Kid Ember - Reagan To
Another variation of the main character sees her at a slightly older age in flashbacks but still younger than Leah Lewis' leading version.
Another of Reagan To's big projects was Netflix's Squid Game, where she provided the English dub voice for Seong Ga-Yeong.
15.) Sparkler Customer - Jeff LaPensee
A running joke throughout the film plays on the idea that the customer is always right. This sparkler customer ends up being the embodiment of that very concept.
Jeff LaPensee's previous acting work includes Scooby-Doo and Guess Who?, Not Moms, and TripTank.
16.) Customer/Delivery Person/Earth Landlord - Alex Kapp
Alex Kapp jumps around Elemental helping to fill in for the everyday people who appear throughout Ember and Wade's journey. This includes being a customer, a delivery person, and an Earth landlord.
Alex Kapp previously provided voice work for Star Trek: Strange New Worlds and American Auto.
17.) Doorman - P. L. Brown
Wade Ripple's family is fairly well off, and they live in a fancy building with its own doorman—such as the one P. L. Brown briefly brings to life.
Brown's other onscreen appearances include Crazy Ex-Girlfriend, Arrested Development, and Black-ish.
---
Elemental hits theaters on June 16.