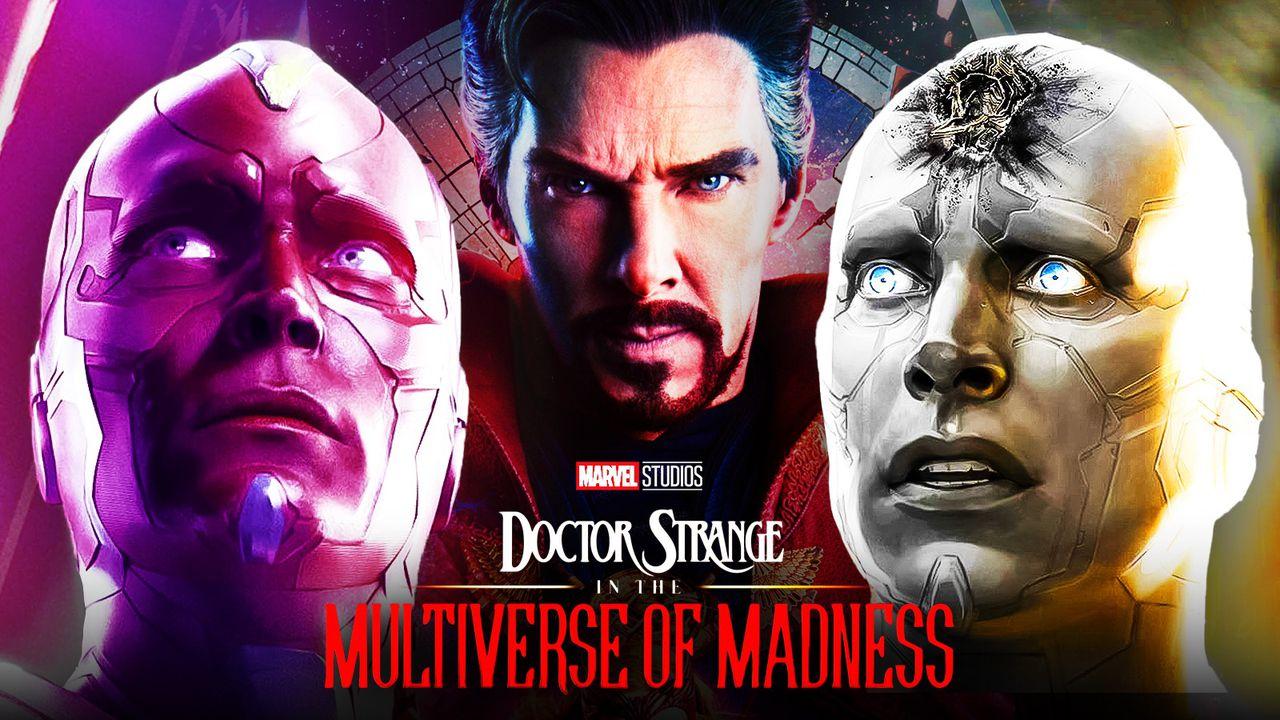 Benedict Cumberbatch's Doctor Strange in the Multiverse of Madness will release soon, and audiences worldwide are close to being able to finally take a deep dive into alternate realities with the former Sorcerer Supreme. One of the biggest elements of the movie is how Elizabeth Olsen's Wanda Maximoff will also be returning, potentially even being an antagonist.
The last time audiences spent time with the Scarlet Witch, she was navigating her post Avengers: Endgame grief after the death of her beloved Vision. How? Well, in an extremely unhealthy way: by mind-controlling an entire town to fulfill her sitcom dreams.
This faux life of hers included her former lover, Paul Bettany's Vision. By the end of the series, the android that made it out wasn't the one Wanda—or the audiences—knew.
The last fans saw the newly bleached hero was him flying off-screen to an unknown location. Given Wanda's focus in Multiverse of Madness, it seems at least a possibility that Vision could make his next appearance there. But will he?
Will Vision Go From WandaVision to Strange?
In an interview on The Late Show with Stephen Colbert, WandaVision star Paul Bettany was asked if his character, The Vision, would be making an appearance in Doctor Strange in the Multiverse of Madness.
Bettany teased a potential return in the sequel, responding, "Yes" and then "No" a few times before turning the question back onto Colbert by asking, "am I in Doctor Strange?… What do you think:"
"This is a really great question. And, again, I said I was going to be entirely honest with you. You're asking if… 'Am I in Doctor Strange?'… Yes, no, yes, no, yes, no. I don't know. Am I? What do you think?… I can neither confirm nor deny rumors that I am in said and aforementioned Doctor Strange."
A Vision of Paul Bettany's Return
While on the surface, an appearance from Paul Bettany's Vision seems like an obvious choice, the lack of rumors regarding his return in the piece doesn't paint a hopeful picture. With such silence, fans probably shouldn't get their hopes up.
It's not impossible, of course. It would even make plenty of sense. There's still some closure between Vision and Wanda that fans would no doubt love to see.
Somehow, though, characters like Mr. Fantastic or Deadpool have been more heavily rumored as a part of the Multiverse party than the Vision himself. If Bettany's character did show up, what would he do?
Given all of the evidence Wanda will be causing some trouble, Vision could be a voice of reason to help get through to her—even with this new coat of paint. There's also the chance that some Variant of the character pops up in one of the many timelines the crew visits.
Could the Scarlet Witch end up stumbling upon that perfect life she never had, only to destroy it out of grief and frustration? Fans will be able to see for themselves when Doctor Strange in the Multiverse of Madness hits theaters on May 6.