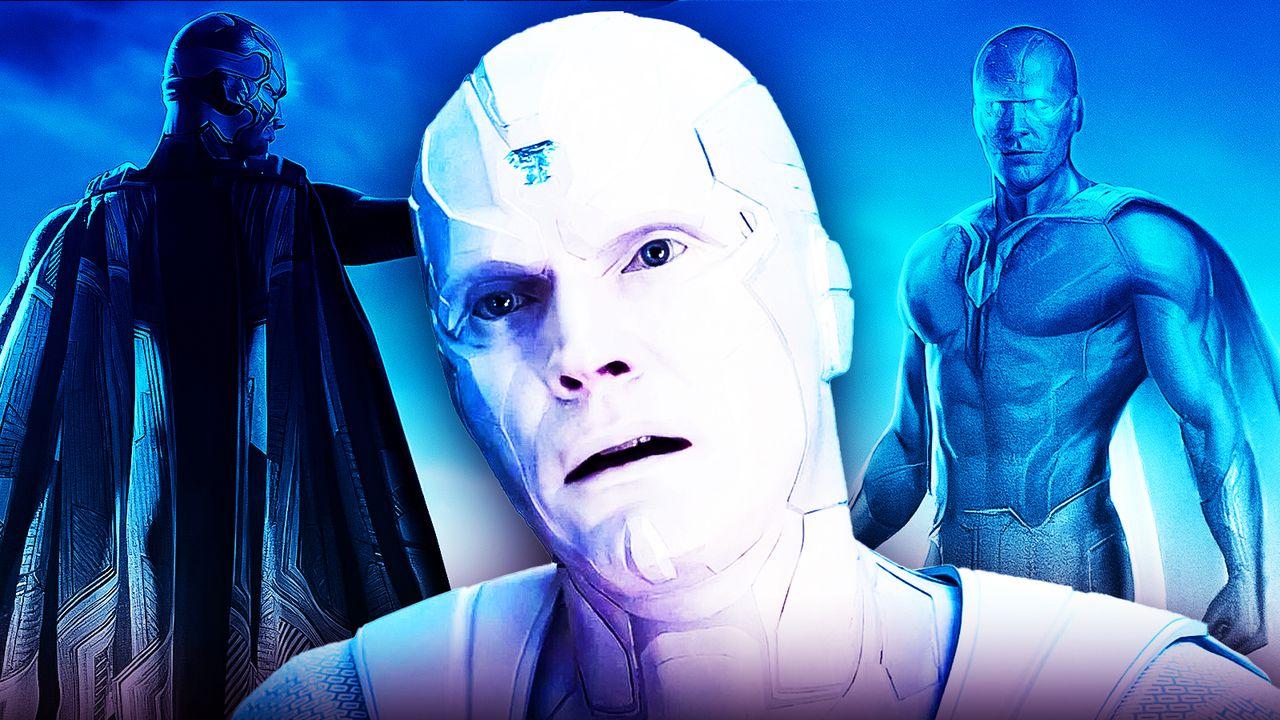 WandaVision was a big deal for Marvel. It was its first TV series developed and produced for the MCU. When it aired, it was met with overwhelming excitement—fans were ecstatic to see their favorite characters return.
Cut to now, and while the series has long been over, it's coming back into the spotlight for its Emmy campaign as a limited series. While some critical reception was mixed, there's no doubting that the show has a serious chance at the famous awards show.
With said campaign comes more press—which brings the cast of the show back into the spotlight. In this case, it's Paul Bettany, who fans last saw as a brand-new version of his character as he flew up into the sky, having just been philosophized. The real question, though, is when will he be seen next?
Does Paul Bettany even know himself?
WILL FANS GET THEIR VISION BACK?
In an interview with The Playlist, Paul Bettany was asked about his future in the MCU. More importantly, when was he told that his return in WandaVision may be more than just a one-project return? Well, his initial answer was blunt: "I can't answer that, honestly."
Thankfully, Bettany did go on to elaborate, touching upon how "White Vision was like a big deal for them:"
"So I have many friends around this age [Bettany's age], for whom White Vision was like a big deal for them in the '70s. So Kevin and I had been talking about that for years."
As for any specific moment when it came to Bettany realizing that he would be making a return, he wasn't about to "remember the [specific] moment:"
"But I can't remember the moment. I suspected something when we talked about draining my character of color in "Avengers: Infinity War."
So, did Bettany truly not realize that there would be more opportunities ahead? Apparently not:
"No. I mean, I'm honest with you. I still don't know that."
Bettany wasn't completely oblivious. He opened up a bit, saying "I mean, I guess it would be difficult to introduce White Vision and not deal with him in some way:"
"Oh no, no. I don't have a contract. I don't know that. I don't know that at all. And all that I do know is, as far as this sort of traunch of press goes, it's for an Emmy push, which is for a limited series. So it doesn't look like that happening again. I mean, I guess it would be difficult to introduce White Vision and not deal with him in some way, but we have not discussed that."
FAN'S VISION WILL RETURN
It's no surprise that Paul Bettany needed to be tight-lipped when it came to the future of White Vision. That is the standard procedure, after all, so it fits the bill for not having gotten much information.
But, clearly, Bettany knows that having White Vision roaming around and not going back to him would be an odd choice for Feige to make—especially with the character being such a big deal to him.
As for when that return will be, there's no clear indication. White Vision's future in the MCU has been teased before, but nothing concrete has come from it. With all the projects on the docket for the MCU, none absolutely scream for White Vision's attention. 
That being said, there is one that seems just a little more likely than all the others: Armor Wars. A series all about intricate and advanced technology falling into the wrong hands does seem like it could be a good place for Vision to show up. While the focus will likely be mostly on Stark's specific suit technologies, Bettany's character could easily find a nice place to fit in. 
Alas, fans will have to wait to see where the character may pop up next. While Bettany couldn't confirm it directly, there's certainly no need to fret over whether the character will ever show up again. At this point, it's nearly given—especially with the character meaning so much to Marvel Studios President Kevin Feige.