Doctor Strange in the Multiverse of Madness delivered on restless speculation surrounding its Super Bowl TV spot. The magical sequel doubled down on new footage, debuting an official trailer alongside the 30-second big game clip. While many have marveled at the mind-bending visuals and interactions between leading stars Benedict Cumberbatch and Elizabeth Olsen, the biggest talking point comes from an off-screen line of dialogue.
"We should tell him the truth."
Patrick Stewart's Professor X addresses a shackled Doctor Strange inside of a futuristic council room after he is guided through the hallways by Ultron bots. Yes, you read that correctly.
Stewart's involvement in the Marvel Cinematic Universe has long been theorized since the actor confirmed he's spoken with Marvel Studios President Kevin Feige about reprising his role as Charles Xavier. At the time, it was unknown whether this meant Stewart would continue where X-Men: Days of Future Past left off (since he died in Logan) or if it would be another JK Simmons situation.
Doctor Strange 2's iteration of Charles Xavier remains a mystery, but his role within Multiverse of Madness is shrouded in less secrecy.
Professor X and Marvel's Illuminati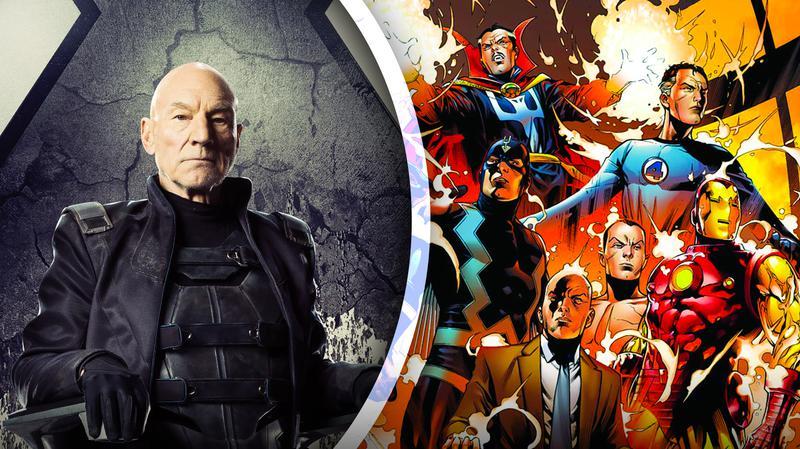 Mr. Strange, you've become part of a bigger Multiverse, you just don't know it yet.
Doctor Strange in the Multiverse of Madness revealed the vocal appearance of Patrick Stewart's Professor Charles Xavier. While he doesn't show full face, Xavier is peripherally seen sitting amongst six thrones.
These thrones belong to Marvel's Illuminati: a secret society of the smartest superheroes within the MCU. Or, as Tony Stark would put it, a collection of geniuses, billionaires, playboys, and philanthropists.
The Illuminati goes through many rosters on the page, but the most recognizable line-up consists of Professor X, Doctor Strange, Iron Man, Mr. Fantastic, Black Bolt, and Namor. Unlike the Time Variance Authority, the Illuminati does not outright script the Sacred Timeline, but they do similarly operate as men behind the curtain. 
In the comics, Tony Stark formed the group shortly after the Kree-Skrull War came to Earth. He pitched a condensed faction of Marvel's best and brightest that would meticulously plan how their respective groups would respond to Avengers-level threats.
Their most infamous efforts came in excommunicating Hulk to space after deeming him too dangerous to remain on Earth, which eventually births both the Planet Hulk and World War Hulk storylines. This decision led to the first break-up of the Illuminati, as Namor disagreed with the Bruce Banner banishment.
Like all great boy bands, the Illuminati had a couple of high-profile reunion tours. Their presence is felt in event storylines like Civil War and Secret Invasion, with the latter being their last hurrah.
Doctor Strange's Illuminati Roster
Variants make any roster possible, but it looks like Multiverse of Madness will bring together a unique line-up for its version of the Illuminati.
With Stewart's Professor X already occupying one slot, five seats remain. Chiwetel Ejiofor's Master Mordo lectures that Strange's "desecration of reality will not go unpunished," indicating he is the one responsible for shackling Strange and bringing him before the Illuminati.
Other likely members include Variants of both Captain Marvel and Tony Stark. An alternate version of Captain Marvel can be seen soaring through wreckage later in this trailer, while the design of the Illuminati's Ultron bots hint at the presence of Superior Iron Man. If Strange thought Robert Downey Jr.'s Stark was difficult to deal with, Superior Iron Man might just be mission impossible.
The final two are ultimately a toss up. Everyone from Black Panther to Mr. Fantastic have been speculated, both of which have comic ties to the Illuminati. The inclusion of Captain Marvel and Master Mordo indicates Marvel Studios is not doing a mirror adaptation of the group, but that doesn't unanimously rule out all of the faction's founding fathers.
The MCU's Illuminati Future
If rumblings are to be believed, the Illuminati are just getting started in Doctor Strange 2.
Marvel Studios has been rumored to be developing an Illuminati-centered project for nearly two years. The specifics of this potential project are unknown, including whether it would be a movie or a streaming series. Introducing the secret society in Multiverse of Madness gives the Illuminati a launching off point, and comic precedence indicates there are at least two major avenues they could venture down.
Rumors surfaced of a Marvel Studios World War Hulk movie this past fall that would "set up a future film project [they] hope to reveal later." Considering the importance of the Illuminati within the World War Hulk comic run, it's safe to assume they would play a big part in a live-action adaptation.
While the rumored World War Hulk movie is far down the line, Secret Invasion is quickly approaching. On the page, the Illuminati re-assemble after a major twist in the parasitical Skrull takeover. It's unclear how big Marvel Studios is planning to make Disney+'s Secret Invasion series, but with the Illuminati seeds being planted as early as this May, an appearance by the secret society on the streaming screen is very much on the table.
Doctor Strange in the Multiverse of Madness hits theaters on May 6.