A milestone moment is on the way for Disney+ as the streamer will remove six of its major shows - and many other movies and specials - during its first-ever purge.
Disney is in the midst of some major changes behind the scenes for its biggest franchises in Marvel and Star Wars, with the MCU adjusting its strategy for the Multiverse Saga while Star Wars plans its next batch of theatrical releases.
The studio is dealing with substantial losses from a number of big projects, meaning that the time has come to look inward to some possible changes that will push Disney back toward its usual round of profits.
Disney+ Removes 6 High-Profile Streaming Shows
Deadline revealed that Disney+ will remove six of the service's original series as part of Disney's new cost-cutting initiative. This is the first time that Disney's streaming service will purge a wave of original titles, an action that will avoid costs like residual fees for participants.
Those six shows are as follows:
1.) The Mysterious Benedict Society
Season 1 premiere: June 25, 2021
Season 2 premiere: October 26, 2022
Based on the famous children's books from Trenton Lee Stewart, Tony Hale's Mr. Benedict gathers four children together to stop a global emergency in a story filled with intrigue and mystery.
The series was officially canceled in January after two seasons premiered on Disney+.
2.) Big Shot
Season 1 premiere: April 16, 2021
Season 2 premiere: October 12, 2022
John Stamos and Yvette Nicole Brown star in this sports comedy-drama centered on a temperamental basketball coach from the University of Wisconsin, who relocates to California to coach an elite high school girl's basketball team.
The series was ultimately canceled after two seasons, with that announcement coming in February.
3.) Turner & Hooch
Season 1 premiere: July 21, 2021
Serving as a continuation of the 1989 film of the same name, Turner & Hooch brought Josh Peck's U.S. Marshall Scott Turner into the fray as he learns to work with an unruly dog named Hooch after the death of his father.
This sequel series only lasted for one season before it was canceled by Disney.
4.) Willow 
Season 1 premiere: November 30, 2022
The Willow TV series was utilized as a sequel to the 1988 movie Willow from Lucasfilm, taking place 20 years after Queen Bavmorda as an unlikely team of heroes bands together to save their world from the villainous Gales.
After only a single season on Disney+, Willow was unceremoniously canceled by the network in March.
5.) Just Beyond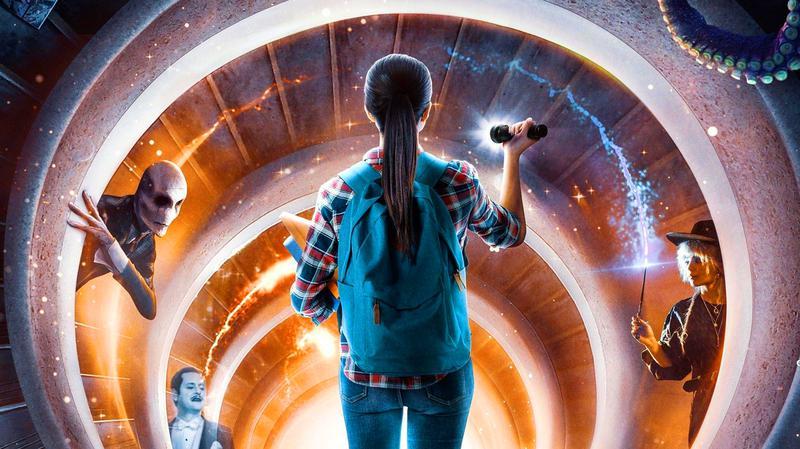 Season 1 premiere: October 13, 2021
Seth Grahame-Green's horror-comedy anthology series was based on Boom! Studios' graphic Just Beyond novels by Goosebumps author R.L. Stine, featuring eight unique episodes on Disney+.
This series only lasted for one season before its cancelation as part of Disney+'s purge.
6.) The World According To Jeff Goldblum
Season 1: November 12, 2019 (Disney+ launch)
Season 2: November 12, 2021
Longtime movie icon Jeff Goldblum took on his own unique Disney+ series where he explores experiences that he'd taken on during his life, sharing his unique perspective on the world after nearly 50 years on the big screen.
The show ran for two seasons.
The following list of movies, documentaries, and specials will also be removed from Disney+ as part of this purge on Friday, May 26:
The One And Only Ivan
Timmy Failure
Be Our Chef
Magic Camp
Howard 
Earth To Ned
Foodtastic 
Stuntman 
Disney Fairy Tale Weddings
Wolfgang
It's a Dog's Life With Bill Farmer
The Making Of Willow 
Will Purge Help Disney+ Succeed Again?
While it's unclear why exactly Disney removed these shows from Disney+, potential reasons are either the company to earn some kind of tax break or because the series weren't performing up to the standard that the company expected.
But while removing underperforming content is one part of Disney rising back to prominence again, the other is bringing quality content over the coming years to replace what's been lost.
It appears as though Marvel and Star Wars content will both be safe from removal, especially with the studios still producing excellent Disney+-exclusive entries like Andor and Werewolf by Night.
This also comes on the heels of Marvel Studios president Kevin Feige sharing that the MCU's Disney+ shows are outperforming stiff competition from other networks, which is a good sign considering some of the struggles that the MCU has seen.
The ramifications of these changes won't be felt for some time, especially with many waiting to see what kind of reaction fans will have to this batch of shows leaving Disney+ for the foreseeable future.
And as Marvel looks to release fewer Disney+ shows per year to build the quality of its own specific brand, this strategy could trickle over to other factions under Disney's watch as well.