Behind-the-scenes photos showed off a new look at the post-credits scene from the MCU's latest movie, Ant-Man and The Wasp: Quantumania.
Warning - this article contains spoilers for Ant-Man and The Wasp: Quantumania.
Jonathan Majors' Kang the Conqueror took the spotlight from start to finish in Ant-Man 3, which set him up to be the big antagonist for the entire Multiverse Saga. Both of the film's post-credits scenes reinforced that theory, showing off a number of powerful Kang Variants that will make their presence felt over the coming years.
The mid-credits scene specifically saw the Council of Kangs assemble for the first time in the MCU, with the group led by Immortus, Rama-Tut, and Scarlet Centurion as they lamented the efforts of Ant-Man 3's main villain against Team Ant-Man.
These Kang Variants were only part of what made the post-credits scenes so crazy for critics and fans, setting up Kang as a serious threat for the near future.
Ant-Man 3 Kang Variant Shown in New Pics
Courtesy of Twitter user @misterkrasinski, fans got a look at a unique Variant of Kang the Conqueror that appeared in the mid-credits scene from Ant-Man and The Wasp: Quantumania.
This particular Variant appears to be most reminiscent of one from the Council of Kangs in Marvel Comics with a reptilian-looking face, which can be seen in the upper right-hand corner of the picture below.
While it's unclear if Majors plays this particular Variant, this version of Kang has a lizard-like appearance with slitted nostrils and scaly skin.
This look was seemingly achieved fully through prosthetics rather than using CGI, with the actor donning a full facial design along with a Kang-style costume.
The mask even includes the iconic scars that are seen below Kang's eyes, this time boasting a golden-yellow color to match the lizard Variant's blue skin.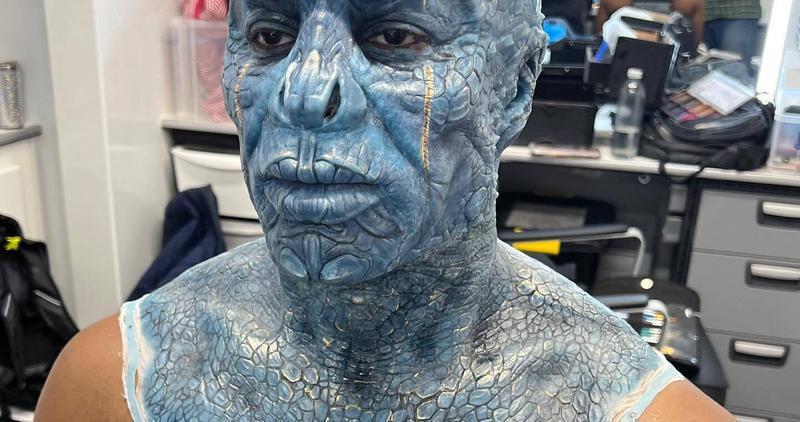 The post also included a digital sketch of this particular variant, showing how it compares to Jonathan Majors' more human face.
Kang Variants About to Take Over MCU
This lizard version of Kang was one of the most prominent to be seen across the stadium where the group first gathered in Ant-Man 3's mid-credits scene.
And while it's still unknown if this specific Variant will be utilized in a more prominent fashion in future movies, Kang did everything he needed to do in order to make himself known as a major threat to the Avengers.
These Variants will be seen again soon in Loki Season 2, which is already set to feature Victor Timely from Ant-Man 3's second post-credits scene.
After that, only time will tell what other Kang personas will impose their will on the MCU, a number that should rise substantially as Avengers: The Kang Dynasty and Avengers: Secret Wars inch closer to their releases.
Ant-Man and the Wasp: Quantumania is now playing in theaters.