Ant-Man and The Wasp: Quantumania's first deleted scene has been revealed and its content was somewhat surprising. 
However, this isn't the first stunner concerning footage from Ant-Man 3's cutting room floor. 
Marvel Studios already confirmed that only two deleted scenes would be included with Ant-Man 3's digital home release.
Now that one of the two is available online, fans may be more interested in the reasons behind its choice than the actual content itself.  
Ant-Man 3 Deleted Scene Revealed
IGN shared a deleted scene from Ant-Man 3's third act. However, despite being officially labeled a deleted scene by Marvel Studios itself, most (if not all) was included in the MCU film. 
The scene begins with the Quantum Realm freedom fighters storming Kang's city. 
One of the differences between what audiences saw in the film and in the newly revealed sequence is unfinished shots showing the cast in front of blue screens.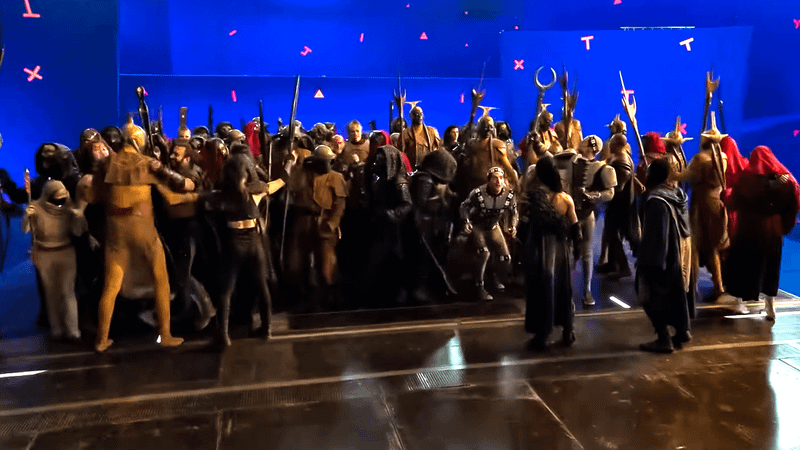 In addition to The Mandalorian's Katy M. O'Brian as Jentorra, the deleted footage centers on David Dastmalchian, performing motion capture for his Quantum Realm character, Veb.
It also shows an unfinished look at Dastmalchian performing Veb's "I have holes" line from the final cut before taking down Kang's henchmen. 
Check out the full scene below:
Why Ant-Man 3's Deleted Content Is So Small
Despite being labeled as a deleted scene, this newly released footage is more of a look behind-the-scenes, intercut with finished shots from the film.  
What's even more frustrating is that it's only one of the two being released. 
Marvel Studios confirmed the other deleted scene is titled "Drink The Ooze" and is expected to show more of Scott imbibing the fluid that allows him to communicate within the Quantum Realm. 
Why Disney and Marvel Studios are releasing so little behind-the-scenes content is unclear, especially since fans know more compelling scenes didn't make the cut.
In fact, Ant-Man 3 writer Jeff Loveness claimed there were "lots of stuff" that didn't make the final film, including "more Kang backstory."
Since Jonathan Majors' issues are recent, it's unlikely that his scenes were removed for this reason. Instead, the decision was likely the result of new or future plans for Kang the Conqueror.
What doesn't make sense is why other scenes featuring the film's cast weren't included as well, such as Hope with long hair and children, Janet's powers, and an alternate ending that led to last-minute reshoots. 
Perhaps the reason stems from Quantumania's lackluster reception and the studio's new plans for Phase 5 moving forward. If so, perhaps Marvel is embracing the less is more as the best strategy for now. 
Ant-Man and The Wasp: Quantumania is available now for digital purchase.