A new rumor has unveiled some new details about Ezra and Ahsoka's fateful reunion during the upcoming Disney+ series.
There are endless reasons to be excited about Rosario Dawson's upcoming Star Wars show. For one, it's the first time Ahsoka is getting the proper spotlight she deserves in a solo setting.
Then there's the fact that it's going to basically be a Star Wars: Rebels continuation, with the likes of Sabine, Ezra Bridger, Hera Syndulla, Chopper, and Thrawn all returning—most of which have never been seen in a live-action project.
The last time Ahsoka saw any of that group, she was with Sabine, going off on a mystery mission. From the sounds of it, the duo was out to find Ezra and Thrawn wherever they may have ended up.
But how will the big reunion with Ezra go down?
Details on Ahsoka and Ezra's Reunion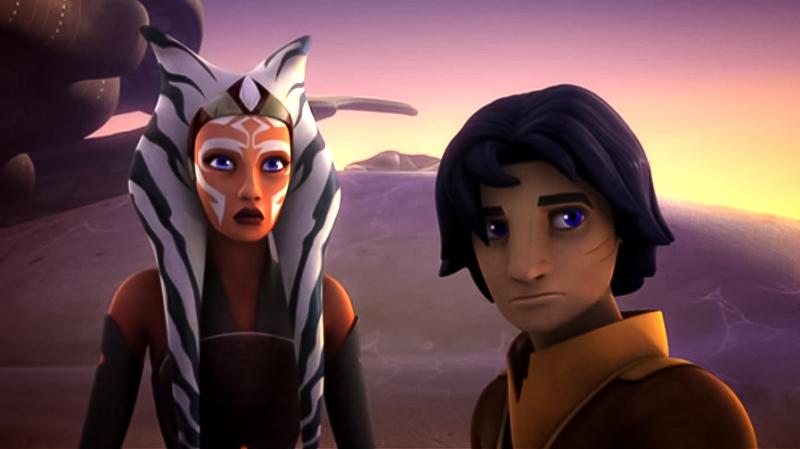 A new report from Making Star Wars revealed new information about how Ahsoka Tano and Ezra Bridger's reunion will go down. Needless to say, it'll be very eventful.
The outlet noted that when Ahsoka, Ezra, and Sabine are all reunited, there will be a new group battalion of soldiers on their tail. Making Star Wars coined these troopers as "Sarassia" Stormtroopers, all of which will have a very interesting visual twist, with glowing gold cracks in their armor where the shattered plates were put back together.
As for who sent them in the first place, it is none other than Thrawn himself. But there will also be two new characters serving under the iconic Chiss, Babylon, and Shin.
A previous rumor revealed that Shin, played by Ivanna Sakho, will be a new Force-sensitive character—one who is the apprentice of a corrupted former Jedi name Babylon.
Babylon will be directly commanding his own battalion of "Sarassia" Stormtroopers. While Ahsoka, Ezra, and Sabine will initially try to avoid a confrontation with these enemies, they will eventually be forced into doing battle.
Ahsoka, Ezra, and Sabine Walk into Some Stormtroopers
The last time Ahsoka saw Ezra, he had just pulled her out of the World Between Worlds, sparing her an early death against her former master.
Reading into the details above, it seems audiences won't have to wait long before these characters are reunited. One's first guess would likely be that such a moment wouldn't happen until the last episode—but in this case, it could go down early on.
But will the two have time to actually discuss their otherworldly experience on screen? Previous rumors revealed that there could be multiple versions of Ahsoka in the series, including the character as she was in The Clone Wars, so maybe it'll factor into the plot heavily.
With the many rumors pouring out about Ahsoka, the project seems like it'll have more plot developments for the franchise than any other in the last decade. Simply exploring an entirely new area of space is a lot to take in—that's without even factoring in the many reunions and first appearances unfolding.
Ahsoka does not currently have an official release window, but it is set to debut on Disney+ by the end of 2023.