An Ahsoka star revealed the name of their brand-new Star Wars character ahead of the series debut on Disney+.  
Since the Rosario Dawson-led series is expected to follow The Mandalorian Season 3, anticipation is high for reveals and potentially a trailer at April's Star Wars Celebration. 
However, in advance of the upcoming event, a member of the show's cast just made a reveal of their own. 
New Ahsoka Character Confirmed
Actor Mark Rolston not only confirmed his casting for Ahsoka but also the identity of his Star Wars character. 
FanTravis Korick posted a photo, which was shared via Reddit, of Mark Rolston having autographed an Ahsoka poster, confirming his role in the series. 
But in addition to his signature, Rolston also revealed his character's name - "Captain Hale" - a brand new character within the Star Wars Universe.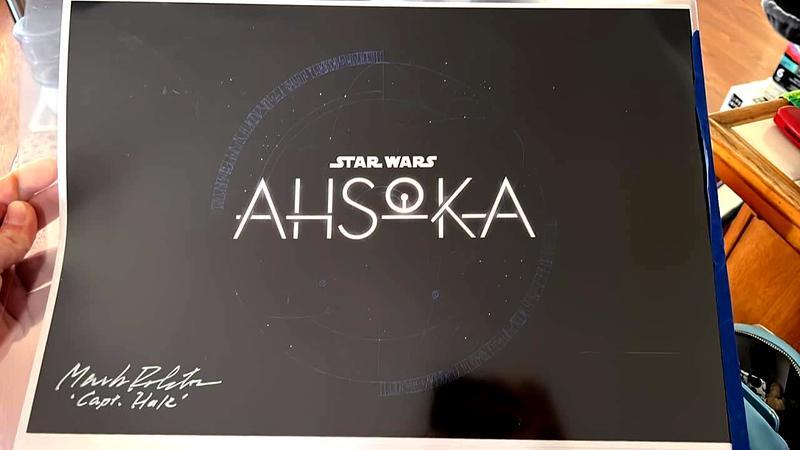 In addition to his supporting roles in Aliens, The Shawshank Redemption, and The Departed, Rolston is also known for his voice acting and recently voiced Senator Dagonet in the Star Wars animated series, Tales of the Jedi. 
Who Is Captain Hale in Ahsoka?
Due to Grand Admiral Thrawn's presence in Ahsoka, Captain Hale being an Imperial figure is the most likely. 
But in light of recent reports of an Ahsoka mid-season time jump, the question isn't just the extent of his role but whether Mark Rolston's Hale is a character from Ahsoka Tano's past and her post-Rebels present.  
Fortunately, fans won't have to wait much longer to find out about the rest of Ahsoka's cast and what the season holds. 
In addition to the conclusion of The Mandalorian's sophomore season and Lucasfilm's Star Wars movie announcements, Ahsoka is expected to dominate much of the Star Wars Celebration conversation. 
Fans should expect Lucasfilm to confirm Ahsoka castings and share additional details at Star Wars Celebration in London from April 7 through April 10.
Ahsoka arrives on Disney+ sometime in 2023.