Adventure Time showrunner Adam Muto explained what's unique about Fionna that sets her apart from Finn in the new spin-off series, Fionna & Cake.
Fionna is the gender-swapped version of one of the original Adventure Time protagonists, Finn. The character made her debut in Adventure Time Season 3's ninth installment where it was revealed that she, alongside her cat Cake, was Ice King's creation. 
Since then, Fionna appeared in several more episodes of Adventure Time before ultimately starring in her own spin-off show with Cake from Max.
Adventure Time Showrunner Reflects on Fionna's Importance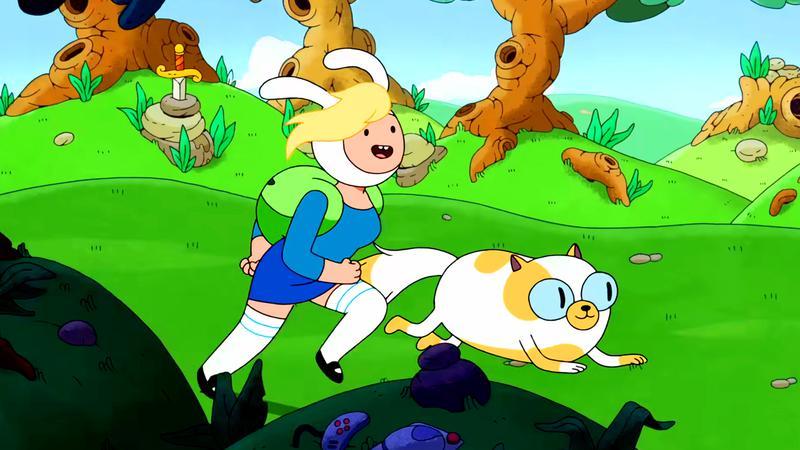 In an interview with Screen Rant during San Diego Comic-Con 2023, Adventure Time and Fionna & Cake showrunner Adam Muto talked about Fionna and the new spin-off series. 
When asked about what he's most excited to explore in the new show, Muto admitted that they first asked themselves how they can differentiate Fionna from Finn so that she's more interesting than just a "girl Finn:" 
Screen Rant: "What were you guys most excited to explore with these characters on this new journey?"

Adam Muto: "Couple of things. I mean, Fionna as a character was something that before... Because she's like an AU version of Finn. So from the beginning, it was like, 'How can we differentiate them so it's not just, 'This is Girl Finn?' Because that wasn't really interesting to us." 
The Adventure Time showrunner then enumerated what makes Fionna distinct from Finn, citing her "personality" and "making her traits elevated in some ways" as key differences: 
"So I think trying to find what could be different about her personality and maybe making her traits elevated in some ways but way different than Finn and others. And just kind of where she's in her life is a lot different than Finn too. So she's kind of a mess, which is a lot more fun too. We haven't done that with a protagonist."
In a separate interview with The Hollywood Handle (THH), Muto was asked about the decision to push Fionna and Cake to lead their own spin-off. 
The showrunner responded by saying that the character's popularity was the main reason:
THH: "In addition to that, since Fionna and Cake are really popular, what was the initial thought process to have this duo lead their own show?"

Muto: "I think because they're popular among some fans, but they haven't actually been in that many episodes so we didn't really show a ton of them outside of the context of 'Adventure Time,' their relationship, and their mirroring of Finn and Jake."
Muto then shared that exploring Fionna and Cake's story allows the pair to stand out: 
"I think it gave us an opportunity to differentiate them as their own characters and separate them, hopefully, and make it distinct. They were born of the relationship of Finn and Jake and they don't necessarily have to always be like that. I think that was interesting to me like, 'How can we have them seize their own narrative and not just be, you know, girl versions of Finn and Jake?'"
Why Fionna & Cake's Spin-Off Benefits the Adventure Time Franchise
Fionna & Cake showrunner Adam Muto's comments indicate that they are going all-out in terms of allowing the titular pair to shine and not just be solely compared to Adventure Time's Finn and Jake.
While the comparison between the two pairs of characters is understandable, the fact that Fionna is on a different path from Finn combined with her unique personality means that something fresh is on the horizon, which is a good thing for the Adventure Time franchise. 
In fact, during the Adventure Time episode which heavily featured Fionna and Cake, the show received high ratings, meaning that there was potential even before the spin-off. 
Giving Fionna and Cake a chance to shine anchored by their own crazy and exciting adventures presents an opportunity to elevate the franchise. 
Although an older Finn was showcased during the spin-off's second episode, a good chunk of the series is expected to revolve around Fionna's journey for self-discovery, which is quite fitting since she is poised to make a name for herself outside of the usual Finn and Jake tandem. 
Fionna & Cake is now streaming on Max.