Amazon Prime Video's Wilderness has a cast full of remarkable actors. 
Based on the novel of the same name by B.E. Jones, the new thriller series revolves around a writer named Liv whose life falls apart after she catches her husband, Will, cheating on her. 
Wilderness made its debut on Prime Video on Friday, September 15. 
Every Cast Member & Character in Wilderness 
Jenna Coleman - Liv Taylor
At first glance, Jenna Coleman's Liv Taylor appears to have it all. She has a loving husband, a perfect life in New York, and a great career as a writer. However, her life turns upside down when she uncovers the truth behind her husband's affair. 
After Liv joins her husband, Will, on a trip to America's National Parks, she begins her quest for revenge against him. 
Coleman is known for her roles in The Sandman, The Serpent, Doctor Who, The Cry, and Me Before You.
Oliver Jackson-Cohen - Will Taylor
Portraying Liv's husband is Oliver Jackson-Cohen as Will Taylor. While he is a charismatic guy who loves his wife on the outside, Will is secretly hiding an affair with another woman that ultimately destroys Liv's trust. 
In Wilderness, Will is expected to feel the wrath of his wife's revenge plot during their cross-country trip. 
Jackson-Cohen is best known for his role as Adrian Griffin in The Invisible Man,  Luke Crain in The Haunting of Hill House, and Peter Quint in The Haunting of Bly Manor. 
Ashley Benson - Cara Parker
Cara Parker serves as the mistress who ruined Liv and Will's marriage, played by Ashley Benson. 
Cara and Will met in the latter's office, with her serving as one of the junior PR executives in the firm. The pair ultimately hooked up, leading to their affair behind Liv's back. 
In a shocking turn of events, Cara showed up during Liv and Will's out-of-town trip, leading to an eventful confrontation. 
Benson is perhaps best known for her role as Hanna Marin in Pretty Little Liars. The actress' other credits include Bring It On: In It to Win It, Spring Breakers, and Her Smell. 
Eric Balfour - Garth
While Cara has a secret affair with Will, she has a boyfriend named Garth who is completely unaware of her side fling. The character is played by Eric Balfour. 
Balfour has an impressive acting resume which includes roles from 24, Six Feet Under, Ray Donovan, The West Wing, and Buffy the Vampire Slayer. 
Morgana Van Peebles - Ash
Given the unfortunate circumstances surrounding Liv's marriage, she needs all the love and support that she can get. Luckily, Morgana Van Peebles' Ash swoops in to save the day. 
Ash is Liv and Will's neighbor who becomes one of Liv's closest friends while staying in the United States. She also harbors intimate feelings for Liv.
The actress is known for her roles in Superstition, Chasing Shadows, and You're Killing Me.
Claire Rushbrook - Caryl
Caryl is Liv's toxic mother who is bitter about her move to New York for Will's work. She is played by Claire Rushbrook. 
Caryl's hatred for Will is justifiable since she was also cheated on by her husband in the past. 
Rushbrook's credits include Doctor Who, Secrets & Lies, Spice World, and Mutual Friends.
Talia Balsam - Bonnie
Talia Balsam plays Bonnie, one of Will's bosses and Elliot's wife. She helps Liv and Will settle in New York after their move from the United Kingdom. 
Bonnie warned Liv about Will potentially cheating on her, telling her that her husband was a terrible flirt. 
Balsam is known for her roles in Divorce, Crawlspace, South Mountain, and The Climb. 
Steve Bacic - Elliot Sizemore
Steve Bacic's Elliot Sizemore is a famous sculptor and Bonnie's husband. Liv and Will attended his party during Episode 1. 
Bacic's credits include Garage Sale Mysteries, All for Love, and The Final Storm.
Marsha Stephanie Blake - Detective Rawlings
Detective Rawlings is one of the officers assigned to investigate Cara's disappearance. The character is portrayed by Marsha Stephanie Blake.
As a dedicated detective, Rawlings desperately wants to know the truth behind Cara's case, asking the right questions to the likes of Liv, Will, Garth, and even Bonnie. 
Blake's credits include I'm Your Woman, Brother, Luce, and See You Yesterday.
Jonathan Keltz - Detective Wiseman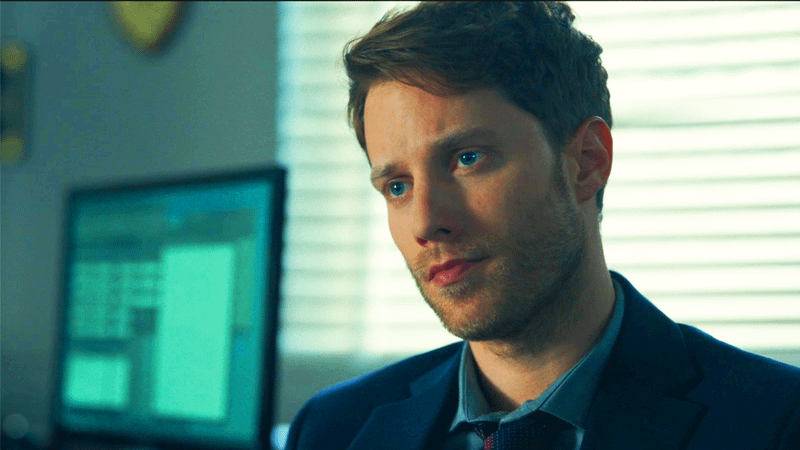 Jonathan Keltz's Detective Wiseman is Rawling's partner in the investigation surrounding Cara's sudden disappearance. 
He ends up arresting Garth for the supposed murder of Cara. 
Keltz is known for his roles as Jake Steinberg in Entourage, Leith Bayard as Reign, and Brady in Nine Films About Technology. 
Natalie Sharp - Marissa
Marissa is one of Will's co-workers who eventually becomes one of Liv's friends. She is played by Natalie Sharp. 
Sharp is known for her role as the meta-human villain named Sunshine in The CW's The Flash and Mack in The Miracle Season.
David Stuart - Will's Attorney
David Stuart portrays Will's attorney who tried to defend his client from claims that he murdered Cara. 
The actor appeared in different movies and series, such as Virgin River, Cold Copy, and Playing Cupid.
Scarlett Tupper - Young Liv
Scarlett Tupper plays the younger version of Liv in the show's flashbacks. 
The young actress' other credit includes Animal Control.
Nicholas Thorp - Liv's dad 
Liv's dad who cheated on her mother, Caryl, is played by Nicholas Thorp. 
Thorp previously appeared in 2009's The Big Table.
Vanessa Walsh - National Park Ranger
Vanessa Walsh plays the park ranger who gathers volunteers to help in searching for Cara. 
Walsh's credits include Best Friend's Betrayal, Van Helsing, and The CW's The Flash.
---
Wilderness is now streaming on Prime Video.