Virgin River Season 5 is back on Netflix, featuring the return of franchise mainstays and exciting newcomers. 
The series revolves around a heartbroken nurse named Melinda Monroe who starts fresh in a town in Northern California. 
Virgin River made its debut on Netflix on December 6, 2019. After a strong first three seasons, the series was renewed for a fourth and fifth season in September 2021. 
All episodes of Virgin River Season 5 premiered on Netflix on Thursday, September 7.
Every Actor & Character in Virgin River Season 5
Alexandra Breckenridge - Melinda "Mel" Monroe
Virgin River explores Mel Monroe's new beginning after losing her husband and baby. The character is portrayed by Alexandra Breckenridge.
Mel is a nurse and midwife who starts fresh in the titular town to start working at the local clinic. She eventually falls in love with a bar owner named Jake Sheridan. 
After a series of ups and downs throughout the first four seasons, the latest batch of episodes explores Mel and Jake's journey to parenthood. 
In September 2022, Breckenridge told New Beauty that Season 5 will have "pretty heavy" and "really intense" episodes: 
"I think this season has started out well, and we're getting into a few episodes soon that are pretty heavy. They're really intense and I think that they're some of the best episodes we've ever done."
Breckenridge previously played Jessie Anderson in The Walking Dead and Sophie in This Is Us. 
Martin Henderson - Jack Sheridan
Playing Mel Monroe's romantic interest in Virgin River is Martin Henderson as Jack Sheridan. 
The character is a former U.S. Marine who now owns a bar. Despite suffering from post-traumatic stress during his service, Sheridan tries his best to help out his fellow residents while also becoming a good fiancé to Mel. 
Speaking during Netflix's TUDUM on set in 2022, Henderson teased that Mel and Jake's relationship has "never really been that easy," though their "love deepens" as they grow together: 
"There's always been an element of drama around these two. Even though it's a very sweet love story, it's never really been that easy. But as time progresses... I think their love deepens because they share more with one another."
The New Zealand-born actor is best known for his roles as Dr. Nathan Riggs in Grey's Anatomy and Wayne in 2022's X.
Colin Lawrence - John "Preacher" Middleton
Working with Jack Henderson as a chef in his bar is Colin Lawrence's John "Preacher" Middleton. 
Middleton brings life to the room due to his jokes and positive personality. Similar to Henderson, Middleton is also a former U.S. Marine who's still searching for the right woman to love.
In the same interview with Netflix's TUDUM on set, Lawrence confirmed that his character will try his luck on love in Season 5, teasing that fans will be "seeing this whole new side to him, and he is taking time to focus on himself." 
Lawrence is best known for his portrayal of Coach Clayton in The CW's Riverdale series. The actor's other credits include iZombie and The Killing.
Annette O'Toole - Hope McCrea
Hope McCrea is Virgin River's mayor, played by Annette O'Toole. 
McCrea is the community's trusted leader, working side by side with Jack to protect her town and its people from any kind of threats. In Season 3, though, the character was involved in a car accident that led to a serious brain injury. 
In July 2022, Virgin River showrunner Patrick Sean Smith told Entertainment Weekly that fans can expect to see more of Hope going back to her former self in Season 5: 
"She still is on the road to recovery. But we're going to start to see the Hope that we know and love a lot more in season 5."
The actress is known for playing Lana Lang in Superman III and Martha Kent in Smallville. O'Toole also portrayed the adult version of Beverly Marsh in 1990's IT. 
Tim Matheson - Vernon "Doc" Mullins
Tim Matheson plays Virgin River's town doctor Vernon "Doc" Mullins. 
Mullins was the one who hired Mel, starting her newfound beginning in the local town. The character is married to the town mayor, Hope. 
Despite many bumps in the road, Matheson said during Netflix's TUDUM on-set interview that Hope and Vernon are "still passionate" lovers, and this will be represented even further in Season 5:
"One of the great things about Virgin River is there is a love story in every generation. They're still active, they're still passionate, and it's very rare for a show to allow us to represent that."
Matheson has an impressive resume of acting credits which include Hart of Dixie, Animal House, Fletch, and The West Wing. 
Benjamin Hollingsworth - Dan Brady
Portraying another former U.S. Marine who lives in Virgin River is Benjamin Hollingsworth as Dan Brady. 
While he finds comfort with his former peers in Jack and Preacher, Brady has often been involved on the wrong side of the law as he struggles to readjust to a normal life. 
Hollingsworth is known for his roles in Code Black, The Beautiful Life, The Joneses, and Cult. 
Sarah Dugdale - Lizzie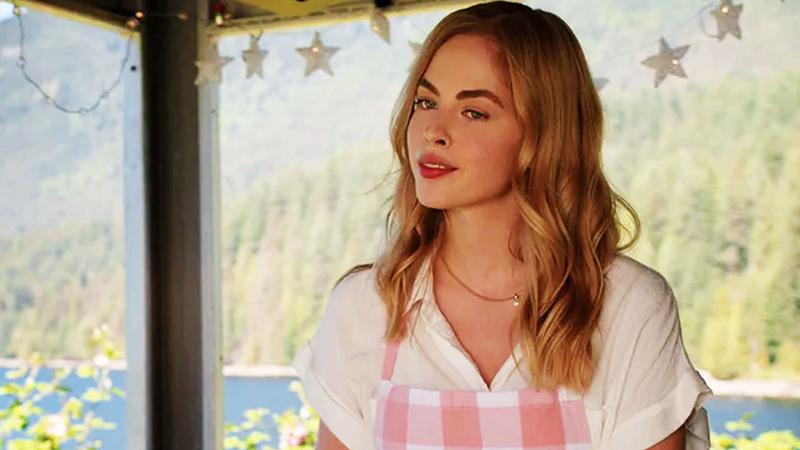 Making her debut in Season 2 is Sarah Dugdale's Lizzie. The character is Connie's niece who was sent to Virgin River after misbehaving in Los Angeles. 
After almost kissing Dan Brady, Lizzie eventually became romantically involved with Ricky, the bartender at Jack's bar. However, the pair broke up after Ricky enlisted to become a marine at the end of Season 4.
Dugdale previously appeared in Arrow, Phil, In the Shadow of the Moon, and Mystery 101.
Zibby Allen - Brie Sheridan
Zibby Allen's Brie Sheridan is Jack's sister, a lawyer who falls in love with Dan Brady. 
The actress is known for playing Nurse Zibby in Grey's Anatomy. Allen's past credits also include A.N.T. Farm, Bates Motel, Agents of SHIELD, and The Good Doctor.
Marco Grazzini - Mike Valenzuela
Mike Valenzuela is a local policeman who is Jack's friend, and he is played by Marco Grazzini. After Jack was shot in Season 4, Valenzuela spearheaded the investigation.
Grazzini previously portrayed Alejandro in Kim's Convenience. The actor's other credits include The Flash, Supernatural, A Series of Unfortunate Events, and Degrassi: The Next Generation.
Mark Ghanimé - Dr. Cameron Hayek
Mark Ghanimé enters Virgin River in Season 4 as the new doctor in town, Cameron Hayek. 
In an Instagram post, via What to Watch, Ghanimé teased that "something special" is in store for Cameron in Season 5. It's possible that there's romance brewing for the character. 
Ghanimé is a Canadian-Lebanese actor known for his roles as Don Carlo in Reign, Major Sergio Ballesteros in Helix, and Dr. Jamie Albagett in Emily Owens M.D. 
Kai Bradbury - Denny Cutler
Denny Cutler is Doc's long-lost grandson portrayed by Kai Bradbury.
After making his debut in Season 4, it was revealed that he is living with a degenerative condition known as Huntington's disease.
In the same interview with Entertainment Weekly in July 2022, Virgin River showrunner Patrick Sean Smith talked about Denny and his tragic condition, teasing that fans will get "a much clearer picture of who Denny is" in Season 5:
"He does have Huntington's disease. The fact that he's living his life with that knowledge informs his story a lot more this season than season 4, which was creating this mysterious character to question his motives, but what we get in season 5 is a much clearer picture of who Denny is and what he's going through, and the relationships that he forms as people in the town and people close to him in his life start to become a support system for it and create stronger bonds between them all."
Bradbury is best known for his roles in Fort Salem, The Boys, Supernatural, and The Man in the High Castle.
Kandyse McClure - Kaia
Kandyse McClure's Kaia is Preacher's new love interest in Season 5. 
The character is a firefighter who helps Mel and Cameron deliver the baby of a woman when they're unable to make it on time to the hospital. Kaia also helps Preacher and the others fight the Virgin River wildfire. 
McClure previously appeared in Battlestar Galactica, Ghost Wars, The Flash, and Motherland: Fort Salem.
Nicola Cavendish - Connie 
Nicola Cavendish's Connie is Lizzie's aunt and the owner of the local town's general store and bakery.
Cavendish is known for her roles in The Sleep Room, The Christmas Secret, and The Memory Book.
Lauren Hammersley - Charmaine Roberts
Lauren Hammersley's Charmaine Roberts had a previous friends-with-benefits arrangement with Jack. 
Roberts eventually became pregnant with twins, with her telling Jack that they were his. However, at the end of Season 4, it was revealed that it was all a lie. 
Hammersley is known for portraying Adele in Orphan Black and a past role in Mr. D. 
Teryl Rothery - Muriel
Working as an actress and a member of the local town's knitting group, Teryl Rothery's Muriel is an important member of Virgin River. However, Hope, the town's mayor, doesn't like her since she has romantic feelings toward her husband, Doc.
Rothery's past credits include iZombie, The Flash, Bates Motel, and X-Files.
Gwynyth Walsh - Jo Ellen
A local town like Virgin River wouldn't be complete without a resident who is an expert in gossip, and that role is given to Gwynyth Walsh's Jo Ellen.
The Canadian actress is known for her roles in Star Trek, Da Vinci's Inquest, The 100, and American Horror Story.
Jenny Cooper - Joey Barnes
Playing Mel's older sister is Jenny Cooper's Joey Barnes. Joey is an overprotective sister who worries about Mel's new life in Virgin River. 
The actress is known for her roles in Rizzoli & Isles, Grey's Anatomy, Bones, NCIS, and Ghost Whisperer.
Stacey Farber - Tara
Stacey Farber's Tara is Lilly's daughter who helps her look after her new baby. 
Perhaps Farber's most famous role is portraying Ellie Nash in Degrassi: The Next Generation. The actress' other credits include Life with Derek, Schitt's Creek, and Rookie Blue.
Lucia Walters - Julia
After Doc seeks to find a replacement for his role as a doctor in Virgin River, Lucia Walters' Julia helps her with that specific task. 
Walters is actually married to Preacher actor Colin Lawrence in real life, and in the series, they had their own romantic moments. 
The actress is known for her roles in Day of the Dead, The 100, DC's Legends of Tomorrow, and Supernatural.
Lexa Doig - Paige Lassiter
After killing her husband due to their abusive marriage, Lexa Doig's Paige Lassiter briefly returns in Season 5. 
However, after feeling that Virgin River is not her home anymore, the character departed the town during Season 5's premiere.
Doig is known for her roles in Jason X, Andromeda, Arrow, and The Arrangement.
Libby Osler - Ava 
Libby Osler's Ava makes her debut in Season 5. The character is Lilly's daughter and Tara's sister. 
Osler previously appeared in Supernatural, Fairly Legal, At Your Feet, The Hot Zone, and Chesapeake Shores.
Chase Petriw - Christopher
Playing Paige's son is Chase Petriw as Christopher. 
Aside from his fresh Season 5 debut, the actor is known for his past roles in Android Employed and Time for Me to Come Home for Christmas.
Daniel Gillies - Mark Monroe
Mark Monroe is Mel's late husband who is still featured in the series via flashbacks. The character is played by Daniel Gillies.
The actor's credits include The Originals, Vampire Diaries, and Saving Hope.
Keith MacKechnie - Nick
Nick, Jack's father, is played by Keith MacKechnie. The character visits him at Virgin River to learn more about his son.
MacKechnie previously appeared in iZombie, Supernatural, Diary of a Wimpy Kid: Dog Days, 7th Heaven, and Desperate Housewives.
Barbara Pollard - Melissa Montgomery
Virgin River's big bad is Barbara Pollard's Melissa Montgomery. 
Melissa is Nick's sister who is the mastermind behind the town's local drug trade.
Pollard is best known for portraying Janet in Mom & Me and Dot in Champions.
Trevor Lerner - Bert
Trevor Lerner's Bert is a tow truck driver from Virgin River.
Lerner's credits include The Twilight Zone and Ghost Wars.
Darcy Laurie - Gene Sackheim
Gene Sackheim is one of the loyal henchmen of Melissa Montgomery who assists in the drug trade.
Emma Oliver - Young Mel
Playing the young version of Mel in flashbacks is Emma Oliver.
---
Virgin River Season 5 is now streaming on Netflix.