For fans looking to see a comprehensive list of the cast and characters of the upcoming John Wick Peacock series, The Continental, then this is the right place to be.
For years, the intricate and subtle assassin underground of the John Wick franchise has been relegated to cinema. Now, fans can finally see some of that same highly acclaimed action and world-building on TV.
The Continental follows a young Winston Scott, played by Colin Woodell, as he mounts an assault on the infamous hotel to initiate a change in ownership. The property is currently under the control of the show's antagonist, Mel Gibson's Cormac, and his assistant, a young Charon portrayed by Ayomide Adegun.
The Cast, Characters, & Actors of The Continental
Colin Woodell - Winston Scott
Leading man Colin Woodell plays Winston Scott, a savvy businessman who gets pulled into his brother's questionable life after an underworld kingpin from his past, Mel Gibson's Cormac, fetches him to find his older brother.
That quest doesn't go as Cormac expects, as it will lead to Winston Scott assuming control of The Continental Hotel, as seen in the John Wick movies.
Ian McShane plays the older version of this same character in the hit films.
In a press release for The Continental, Woodell shared that when he first auditioned, he "hadn't watched Ian McShane's version of Winston," something he quickly remedied after getting the part:
"I hadn't watched Ian McShane's version of Winston—I thought it would be good to just bring myself to the script and hoped it would fit… But after getting the offer, I watched all three films in a 24-hour span. In some ways, playing Winston 30 or 40 years earlier gave me the liberty to play him like a totally different person, but we had a lot of discussions about what we needed to replicate and what I had the freedom to create on my own."
Colin Woodell previously played parts in The Flight Attendant, The Purge, and The Originals.
Mel Gibson - Cormac
Mel Gibson's character, Cormac, is a New York City kingpin currently managing The Continental Hotel. Cormac shares a long history with both Winston and Frankie Scott when they were children and is hunting down the younger of the two when the series picks up.
Producer Basil Iwanyk shared in a press release that Gibson's "character is nuts" but "also really funny:"
"His character is completely nuts and constantly chews up the scenery—but he's also really funny. No one knows how to bring all the action and mix it with great energy and a great vibe better than Mel Gibson."
Mel Gibson is most known for his roles in Braveheart, Lethal Weapon, Conspiracy Theory, and Ransom.
Ben Robson - Frankie Scott
Frankie Scott, played by Ben Robson, is Winston's older brother, and of the two, is the natural-born killer. He took a far different path than his sibling as he enlisted in the army and served in Vietnam.
Sometime after returning home, Frankie decides to steal a priceless object from The Continental Hotel—triggering a John Wick-esque manhunt for him.
A press release shared that The Continental director Albert Hughes needed Frank "to make an impact visually… [that was] the closest thing to John Wick himself:
"Our Frankie needed to make an impact visually that is essentially the closest thing to John Wick himself. So when Ben Robson came in to read for Winston, he didn't make sense for that role physically, but we didn't even need him to read for Frankie. We just offered him the role."
Scott played a key role in the Viking television series and also starred in TNT's Animal Kingdom.
Ayomide Adegun - Charon
Ayomide Adegun plays a younger version of Charon, a character portrayed by the late Lance Reddick in the John Wick films.
When this series picks up, Charon is a trusted assistant to Mel Gibson's Cormac—a loyalty that will be tested.
In a press release for the event series, Ayomide Adegun shared how his own story is similar to the character and that he "admired Charon's thoughtfulness and intuition and ability to persevere:"
"My parents came from Nigeria to the UK like Charon, and after reading the character brief, I was instantly like, 'Yes, this is a story I want to tell'… I admired Charon's thoughtfulness, intuition, and ability to persevere. I think he's very tenacious, and I'd say we have all of that in common."
The Continental is Adegun's first onscreen credit. He'll next appear in The Hunger Games: The Ballad of Songbirds and Snakes as Pliny 'Pup' Harrington.
Hubert Point-Du Jour - Miles
Miles is a Vietnam vet who served with Frankie Scott. While over there, he got into the gun-running business and brought it back with him—a gig he works with Lemmy and his sister, Lou.
While Lou doesn't like it, Miles insists that it's the only way to keep the doors to their dojo open.
Director Albert Hughes shared how Hubert Point-Du Jour has a talent for "profound acting that could happen in the middle of all his action," something "he does so seamlessly."
Jour's previous work includes small roles in The Path, Madam Secretary, City on a Hill, and Dr. Death.
Jessica Allain - Lou
Lou is an expert martial artist who runs a dojo left by her brother. Played by Jessica Allain, she refuses to use a gun, a creed that's put to the test throughout the series.
She reluctantly works alongside her brother, Miles, in his gun-running side hustle.
The Continental producer Kirk Ward exclaimed how Allian "emerged out of this [series] as a full-on action star:"
"If you add up all of her action scenes, she has the most of anyone, and it was so inspiring to watch her in that stunt room day in and day out… She emerged out of this [series] as a full-on action star."
Allain can be seen in the recent horror films Fear and Texas Chainsaw Massacre (2022) and Steven Soderbergh's The Laundromat.
Adam Shapiro - Lemmy
Lemmy, played by Adam Shapiro, is a close friend of Miles and works alongside him running guns. He's initially suspicious of Winston's arrival into their circle but eventually jumps on board.
Producer Kirk Ward shared that they always saw Lemmy as someone "who said insane things that made you think he was crazy:"
"We always saw Lemmy as this soldier of fortune with long hair who said insane things that made you think he was crazy… So much of this show is dark, and Adam is somebody that you put the camera on, and you want to giggle."
Most recently, Shapiro starred in the Netflix series Never Have I Ever and Apple TV+'s animated show Central Park.
Nhung Kate - Yen
Nhung Kate plays Yen, one of the deadliest fighters out of the entire cast of The Continental. She is Frankie's wife, though she had no idea he had a long-lost brother in Winston.
In a press release for the series, producer Kirk Ward explained how the goal with Yen was to create "a character that was not a trope" and write "someone who is an incredible fight but also has access to her emotions:"
"We really wanted a character that was not a trope… We've seen a Vietnamese woman who can fight a million times—so how could we find someone who is an incredible fighter but also has access to her emotions through not a lot of language? [Nhung Kate] did her audition in Vietnamese ,and I don't know what she was saying, but there were tears streaming down her face, and I thought, 'Oh my God, she has it all."
Kate's other work includes The Housemaid, Bitcoin Heist, and Hollow.
Ray McKinnon - Jenkins
Ray McKinnon's Jenkins is a calm and cool, old-school professional bounty hunter. While he generally lives in solitude these days, he's convinced by Miles to help the team with their takeover of The Continental Hotel.
McKinnon has been a part of previous movies such as Mud, Ford v Ferrari, and News of the World. He also recurred on both Sons of Anarchy and Mayans M.C.
Mishel Prada - KD
Mishel Prada's KD is an NYPD detective who has a hidden agenda that leads her into the orbit of The Continental as Winston Scott is planning his big takeover. She is determined to dish out justice, even if it might get a little messy along the way.
Producer Kirk Ward shed light on how the team wanted a character "who stuck to their own code" and "whose eyes we could use to see this world:"
"We really wanted to create a character whose eyes we could use to see this world, somebody who stuck to their own code who could question it and push against it in ways that allow us to learn more about it… We needed to find somebody with the moxie, the attitude, and the conviction of character that we saw right away in Mishel [Prada]."
Audiences probably know Prada from her time on Vida and Riverdale.
Jeremy Bob - Mayhew
Mayhew, played by Jeremy Bob, is KD's superior at the NYPD, though that doesn't stop the two from having an affair with one another. Bob's character notices KD getting close to The Continental Hotel and its mysterious affairs, and he tries to warn her away.
Bob has been in many high-profile television shows, including The Outsider, Russian Doll, Godless, and The Knick.
Katie McGrath - The Adjudicator
Katie McGrath's The Adjudicator is a representative of the High Table, the shadowy organization at the top of John Wick's fictional world of assassins. She serves as constant pressure for Cormac to find what Frank stole from his hotel—which is something very important to them.
The Continental director Albert Hughes made light of how McGrath is a "very opinionated, and very funny woman in real life," qualities she had to suppress to pull off the mysterious Adjudicator:
"Katie [McGrath] does these really subtle things with her eyebrows, her eyes, her body… She's a very strong, very opinionated, and very funny woman in real life, but to play the Adjudicator, she needed to suppress many of those things to come off as mysterious as she does."
A handful of fans will likely recognize the actress from her time as Lena Luthor on CW's Supergirl or Morgana in Merlin.
Mark Musashi - Hansel
Mark Musashi is one half of the assassin duo Hansel and Gretel, who are guests at The Continental. Both he and Gretel are highly trained in all forms of combat.
Mark Musashi's previous work mostly includes work as a stunt performer in projects like Section 8 or The Last of Us: Part II. He was also the stunt coordinator for Project H, Saving Flora, and more.
Marina Mazepa - Gretel
Gretel and her partner Hansel work together as an efficient assassin duo who are hired by The Continental to take out a target. Like her partner, she is an emotionless, cold killing machine. 
The Continental stunt coordinator Larnell Stovall exclaimed how the actress behind the character, Marina Mazepa, is both "a contortionist and a martial artist" and how she's "a total spectacle:"
"Gretel's complexity comes out through her physicality, and the mystery to hold onto is the secret of what she can do with her body… Marina [Mazepa] is a total spectacle. She's a contortionist and a martial artist and seeing the combination of those two unique skills together, you almost don't even know if she's human at times."
Mazepa is relatively new to the scene, but some of her recent endeavors include The Unholy, Malignant, The Girl in the Woods, and Resident Evil: Welcome to Raccoon City.
Peter Greene - Uncle Charlie
Peter Greene's Charlie is Winston and Frankie's cousin who runs a municipal garbage truck lot. On the side, he does private garbage disposal for Upper East Side types.
Greene's most popular roles were in The Mask, Pulp Fiction, The Bounty Hunter, and Blue Streak.
Chris Ryman - Ronnie
Ronnie, played by Chris Ryman, is one of Uncle Charlie's men. His talents end up being of great use to Winston Scott and his allies on multiple occasions.
Ryman recently appeared in movies such as Cruella and Morbius and even appeared briefly in Lucasfilm's Andor Disney+ series.
Claire Cooper - Mrs. Davenport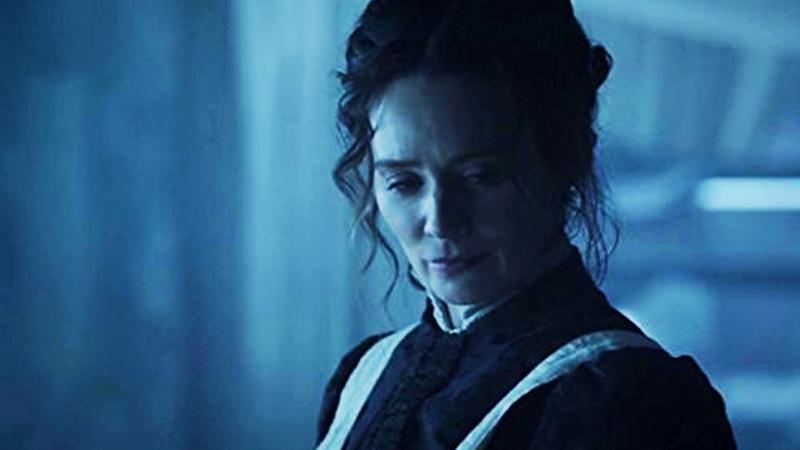 Mrs. Davenport is the wife of a London businessman that Winston Scott is looking to do a deal with. Little does he know that he might be getting played by both of them.
Claire Cooper's acting resume includes parts in The Witcher: Blood Origin, The Peripheral, Strike Back, London Kills, and more.
---
The Continental is streaming on Peacock now.
---
Russ Milheim is the Industry Relations Coordinator at The Direct. On top of utilizing his expertise on the many corners of today's entertainment to cover the latest news and theories, he establishes and maintains communication and relations between the outlet and the many studio and talent representatives.