While Marvel fans wait for the MCU to return to theatres, Sony Pictures released the next installment of their Universe of Spider-Man characters: Morbius. The Jared Leto film, to put it likely, is not being received well by critics or audiences. Its quality and performance certainly don't paint a good picture of what Sony has planned next in Kraven and Madame Web.
While Kraven has already begun filming, Madame Web has slowly started its casting. The first signs of this happening came with the announcement that Dakota Johnson has boarded the project as the titular character.
More recently, Sydney Sweeney was cast to co-star alongside Johnson. However, no details on the role were given. So who could she possibly be playing?
Charlotte Witter's Web
The first person on the list is a name not a lot of people probably know. However, thanks to a vague tweet from industry insider KC Walsh on Twitter, it's also the character Sydney Sweeney may most likely play.
In the comics, she is the granddaughter of Madame Web, aka the leading character of the upcoming film, who is played by Dakota Johnson. Thanks to being abducted and experimented on by Doc Ock, Witter went on to be transformed into a spider-human hybrid who was conditioned to listen to Octavius' every command.
Her assignment? Kill every former Spider-Woman and absorb their powers, to eventually use the stolen goods to defeat the one and only Spider-Man.
To this day, Witter has only had ten total appearances in Marvel Comics. This basically gives Sony Pictures the space to do whatever they want with her lore—a habit the studio has shown they're not afraid of doing, no matter how much source material is there.
The Luck of a Black Cat
Another possible option for Sweeney would be Felicia Hardy, aka The Black Cat. The only other live-action take on the character was played by Felicity Jones in The Amazing Spider-Man 2, where she hardly represented the character in limited screen time.
Hardy doesn't have any connection to Madame Web in the comics, but she is a key part of Spider-Man's mythos. She takes on the mantle of Black Cat after her father, a famous thief, first held the title, and she becomes determined to be even better than him. She also finds pulling off her jobs to be incredibly thrilling, making it harder for the anti-hero to change her ways.
Black Cat also ends up having an on-and-off relationship with Spider-Man—which, in many ways, is similar to Batman and Catwoman.
Sony Pictures has long been trying to get Black Cat properly in a live-action project. In fact, once upon a time, there was a project in development that starred both Black Cat and Silver Sable. That never came to pass, but when Sony wants to do something, they don't seem to ever stop trying until it happens, organically or not.
At the very least, Sweeney looks the part, making Felicia Hardy an obligatory theory.
The Graceful Spider-Gwen
Then there's the now-iconic Spider-Gwen. The character's popularity has been at an all-time high recently thanks to her role in Into the Spider-Verse, so it would make perfect sense for Sony to have her in their crosshairs.
With a project based around Madame Web, it would be hard and somewhat illogical to avoid the Multiverse (or Spider-Verse, depending on one's label preference). However, if the story were to focus on any other Spidey from an alternate reality, Spider-Gwen would be the easy pick.
Even so, given the popularity of Andrew Garfield these days, and Emma Stone's Gwen Stacy by association, it would be hard to see Sony casting anyone but Stone in that role—assuming they're even considering it in the first place.
Spider-Woman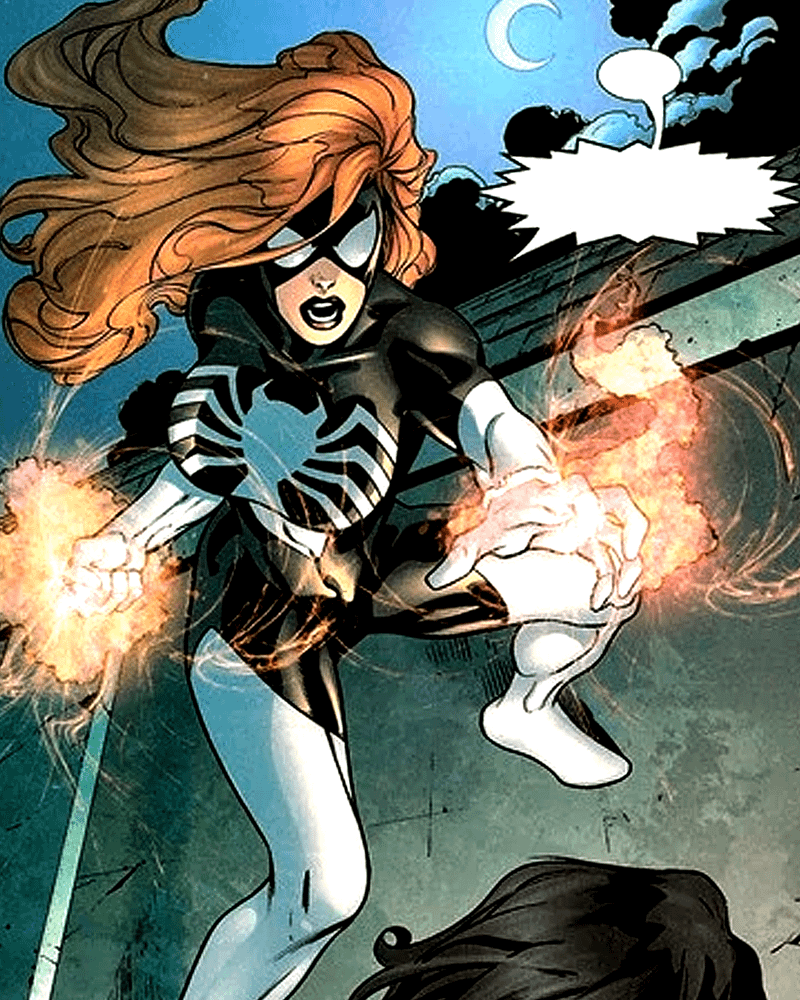 Another option for Sweeney's role could be Julia Carpenter, who has been both Spider-Woman and Madame Web at various points in her career.
After being injected with spider venom without her knowledge, Carpenter developed powers very similar to that of Spider-Man. From there, she ended up getting entangled in various big superhero conflicts that occurred, including the first Secret Wars.
She ended up briefly giving up the title to raise and take care of her daughter. But, as per usual, Carpenter did eventually put her super suit back on in order to help out where needed.
One of the biggest changes to the character is how she was granted Cassandra Webb's (the original Madame Web) abilities after her passing. While this caused Carpenter to become blind, she was also gifted with extremely powerful psychic powers.
While Dakota Johnson was cast as the titular character, maybe at some point in the story she ends up dying and then giving her powers over to Sydney Sweeney; creating a new de-facto lead. 
You Just Hit the Jackpot
Lastly, there's Jackpot, a character that, while unlikely to be the answer, simply has to make the list. Sony has been developing a solo project for her over the last couple of years, but nothing has been made concrete just yet; could Sweeney be the first step in making the movie actually happen?
Jackpot is actually the mantle held by more than one person, but the one most associated with the title is Alana Jobson. She's someone who really wanted to be a hero and make a difference. This led her to inject herself with superpower-granting drugs, a path that eventually led to her death.
The problem with this theory, however, is two-fold. For one, the character has zero connections with Madame Web. Secondly, she's not even a Spider-Person, so her reasons for being involved in a plot involving Web would be slim to none.
Again, though, if Sony wants to use something, they'll find a way. Just look at how many times they've tried to cram the Sinister Six into its plans.
What Should Fans Be Expecting
Out of the names listed above, the most likely pick seems to be Charlotte Witter, given her direct connection to Madame Web. But none of them are particularly obvious, nor all that exciting.
Madame Web is an odd choice for a solo film in the first place, but not an unexpected decision for Sony Pictures to make. Hopefully, when the film does arrive, it'll have a better critical consensus than some of the studio's previous Marvel entries.
That is, if the movie actually goes forward, given the lackluster performance and poor reception of Jared Leto's latest film. Kraven has already begun production, so dropping that project is far more improbable. Madame Web, however, could easily end up being a casualty of Morbius's reckless and truly disappointing story.