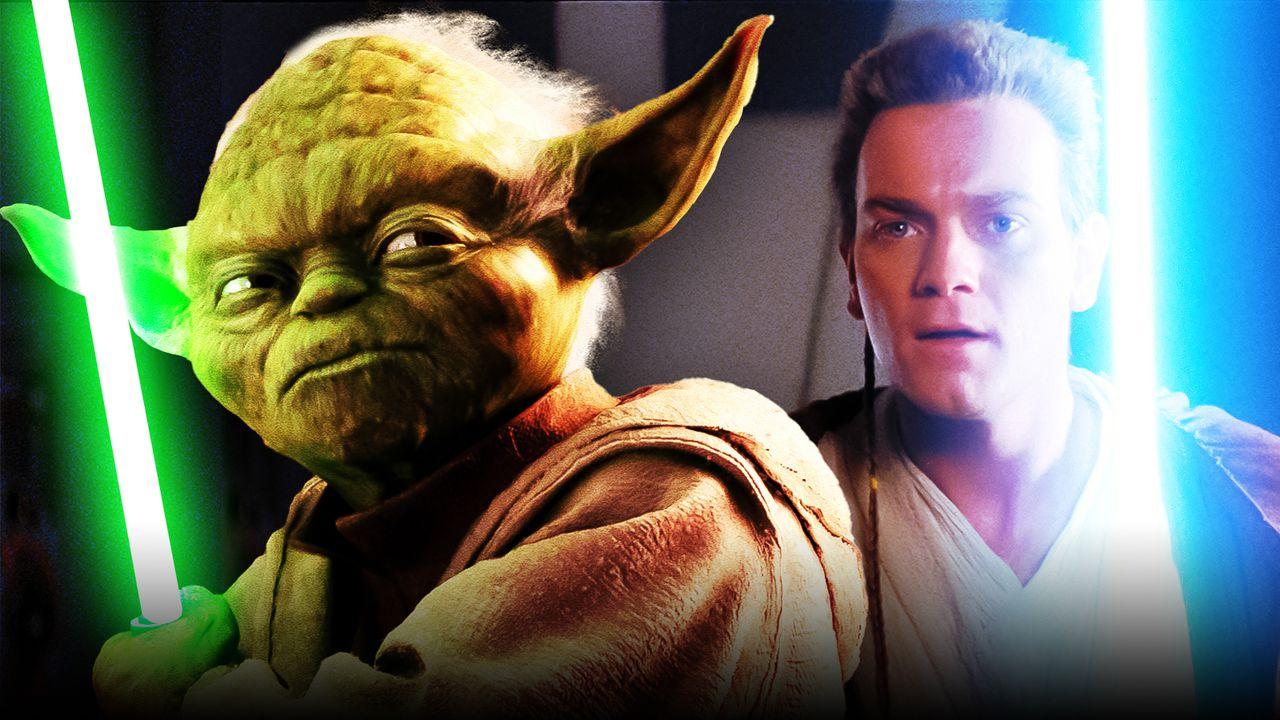 2022 is set to bring a massive expansion to the Star Wars universe in the Disney+ arena, which will come in the form of both prequel series and sequels alike. One of the shows that has fans most excited is Ewan McGregor's solo Obi-Wan Kenobi series, which is in the early stages of filming as the beloved character returns to screens for the first time since 2005.
McGregror first donned the cloak and lightsaber of then-padawan Obi-Wan Kenobi in 1999's Episode I: The Phantom Menace before appearing in two subsequent sequels. He made an immediate impact on fans after taking over the role from Alec Guinness, who played the grizzled veteran in the original trilogy.
Considering the longtime actor was around for major evolutions in the world of filmmaking behind the scenes, his first Star Wars outing continued a trend of live-action puppets from the original trilogy before CGI broke onto the scene. In McGregor's latest chat about his experience here, he reminisced on the experience he had doing things the old-fashioned way.
A LOOK BACK AT PUPPET YODA
Obi-Wan Kenobi star Ewan McGregor spoke with Variety about his time making Episode I: The Phantom Menace, and specifically on his work with Puppet Yoda on set for his performance.
McGregor described his experience with this as "amazing," speaking about how he felt "lucky to do [his] scenes" with the puppet version of Master Yoda. The actor looked back at how there were "so many people operating him" and bringing the character to life: 
"Amazing! The first film I did, I was lucky to do my scenes with the Yoda puppet. And it was extraordinary, because I acted with him. I couldn't believe I was acting with Yoda. There's so many people operating him, and the stage is lifted up so they're underneath the floor and we were literally walking next to each other — and he's alive. Then every time George called cut, Yoda would die, because everyone just stops. It was sort of disturbing every time the end of the scene would come along."
The puppet was replaced for a digital CGI version of the character in Episodes II and III, which McGregor described as "not nearly as endearing." Upon that switch, Yoda being "suddenly computer generated...didn't feel like Yoda" from McGregor's perspective:
"Then they replaced him for our second film and our third film with the digital version of him, and it's not nearly as endearing. Also, we know Yoda as a puppet. We know him from the original movies as a puppet. So when it was suddenly computer generated, it didn't feel like Yoda to me anymore. It was interesting that it went back to an actual puppet with (The Mandalorian)."
The Mandalorian star Pedro Pascal added on to this story, calling it a "sort of tearful goodbye" that he and the cast were put through during their time with Grogu. Pascal spoke of it being "one of the more strange acting experiences" that he's had, exploring different levels of how he worked with the puppet-based icon in the show:
"It worked on so many levels, and the way that we had to end the second season with this sort of tearful goodbye. To not have had the puppet for that, and also the knowledge of its reception from the world and how everyone felt about its creation, its relationship to the history of Star Wars — it was one of the more strange acting experiences that I've ever had.

There were so many different things factoring into it that it wasn't necessarily understanding the story so well in terms of what we were telling within The Mandalorian, but the context of all of it. If that makes any sense."
THE YODA PUPPET'S IMPACT ON STAR WARS
While CGI and special effects have certainly made huge strides over the years helping bring big-budget action films to life, there's a certain sense of innocence looking back on these actors' experience with puppet Yoda.
This puppet obviously couldn't have been used the entire time starting in Episode II with his fight against Dooku, but McGregor clearly missed having the real thing on set to interact with for his scenes with a lot of dialogue. Even though this took more manpower physically than simply rendering Yoda on a computer, it brought an unexpected dynamic for McGregor and his co-stars performing their material.
As more shows go into development, it will be interesting to see if Disney and Lucasfilm find a reason to go back to using real-life puppets that end up on screen. Whether that happens or not, they will always hold a special place in Star Wars' extensive history.
McGregor is currently filming Obi-Wan Kenobi, which will premiere on Disney+ in 2022.