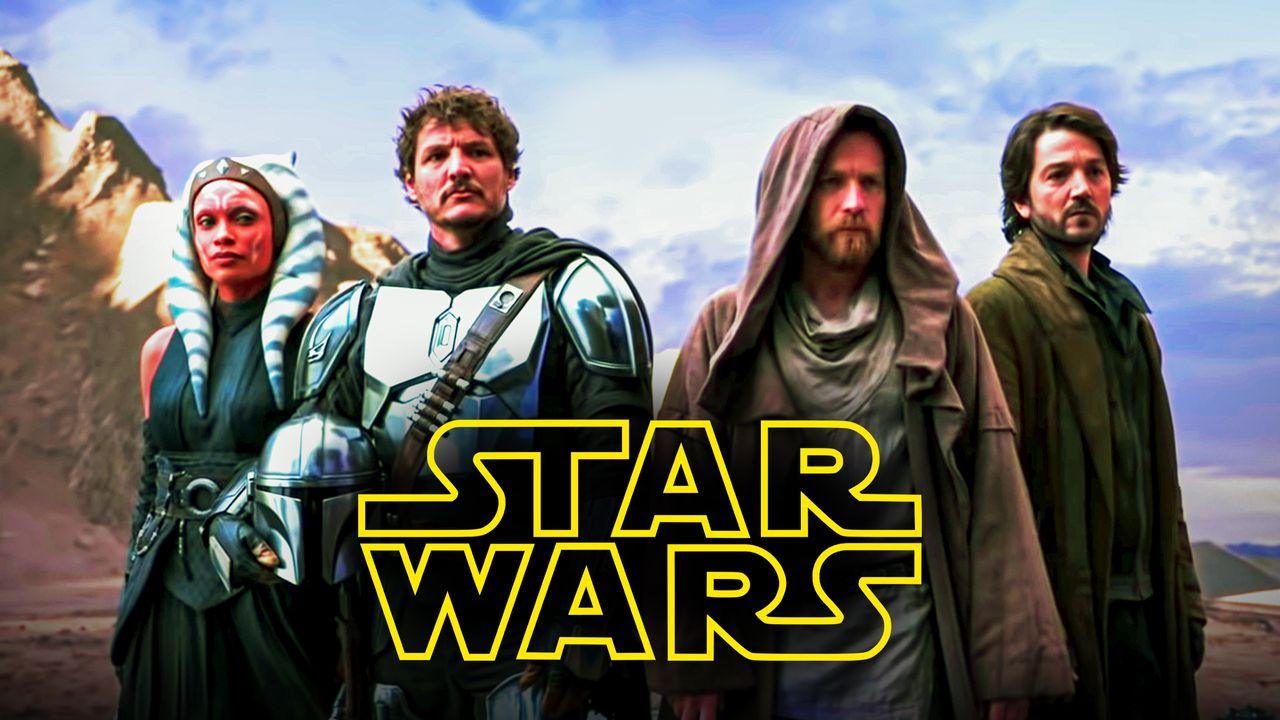 Disney may be pumping the brakes on its Disney+ output, but three live-action Star Wars shows are still confirmed to release in 2023. 
Last year, Lucasfilm upped its volume of content with the conclusion of The Book of Boba Fett, followed by the premiere of Obi-Wan Kenobi and Andor, putting Star Wars content on par with Marvel Studios' tradition of yearly packed slates for Disney+. 
While both studios intended to do the same for 2023, new reports state that multiple MCU series has been delayed while Star Wars' live-action slate will remain right on target. 
Star Wars' Disney+ Series In 2023
According to The Hollywood Reporter, newly returned Disney CEO Bob Iger is overseeing a "correction" in terms of the pace at which both franchises are churning out content for the streamer.
Reportedly, "Lucasfilm may ramp up, but it will have to abide by the same fiscal discipline as the rest of the company."
While that "fiscal discipline" has reportedly delayed several 2023 MCU Disney+ series, for now, Star Wars fans can still expect a trio of live-action tales from that galaxy far, far away in the coming months. 
Here are the three Star Wars shows which, according to THR, are still set to debut on Disney+ this year:
1.) The Mandalorian Season 3
The first Star Wars series arriving on Disney+ in 2023 is the long-awaited third season of The Mandalorian. 
Starring Pedro Pascal as the galaxy's favorite bounty hunter turned foster dad, Mando and Grogu are bound for the ruins of Mandalore to atone for past mistakes.
However, Mando is still in possession of the Darksaber, and Grogu is fresh off his Jedi training with Luke Skywalker.
Season 3 of The Mandalorian debuts on March 1 on Disney+.
2.) Ahsoka
Following her live-action debut in Season 2 of The Mandalorian, Clone Wars star Ahsoka Tano is set to star in her own series, alongside live-action versions of characters from Star Wars Rebels.
Joining Rosario Dawson in the title role is Natasha Liu Bordizzo as Sabine Wren, as well as Mary Elizabeth Winstead, Eman Esfandi, and Hayden Christensen. 
The big question is how much The Mandalorian's third season will play into Ahsoka since the latter is a spin-off, as well as when fans will finally see Grand Admiral Thrawn in live-action. 
Ahsoka is most likely to premiere this summer. 
3.) Skeleton Crew
The third and final Star Wars series for 2023 is the most mysterious. 
Also considered a Mandalorian spin-off, Skeleton Crew was created by Spider-Man: No Way Home's Jon Watts and has been described as Netflix's Stranger Things but in space. 
While the cast is largely made up of kids, Jude Law is also confirmed to star in the show which is set to release sometime in 2023. 
Other Star Wars Content to Expect in 2023
Since Star Wars fans have been waiting for both Season 3 of The Mandalorian and Ahsoka for years at this point, it's great to know that Disney doesn't intend to make them wait even longer. 
It's also interesting to learn that Skeleton Crew is still set to release this year, even though it's a relatively new concept and one that fans still know little about. 
Still, it's worth noting that these live-action Disney+ shows are far from the only Star Wars content audiences can expect in 2023. 
Season 2 of Star Wars: The Bad Batch, Lucasfilm's latest animated series, is in the midst of its run on Disney+. 
Plus, the Star Wars Jed: Survivor video game is set to debut on April 28, followed by the premiere of the second season of Star Wars: Visions on May 4 on Disney+.
LATEST NEWS
TRENDING