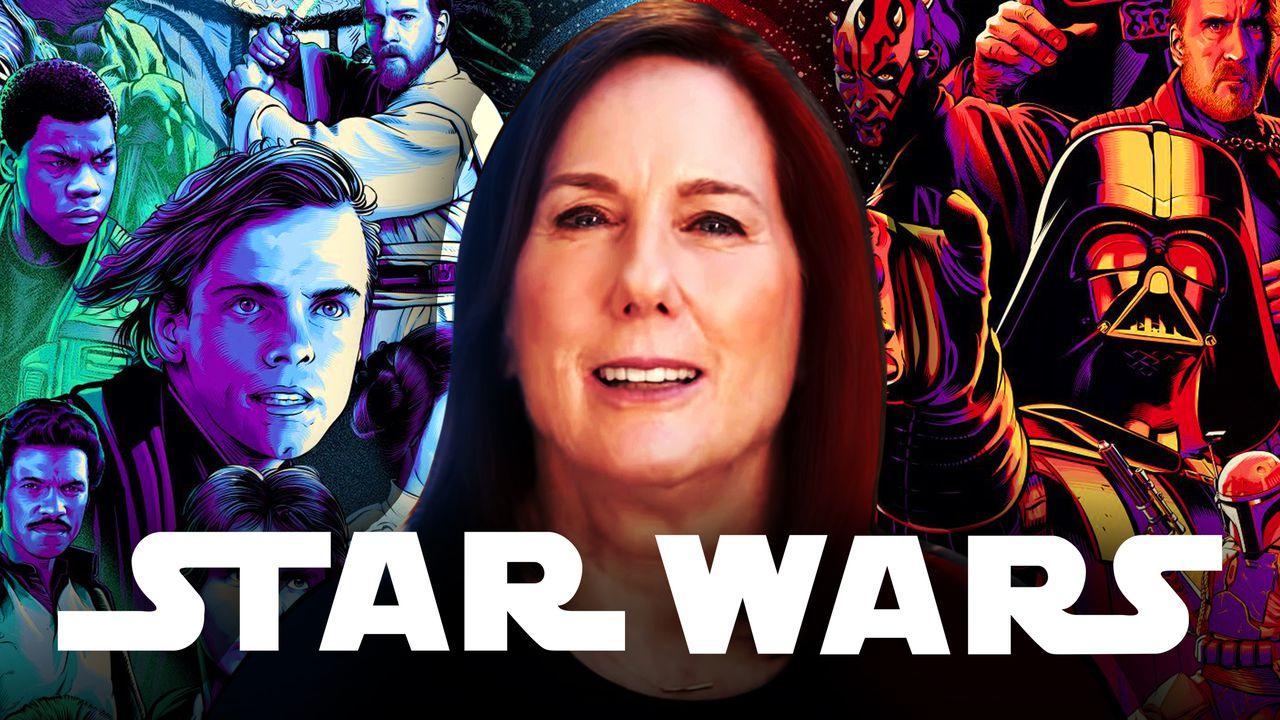 Everything changed for Star Wars in 2012.
Once renowned for being an independent company, Lucasfilm was acquired by Disney on October 30, 2012. When the ink dried on the contract, George Lucas was a retired man. Taking over leadership duties as president of the company was Kathleen Kennedy, hand-picked by Lucas himself. At the time, then-Disney CEO Bob Iger announced that the Star Wars sequel trilogy would begin development, with spin-off films to intersect.
Jump ahead to the present day, late 2021.
The sequel trilogy has been completed. Two spin-off films were released during the gap years. A handful of TV series have been produced, with nearly a dozen more in the pipeline. One would think Star Wars is thriving.
But the franchise has been nothing but embroiled in controversy.
Fan and actor reception to the sequel trilogy was mixed. By and large, Rogue One and Solo have been embraced by diehards, as have the live-action and animated TV series (if everyone forgets Resistance exists). Yet there's been nothing but constant bickering among the fanbase and internal turmoil at Lucasfilm.
Overseeing all of this is Kathleen Kennedy.
As Lucasfilm president, the buck stops with her; ultimately, she's responsible when a project is a mess - or a success. In recent weeks, calls for Kennedy to be removed from her position have reached an all-time high. However, Disney appears to be doubling down on the producer, as recent word suggests that her contract has been renewed for a significant amount of time.
Kathleen Kennedy Receives Three-Year Contract
Matthew Belloni of Puck and former editor of The Hollywood Reporter shared that Lucasfilm president Kathleen Kennedy's contract has been extended for another three years. The contract previously expired in October 2021.
Additionally, Belloni's insiders noted that Rogue Squadron is indefinitely delayed due to "creative differences" between Lucasfilm and director Patty Jenkins.
A Comedy of Errors
The last few weeks for Star Wars have been nothing short of an unmitigated disaster.
Disney Minus Day was, by all accounts, yet another embarrassment for the franchise. The event, intended to get fans excited about upcoming projects and entice others to subscribe to Disney's streaming platform, displayed unseen levels of marketing ineptitude.
Reliable scoopers teased that footage for several series would be shown in various capacities. Lucasfilm and Disney promised exclusive announcements and reveals. The wrap-up video for the event even showed title cards for the 2022 Star Wars projects set to debut on Disney+.
But nothing was shown, nor were any new shows announced. Marvel Studios once again stole the show, sucking any potential wind out of Star Wars' sails. The galaxy far, far away wasn't even second fiddle to the MCU. There was more emphasis put on Disney's original content, Pixar, and even National Geographic. While birdwatchers and people of nature were treated to a Comic-Con-esque event, the only thing Star Wars fans got was a condensed version of a year-old sizzle reel for Obi-Wan Kenobi.
So what happened for Disney+ Day to turn into such a trainwreck? Was the Kenobi sizzle reel always planned to be the only thing Star Wars shared? Or did Lucasfilm have a change of heart at the last minute, pulling everything else from the day's slate?
To get to the bottom of Lucasfilm's atrocious showing, it's worth rewinding the clock to two weeks back.
Scoopers accurately leaked The Book of Boba Fett's trailer release date and time to the second. Shortly thereafter, the same sources broke news on a delayed production for Rogue Squadron, which was subsequently corroborated by the trades.
After that, there was a frenzy of news.
Many sources indicated that a secret Star Wars film would begin production next summer in Rogue Squadron's place, centered on the Old Republic. A detailed list of what fans could expect to come from Disney+ Disney was put forth. Word of an animated series about Crimson Dawn starring Darth Maul broke. The news was capped off by reports that Eternals director Chloe Zhao would be directing Marvel Studios president Kevin Feige's Star Wars film. The reputable sources were on a hot streak.
And then things fell apart.
There was no new footage shared during Disney+ Day. No new shows were announced, the Darth Maul one among them. To throw salt on the wound, trade outlets reported that Zhao not only isn't directing Feige's film, but she isn't directing any Star Wars movie. Somehow, Star Wars fans received a negative amount of news.
The running theory is that, following the leaks about Boba Fett and Rogue Squadron, Lucasfilm fed false information to weed out the leakers in the company. Lucasfilm is highly secretive about all new projects, dating back to The Force Awakens, and that practice has tightened over the years. Ironically, story details for J.J. Abrams' Star Wars movies leaked like a screen door on a submarine, so a trailer date and production delay would seem trivial by comparison.
Should this theory prove true, it's a shame. While Lucasfilm may have temporarily solved one problem by catching a leaker, the company created a far bigger one in terms of fan relations. Frankly, there was more excitement for a theoretical Old Republic film over the span of a week than there ever was for Rogue Squadron. The Darth Maul series news was met with thunderous applause. People were sleepless as anticipation for Disney+ Day reveals drew near.
But if this was all a ruse, what really went down? The only other possibility is internal turmoil at the highest levels of the company.
If the plan was always to have a light showing for Disney+ Day, then surely saving The Book of Boba Fett trailer for the event would've been part of the plan. Instead, it appears that things changed at the last minute, and everything Lucasfilm intended to do was scrapped - the Obi-Wan sizzle was just throwing the fans a chewed-up bone.
Since the event, the noise about Kennedy's dismissal has grown significantly louder. What transpired was a travesty, and it was a continuation of an extremely messy last decade.
There's always been a strong contingent of supporters for Kennedy, and to some degree, she's earned it. She's a legendary producer. But her track record with Star Wars has grown well beyond the point of trouble. Under Disney's ownership, there have only been two released Star Wars projects to have smooth productions: The Mandalorian, beloved by fans worldwide, and The Last Jedi, which ironically broke the fanbase.
The phrase "creative differences" is industry-speak used to refer to the firing of a creator when said creator clashes with a studio. It appears that Patty Jenkins is next in a long line of creative heads who've been sacked by Kennedy as Rogue Squadron now goes on pause.
A detailed breakdown of Lucasfilm's development and production issues can be seen below:
The Force Awakens - Screenwriter Michael Arndt was fired; JJ Abrams and Lawrence Kasdan assumed writing duties, and the film's release was delayed by six months.
Rogue One - Director Gareth Edwards was removed mid-production and replaced by Tony Gilroy, who oversaw re-shoots of the film's third act.
Solo - Directors Phil Lord and Chris Miller were fired mid-production; Ron Howard assumed duties and re-shot half of the film. The budget doubled as a result, and the film was the finest Star Wars box office flop.
The Rise of Skywalker - Writer/Director Colin Trevorrow was fired following The Book of Henry's poor performance; J.J. Abrams and Chris Terrio assumed writing duties and rushed to complete the film in 18 months.
Rogue Squadron (Delayed) - Director Patty Jenkins moved on to other projects after presumably being fired for Wonder Woman 1984's disastrous reception. The film is now undergoing significant re-writes.
Obi-Wan Kenobi - Screenwriter Hosein Amini was fired; Joby Harold assumed writing duties. Production was pushed from January 2020 to January 2021 and further delayed due to COVID-19.
Andor - Showrunner Stephen Schiff was fired; Tony Gilroy assumed duties. Director Toby Haynes replaced Gilroy as the director due to COVID-19 traveling concerns. The series' first season underwent several rewrites.
Untitled Boba Fett Film (Canceled) - Director Josh Trank was fired following Fantastic 4's poor box office showing and off-duty conduct. Director James Mangold was later set to helm the project but was also dismissed.
Untitled Obi-Wan Kenobi Film (Canceled) - Director Stephen Daldry was fired after several years of development, and the film was shelved due to Solo's poor performance. The project has since been reworked as the Obi-Wan Kenobi Disney+ series.
Untitled Film Series (Canceled) - David Benioff and D.B. Weiss left Lucasfilm for Netflix following the critical reception of Game of Thrones Season 8.
Untitled Rian Johnson Trilogy (Delayed) - Writer/Director Rian Johnson's trilogy, announced in 2017, has received no updates since fan backlash to The Last Jedi. Johnson is currently working on Knives Out 2 and 3 and multiple TV series.
It's been chaotic. There are undoubtedly other projects that fans were never made aware of that also met similar fates. And who's to say that films and shows currently slated for release won't be joining the list? 
All this is to say that it's an incredibly strange time to extend Kennedy for a three-year period.
Star Wars has had its hits under the producer, who should receive full credit for saving Rogue One and (sort-of) Solo. She made good decisions in bringing Jon Favreau aboard and partnering him up with Dave Filoni. There have been the highs of The Mandalorian and the rock-bottoms of The Rise of Skywalker, as well as the seemingly unending production troubles and marketing woes.
Is it that difficult to find someone who can write and direct a Star Wars movie? Even with new content coming on a near-weekly basis next year, will fans still feel they're in a drought when Lucasfilm fails to make it known that its shows exist? Will the whiplash from crazy news continue? With so many mistakes being repeated, Disney and Lucasfilm have to find a mirror to see the root cause of the problems.
This is neither an argument for firing Kennedy nor one to retain her.
The fact of the matter is, a lot of Star Wars fans are unhappy. People want to be kept in the loop, as they were during the George Lucas days. They want to get excited, to be fired up after a fun reveal event. That can't happen when every project is either canceled or delayed or the ones that do come out do so without fanfare.
Disney+ Day was a layup opportunity for Lucasfilm to do so, and if one would even say the company took a shot, it only went about three inches. No one seems to know what the next Star Wars movie is, or what one. Given the rumors discredited recently, the Old Republic film not being real wouldn't be a surprise at all.
Lucasfilm and firing creative leads has become a meme; it's reached the point where the revolving door is both sad and funny. The only thing Star Wars fans want is quality storytelling. Any development and production drama can be left at the door.
The franchise has endured worse. Hopefully, the Disney+ Day disaster and delayed or fake projects are the last for Star Wars under Kennedy's tenure. With all of the bad out of the system, it's the perfect time for Kennedy to lead Star Wars and Lucasfilm through a prosperous three years.